Tuesday, February 10, 2009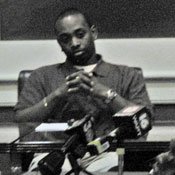 This post is updated as Wright's testimony unfolds.
'On the Road Again' with Melton and his Bodyguards
JFP Melton Blog/Archive
Marcus Wright, the former bodyguard of Mayor Frank Melton, took the stand today shortly after 3 p.m. to testify against his former employer and co-worker, Michael Recio, after Judge Dan Jordan instructed the jury not to transfer his admission of guilt to the other men, who have pled not guilty to the charges.
The prosecution began Wright's questioning by getting him to establish that as a police officer, he was taught the implications of the Fourth Amendment, which guards against illegal search and seizure, such as that the men were accused of on Aug. 26, 2006. He had also had conversations with Melton, he said, about how warrants work, which he said that Melton seemed to understand. Wright was present at the Ridgeway demolition, and is expected to testify that Melton ordered him to enter the back door of the home of Evans Welch at 1305 Ridgeway St. without a warrant.
Lawrence Cooper, a friend of Welch's who was drinking beer and watching TV when the Mobile Command Unit arrived that evening, testified Monday that Wright came through the back door with a gun drawn, a submachine slung across his chest, and shined his flashlight into his face, then ordered him outside. Soon afterward, Cooper said, Melton and the crew of young men on the bus began destroying the duplex with a sledgehammer and large stick. Wright is also expected to testify that Melton was intoxicated on scotch and water that he was drinking from a 16-ounce water bottle.
Just before 4 p.m., during a description of past searches and seizures he conducted with Melton and Recio, Wright testified that Recio had falsified documents in order to get a car towed.
Wright testified that just two days before the Ridgeway raid, Melton ordered his entourage to burn down abandoned houses on Congo Street near Lanier High School against the advice of the Department of Environmental Quality. He said that Melton told the DEQ: "Look out your window and see if you see smoke." Afterward, he told Wright, "I guess I showed his ass."
On Monday, Michael Taylor mentioned the Congo Street visit, saying he was along on that one. He said that former Melton aide Stephanie Parker-Weaver kept a list of houses that the mayor wanted torn down, and he and other young men would accompany Melton to those houses. There, he said he used a sledgehammer to help tear down the walls.
The conversation then turned to the events of Aug. 26, 2006. Wright said that Melton was "clearly under the influence" by the time he took the crew, including several young men, to the Saints game at Memorial Stadium that afternoon. Taylor testified Monday that the group stayed there about 45 minutes.
After the group arrived at the duplex and Wright entered through the back door, he said, Melton broke the windows on the side of the house, as earlier witnesses have stated. When he finished, he walked up to people standing behind the house and said, "I want them fucking people to know I'm not playing with them."
Wright said that after the group left after the first attack on the house, he went home, which also matches earlier testimony. In his version, Michael Taylor had said that Wright went home in between and that, after Melton went to the hospital briefly to get his cut hand treated, the group went back to Melton's North Jackson home. There, they were joined by Taylor's lawn-crew protege, Fredrica "Jermaine" Brunson, who then accompanied the group back to the duplex. They also called Wright to rejoin the group.
In his testimony today, Wright said that as he was driving from his house toward Ridgeway after being called to join the group for the second visit, he stopped along Medgar Evers Boulevrd because he was reluctant to rejoin the group and wanted to give them more time there without him present. Witnesses have testified that Wright pulled up at the duplex the second time behind the Mobile Command Unit.
Wright also said that he is not expecting any particular sentence in exchange for his testimony, that he knows it is at the judge's discretion.
Watch for more details added to this post as Wright's testimony unfolds.
Previous Comments
ID

143483

Comment

Where is Sharon Redd, melton's "sister-in-law"/Administrative Assistant/Chief of Staff/Marketing Expert? Is she in the courtroom and and if she played such an important role with melton, where/when is her testimony? Where is Ellen, wife of the accused? Great reporting ladd & Ward!

Author

justjess

Date

2009-02-11T10:11:00-06:00
ID

143486

Comment

The coverage is outstanding! I'll even give a tip of my hat to the C-L, as they've been doing a good amount of updating, though I still rather get mine from the JFP. Donna did say yesterday that Melton's family has yet to show up for the trial. I think, though, that his wife will show up once the trial begins to wrap up and the jury goes into deliberations.

Author

golden eagle

Date

2009-02-11T10:16:32-06:00
ID

143490

Comment

WHY? It was reported by melton that Ellen was by his side in the hospital; however, not a single news reporter or TV camera could capture her presence. I'm sure that lady is sick and tired of being sick and tired. when melton was elected, he spelled out so many things that Ellen would be doing fore the City's children. So far, she has not been involved with this City at all. I do understand. I read on the tape that Carolyn Redd is in the courtroom. Thanks ladd. I forgot that her is Carolyn Redd and not Sharon as I blogged earlier.

Author

justjess

Date

2009-02-11T10:57:51-06:00