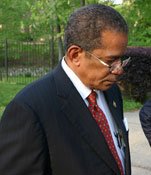 The federal civil-rights trial of Mayor Frank Melton and former mayoral bodyguard Michael Recio began this morning with opening statements followed by witness testimony. Mississippi Attorney General Jim Hood was the first witness. Melton and Recio are charged with intentionally violating Fourth Amendment rights in conjunction with a 2006 raid on a Ridgeway Street duplex. Prosecutors allege that Melton and Recio supervised the house's destruction with sledgehammers.
Federal prosecutor Patricia Sumner told Judge Dan Jordan Friday that she will need 25 minutes to present the government's case. Recio's attorney, Cynthia Stewart, said she will need roughly the same amount of time.
Defense attorneys are allowed to reserve their opening statements until later in the trial. During jury selection, the mayor's attorney, John Reeves, frequently deferred to Stewart to present questions and arguments from both defendants.