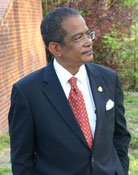 After five grueling days of questioning potential jurors, Judge Dan Jordan seated 12 jurors and 3 alternates for the federal civil-rights trial of Jackson Mayor Frank Melton and his former bodyguard Michael Recio Friday afternoon.
The jury consists of six white women, three African American women, two white men and one African American man. The three alternates are one African American woman, one white man and one white woman. The jury's demographic composition reflects the large net Jordan cast, which reached as far south as the Gulf Coast and to the borders with Lousiana and Alabama. In Melton and Recio's 2007 state trial, the Hinds County jury consisted of eight African American women, three white women and one white man.
In today's proceedings, defense attorneys and prosecutors questioned the final potential jurors and clashed over the use of the term "bad purpose." Cynthia Stewart, Recio's attorney, wanted to use the term while questioning jurors, in describing to potential jurors what constitutes a "willful" act. Jurors must decide whether or not Melton and Recio acted "willfully" to deprive Ridgeway duplex resident Evans Welch and owner Jennifer Sutton of their Constitutional rights. Federal prosecutor Mark Blumberg objected to lifting "bad purpose" out of the context of attempting to deprive someone of their rights.
"My ruling said that the instructions on this law will have to define the term 'willful' as a conscious intent to do wrong and deprive a right protected by the Constitution," Jordan said. "What I am hearing is that the two sides have a different concept as to what a conscious purpose to do wrong means."
During a second round of questioning, Stewart asked those in the remaining jury pool if they could judge witnesses' credibility, using former Melton bodyguard Marcus Wright, who pleaded guilty to a lesser charge of conspiracy, as an example. Stewart alluded to "considerations" that Wright may have received from the government, skirting around allegations that Wright pled guilty to avoid publicizing rumors of sexual misconduct. Jordan prohibited any description of the allegations on Monday.
"Will this be explained to me?" one potential juror asked, clearly confused by Stewart's question.
"Yes, at the proper time, and this is not it," Jordan responded.
Jordan told attorneys before jury selection began that he would be "heavy-handed" about keeping the panel untainted. Before dismissing the jury, Jordan admonished jurors to avoid all media coverage of the trial.
"Don't do any investigative work of your own," Jordan said. "In the morning I'm going to ask you if you followed my rules. In the afternoon, I'm going to say them again. It's going to get old."
Attorneys will present their opening arguments Monday morning. Stewart and prosecutor Patricia Sumner both expect to speak for roughly half an hour. John Reeves, Melton's attorney, said that he had not yet decided if he will reserve his opening statement.
Proceedings will start at 8:30 a.m. on Mondays, Wednesdays and Fridays. On Tuesdays and Thursdays, they will start at 10 a.m. Jordan said that he expected the trial to last another two weeks.
Previous Comments
ID

143366

Comment

According to WJTV, the jury has been seated and the trial begins on Monday.

Author

LatashaWillis

Date

2009-02-06T17:29:16-06:00
ID

143371

Comment

Hopefully, this will be one instance when justice delayed does not mean justice denied. Hopefully.

Author

Kacy

Date

2009-02-06T20:54:08-06:00