Wednesday, February 4, 2009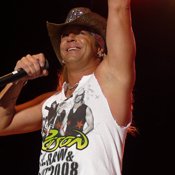 On a recent lazy afternoon, I was becoming one with the couch, mindlessly staring at the tube, when hair-metal has-been Bret Michaels appeared. Bret told me that finally I, too, could own the quintessential collection of hard-rock and hair-metal hits, never before available in such a comprehensive package. I fell off the couch as he said this "incredible offer" was from Time Life.
How is it that metal—be it hairy or heavy—has joined the ranks of the "Freedom Rock" ("Turn it up, man!") and "Body & Soul" collections? Doesn't that qualify as some type of shark jump? Or is it just a sign that the people of Generations X and Y are getting old? It certainly felt that way as I carefully picked myself up off the floor. But then I noticed that Bret Michaels was not looking like the pouty blonde hunk we all lusted after in 1987, either. He has kept the bandana, but 21st-century Bret also dons a shrunken cowboy hat to cover the alopecia that has undoubtedly taken over. I concede; we are all getting older.
I'm not sure how Bret Michaels became the spokesman for metal in the first place, but I suppose his string of reality shows ("Rock of Love 1" through the current "Rock of Love Bus") has helped catapult him back into the limelight. Poor Bret has yet to find his soul mate, but if you've ever seen the show, you know exactly why he's still single. The shows feature women who are willing to compete for the love of a guy who used to be famous, but is now best known for, well, trying to find a soul mate on a reality show. It's a vicious cycle.
The boyfriend and I watched Bret Michaels host VH1's "100 Greatest Hard Rock Songs" over the holidays when we weren't grazing on turkey, ham and pie. We laughed at Bret's obvious plastic surgery and hat/bandana combo, but we also laughed at ourselves as we remembered where we were when Van Halen's "Hot For Teacher" came out. (He was in college; I was in second grade.) And, at how Def Leppard used to be my all-time favorite band. Reaching the end of the countdown, however, was a bit disappointing. I must protest the choice for VH1's No. 1 pick for greatest hard-rock song, "Welcome to the Jungle" by Guns-n-Roses. Don't get me wrong, that song rocks, but there is no way that GNR beats Jimi Hendrix, The Who or Led Zeppelin. The song is tops by hair-metal standards, but if we're talking the "100 Greatest Hard Rock Songs" of all time, "Welcome to the Jungle" just isn't strong enough to hoist that hefty title.
I do miss the "good old days" of hair metal. I still crank up "Dr. Feelgood" whenever it comes on the radio. I fight back the urge to tease my bangs and spray them with half a can of Aqua Net. I still picture Tawny Kitaen rolling around on the hood of David Coverdale's car instead of having a heart-to-heart with Dr. Drew at "Celebrity Rehab." But for the most part, those days are gone. When Nirvana came along, Kurt, Dave and Krist killed hair metal and killed it good. Rock has gone through many metamorphoses since then and still seems to be in recovery, but there may be hope, yet.
The metal genre is making a comeback in a mid-life-crisis sort of way. KISS dusted off the leather and makeup for a few tours in recent years. Mötley Crüe reunited and even released a new album, "Saints of Los Angeles," in 2008. And you may not have noticed, but hair/heavy metal is being used more frequently in commercials and other marketing materials, along with '80s and '90s music in general. Generations X and Y may be getting older, but that also means we are in that magical 18-to-34 age group, the darling target audience of the advertising industry. We are finally making more money, so the ad wizards cater to us now. Of course, in this economy we are not making that much more money, but it's enough to swing the marketing world in our direction. And what a powerful feeling that should be!
For some reason, I feel pandered to instead of powerful when Bret tries to sell me Time Life music collections. Just because you play The Clash in the background—and don't get me started on the commercialization of The Clash, because I will spontaneously combust—it doesn't compel me to buy your product. I think X and Y are smarter than that. No matter what music is playing, we're not buying the product unless we really want it, research it thoroughly on the Internet and ask at least three friends what they think about it.
But hey, ad wizards? Thanks anyway for the flashback to seventh grade.