Wednesday, February 4, 2009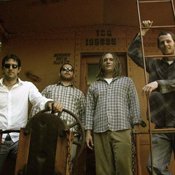 Growing up in Cleveland, Miss., Jason and Brock Bailey learned the blues early. The two brothers spent much of their early childhood listening to the music of their father, Joe, and their older half brother, Chris, before they were even capable of playing. They sang shamelessly in front of the mirror and performed in elementary school talent shows, cultivating their desire to be musicians. As they grew older and learned more about music, their desire to play became insatiable.
The Baileys began experimenting with different instruments in the early '90s before eventually settling on the guitar—Brock playing lead and Jason playing rhythm. Their Delta adolescence was a "musical journey." As teens, they found inspiration in bands and artists such as Jimi Hendrix, Nirvana, Pearl Jam, Soundgarden and Alice in Chains. But as they grew older, they realized that their passion was the blues.
Jason and Brock moved to Jackson in 1999, and began regularly playing at Fenian's open-mic nights. In 2004, however, a family tragedy led them to re-evaluate their lives. Chris died of heart failure due to complications of cancer.
"We knew that it was time to take our music seriously," Jason says.
The brothers began searching open-mic nights around Jackson to find members for a prospective band.
"Once we came here and left the Delta, we were like, 'Hey, the only thing we can do is play Delta blues' no matter how much Nirvana or whatever we listened to as we were growing up," Jason says. "It's our own. It's a re-invented blues."
They soon found drummer Brad Carter, 30, a Raymond native who was unfamiliar with the blues.
"The (other band members) are more musically inclined than I am," Carter says, laughing. "I was deprived as a child. I didn't even know about the blues until I was about 25."
Bob Morrisson, a Millsaps College graduate and middle-school teacher by day, rounded out the band—which they called The Bailey Brothers—playing bass. Spending much of his childhood in Birmingham, Ala., reading about inspiring musicians, Morrisson says he has always had a passion for music. He recalls a particularly memorable interview with Allman Brothers legend Dickey Betts where he spoke of creating a non-imitated sound instead of imitating the music of greats such as Stevie Ray Vaughn and Eric Clapton.
"What you really have to do is (look to) generations before that, like the pre- and post-(Civil) War blues sound," Morrisson says.
Jason describes The Bailey Brothers' sound as "new blues standards that we've done our own thing with." The Brothers blend blues phrasing and progressions with a southern-rock edge, pulling inspiration "from ZZ Top to ZZ Hill," as Jason says. Catchy guitar riffs and foot-tapping rhythms seem to characterize each of their sets, and Brock's lyrics can easily get stuck in your head if you aren't careful.
Morrisson says he prefers to call it "roots music," and names John Hurt, Robert Johnson, Skip James and Lead Belly as inspirations.
"It's music of common people expressing common, everyday desires and disappointments," Morrisson says. The band mates laugh when they tell you that many of the songs, naturally, are written about women.
The group is optimistic for the release of a studio album by next summer and is focused on maturing as musicians. "We, as musicians, discuss what we want to do and try to do. It doesn't always work, but the chances are the better you get, the more likely you're going to succeed," Morrisson says. "I think it's just to get better, and good things will come."
One thing is certain about these "blues" brothers: Their roots run deep, not only within their music, but also with each other.
Previous Comments
ID

143305

Comment

It's Bob Marston. Not Morrisson. http://www.myspace.com/thebaileybros

Author

Bcarter

Date

2009-02-05T09:33:46-06:00