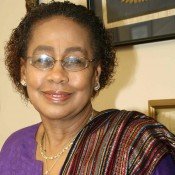 On Nov. 12, the Mississippi World Trade Center announced the first recipient for its Excellence in Trade Education Award: Jackson State University's Dean of International Studies Dr. Ally Mack. The center, a non-profit membership organization that assists Mississippi businesses in all aspects of international trade, awarded the honor to Mack for her outstanding contributions to international education.
Originally from Marthaville, La., Mack, who holds a doctorate in political science, has been with JSU since 1974. First serving as a political science professor, she has also served as the chairwoman of that department. She moved onto the position of dean for the newly organized international studies program in 1993.
The JSU international studies program gives individuals from abroad the opportunity to study the free-enterprise system and enables them to work in the United States. The program also hosts JSU's International Visitor's Center and works with the Mississippi Consortium for International Development—a collective academic effort between Mississippi Valley State University, Alcorn State University, Tougaloo College and JSU— to enhance the understanding of international affairs, strengthen democratic values, promote international cooperation and advance human achievement.
"We consider our efforts as part of the world globalization process," Mack says, adding that the program teaches individuals to establish leadership within the interdependent world and offers skills for successfully participating in a global society.
"By necessity, persons being educated today need to know what's going on in the rest of the world," Mack says.