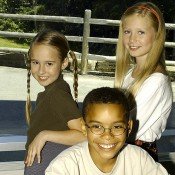 The Mississippi Department of Education released 2009 state school test results today showing slight gains in some areas and decreases in others. The 2008-2009 school year was the second year during which students took a more rigorous series of exams, the Mississippi Curriculum Test 2 in middle school and a revised Subject Area Testing Program in high school. Interim State Superintendent of Education John Jordan said in a statement that the results indicated that there was "still much work to be done."
"This was the second year for our students to take the more rigorous assessment to match the curriculum and the results are in line with what we have expected," Jordan said. "There were improvements in the performance of students in most grades and from one grade to the next for students taking the MCT2.  At the high school level, there was little change in the performance of students."
Jackson Public Schools improved its performance on the eighth grade MCT2 in both math and language arts. 36.9 percent of Jackson eighth-graders scored proficient or advanced on the language arts section, up from 30.5 percent in 2008. The percentage of eighth-graders scoring proficient or advanced on the math section increased slightly from 48.5 to 49.3.
JPS third-graders performed slightly worse this year, however. The percentage of Jackson third-graders scoring proficient or advanced on the language arts MCT2 dropped from 46.6 percent to 44.9 percent. On the math section, 51.8 percent scored advanced or proficient, down from 56.3 percent in 2008. Those declines mirrored statewide averages, though, which also declined slightly for third-graders.
Complete data for school districts and individual schools are available on the Mississippi Department of Education Web site
Previous Comments
ID

151120

Comment

Wow, In JPS, Over half of the 8th graders are not proficient in reading and math. What does this spell for the future of this city?

Author

Renaldo Bryant

Date

2009-08-21T15:40:06-06:00
ID

151271

Comment

Can we get more information? According to the numbers at C-L, third graders from several JPS schools out-performed every school in the metro area in math and did very well in Language (if you combine proficiency and advanced percentages like you did in your article). Looks like some JPS schools had great success with 4th graders too. Instead of lumping all JPS schools, I wish someone would tell the stories of the good AND the bad. We all know that some JPS schools need a lot of help, but there are some that seem to be doing very well- like Watkins, Casey, McWillie, Davis, etc. So many people talk about moving to the suburbs for good schools, but it looks like we have some very competitive schools in Jackson- at least elementary. I know the other papers won't tell the JPS success stories.

Author

News Junkie

Date

2009-08-26T16:52:23-06:00
ID

151280

Comment

I know News Junkie. Elementary schools appear to do a great job at getting students ready for tests. Alot of that is due to a phenomenon called "narrowing the curriculum", or basically only teaching the studetns the skills and content that appear on the tests. For example, in many elementary schools, there is no instruction in social studies, because there is no state social studies test for elementary grades. They use the social studies time for reading enrichment or math tutorials, etc. This isn't done in high schools because there are sepcific course requirements the students need in order to graduate. But there is as disturbing trend with test scores. As students matriculate through school, their scores decline. There is an especially sharp decline between grades 4-8. Look at the scores over the years on the MS dept. of ed website (http://orsap.mde.k12.ms.us:8080/MAARS/index.jsp). I think that the MCT2 scores hold up better than the MCT scores, but there is still significant drop off as the grade levels increase. I think this trend is because: 1) as students progress into the higher grades, their reading skills become more and more important. In the early grades, you learn to read by reading "fluff". But, after 4th grade, you read to learn content. As the grade levels get higher, the more your academic preformannce depends on your literacy skills (even in math). If you don't really master reading for content in the early grades, you are pretty much gonna struggle by the time you get to high school. 2) Students in the early grades are still eager to learn, so they do learn a lot. Also, child devlopment dictates that the brain gathers the most information early on. So, in a sense, it is easier to teach younger children what you have to teach them, than preteens and adolescents. So, the question you have to ask yourself about JPS is, how come the kids that do so great on the 3rd and 4th grade MCT2 test don't seem to do so well on the SATP in high school?

Author

Renaldo Bryant

Date

2009-08-27T07:58:04-06:00
ID

151282

Comment

Blackwatch- thanks for the insight! I'm from a state that has been testing for YEARS, so I'm not as leary of test scores as people seem to be around here. I think that education is full of tests, and you have to learn how to take standardized exams in order to graduate high school (at least we did in my state), get into college, take college finals, take grad school entrance exams, etc. It's like taking the ACT and SAT... students who have been through a test prep class usually do better. Students who have been through good MCT test preparation will do better, so of course schools will focus on test prep. This is my first year to REALLY analyze the JPS scores. I usually hear awful things about JPS, so this year I decided to take a look at some of the scores. I will admit that I was pleasantly surprised with several schools! I would guess that many of the kids who go to McWillie and Davis probably go to private or suburb schools after elementary. That's just a guess though. My wishful thinking is that the success will continue as these particular 3rd and 4th graders move up. Of course this is my first year to really look at the numbers, so maybe that's not what usually happens, but I'm going to stay optimistic!

Author

News Junkie

Date

2009-08-27T09:19:02-06:00