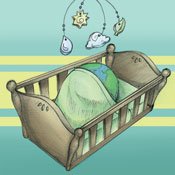 You might think you have made your home and lifestyle as green as possible, but a new addition to your family is sure to test your eco-fortitude. If you start making green choices for your child before the day he or she is born, it will probably be easier to stick to your green guns. A good place to start is your baby's nursery.
When I first got pregnant, I didn't really want to decorate a nursery. I thought it was kind of silly and maybe even wasteful to designate an entire room for a person smaller than one of our cats. I figured that the baby could have a crib in my and Mr. Green Girl's bedroom, and we could change his diapers on a towel on our bed. I thought that eventually the guest room would morph itself into a child's bedroom once our baby is old enough.
But, that was before my insatiable "pregnant-lady nesting" instinct kicked in. This was before we were lucky enough to receive boxes of hand-me-downs from family and friends without a clear idea of where to put everything. This was before I experienced the need to buy my unborn son a large wooden musical instrument set that is intended for use by 3-year-olds. This was way before my husband picked out several 18-month-old boy outfits decorated with frogs and anteaters and alligators from the consignment store.
Walls
Fortunately, I painted the walls of our guest room the right shade of yellow when we first moved into our house two years ago. I chose a no-VOC paint, which was a little hard to find locally at the time. Now it is much easier to find environmentally friendly paints at most local retailers and online. Paints that are free of volatile organic compounds and other chemicals are definitely the best choice for your baby's walls. But even though they have a much lower odor than traditional paints, pregnant ladies should let their husbands or handy person of choice do the job, especially in the first trimester. Gender-neutral colors such as yellow, green or taupe are good choices because they make repainting unnecessary when the next child comes along or as your child outgrows the other nursery décor.
Crib
One of the biggest purchases you will need to make for your baby is a crib. Studies show that secondhand cribs and crib mattresses are often unsafe, so it is best to look for bargains in other areas of the nursery. Eco-friendly cribs should be made from sustainable-forested wood that is not coated with an excess of harmful chemicals. Look for convertible cribs that can be transformed into a toddler bed and then an adult bed.
The best environmentally friendly mattresses are made from wool, rubber or organic cotton. Many environmentalists take issue with the use of flame retardants and other chemicals used in children's products. Other folks think it is crazy not to buy a flame-retardant mattress for your baby. Do a little research and make an informed decision that you feel most comfortable with.
Whichever type of mattress you choose, stay away from vinyl mattress pads. Your baby is much better off with a snug-fitting mattress pad made from wool or another material that does not give off gas chemical smells. Finish off baby's bed with organic cotton sheets of your choice.
Dresser
Finding one furniture item that can be used for multiple purposes is a good way to save on space and stick to a decorating budget. We decided to repurpose a hand-me-down dresser as our baby's dresser and changing table. The dresser is just the right height for a changing pad, and it offers ample storage for both clothing and diapering supplies. Our dresser is already full of the items we will need for the first few months of our son's life.
Most of our baby clothes are hand-me-downs, consignment store purchases or thrift shop finds. Yard sales and sites such as eBay are also good places to find the sweet little outfits that your baby will very quickly outgrow.
I washed all of our baby's clothes in my favorite unscented high-efficiency laundry detergent, which is good for sensitive skin. A good rule of thumb is to look for detergent that is unscented or only very lightly scented. These are usually the most environmentally sound choices and are also better for delicate baby skin.
We definitely want to use cloth diapers, as they are much more affordable than the chlorine-free disposable choices, but we are still trying to decide which of the many available options are right for our family.
In general, with the exception of your baby's crib and carseat, used baby gear is an excellent choice for your nursery. Invest in a good-quality crib and mattress and in the more expensive eco-friendly paint. Then save money by checking out pregnancy, parenting and board books from the library or buying them used. Get your childbirth videos and Baby Einstein movies from Netflix. Look for quality used clothes and toys at local thrift stores, consignment stores and salvage stores.
Avoid buying more than your baby needs. Remember that reducing consumption saves money and is better for the environment. Most importantly, don't get caught in the all-or-nothing mentality. Make as many earth-friendly choices as possible, and don't get discouraged and give up if you decide that disposable diapers are unavoidable for your family or that you just have to buy that brand new, plastic, battery-operated baby toy.