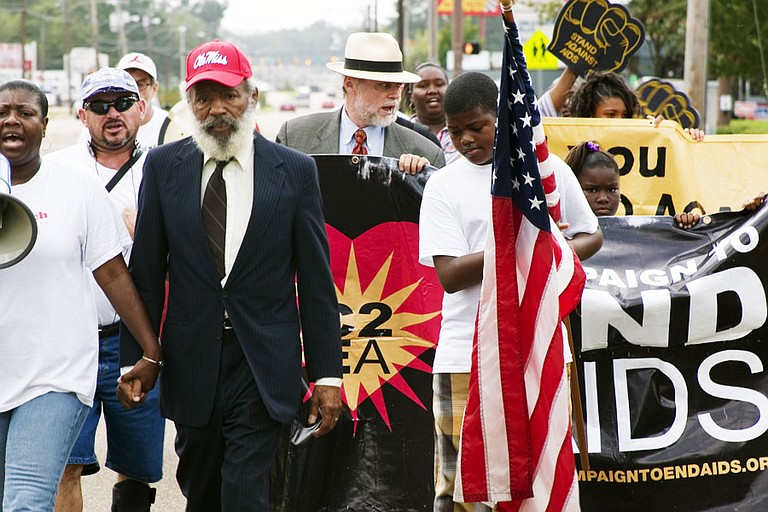 Monday, September 22, 2008
About 25 people carrying banners, flags and posters gathered Saturday morning at Freedom Corner—the intersection of Martin Luther King Drive and Medgar Evers Boulevard—to kick off a 172-mile march to Oxford, where the first presidential debate will be held Sept. 26. The group, part of the Stand Against AIDS, plans to present a list of demands to the nominees, most importantly the demand of a National AIDS Plan signed within the first 100 days of office to deal with the growing health crisis.
The march mirrors James Meredith's 1966 March Against Fear, which mobilized black voters across Mississippi. Meredith spoke at the Sept. 17 rally, saying that the larger issue was not AIDS, but poverty.
"For 500 years now, since the discovery of America, the powers that be in America have kept the focus completely off of the responsibility of the rich to the poor," Meredith told the crowd. "They have gotten away with giving every now and then, but it's been a completely voluntary thing. The responsibility of society to the poor is not a voluntary thing, according to the Bible—and read it from front to back—it is an obligation of the 'haves' to take care of the 'have nots.'"
Meredith, 75, began walking with a handful of protesters from Memphis to Jackson in the summer of 1966 before a sniper shot him with birdshot when he crossed the Mississippi line. Martin Luther King and others finished the rally in Meredith's name. Meredith later rejoined fellow marchers.
Charles King, a southern Baptist preacher and CEO of New York-based non-profit Housing Works, highlighted the need for community at the rally. "For too long, oh God, we have abandoned those in our communities who are sick and wounded," he said in an opening prayer.
Sens. John McCain and Barack Obama responded to calls for action earlier this year when the Centers For Disease Control announced that there were 56,300 HIV infections every year—16,000 more people than previously thought.
Obama has committed to a National AIDS Strategy focusing on "access to testing and comprehensive education programs." In an Aug. 1 statement, McCain promised to join with private business and non-profits, to focus on "reducing costs through greater market competition" and prevention efforts.
A group of about 15 children and adults departed Freedom Corner at 11 a.m. Meredith and rally organizer Valencia Robinson guided the group as Robinson led a song.
"Ain't gonna let nobody turn us around, turn us around, turn us around. Ain't gonna let nobody turn us around. We're gonna keep on walking, keep on talking, marching to the end of AIDS," they sang.
A coalition of eight "auto caravans" of people living with HIV/AIDS from cities around the country—as far as Sacramento, Key West, Portland, Miami, Virginia Beach and Minneapolis—are also participating in the march to Oxford.
"I mean these people have got—I don't know how many people are out here—but it's more than one," Meredith said.
This story should have appeared on page 8 of the current print edition, but due to a production error another story was repeated on that page. We apologize for the error. It will appear in next week's edition.
Previous Comments
ID

135846

Comment

Wow--what a photo! I knew Meredith supported the march but I didn't know he was actually going to participate. God bless him.

Author

Tom Head

Date

2008-09-17T22:16:01-06:00
ID

135958

Comment

we were unable to join the march, we are soo sad to say. and my bashert cannot go to oxford on wed because of a BIG TIME SERIOUS previous commitment of many months. is there anyone from the jxn area driving/caravaning to oxford for the STAND AGAINST AIDS action? if so, i need a ride, maybe. if i find that i am driving, i'll post here to offer a ride. pass it on oonagh+ The Revd. oonagh Ryan-King The Inclusive Celtic Church

Author

thevicarofblue

Date

2008-09-20T16:38:39-06:00