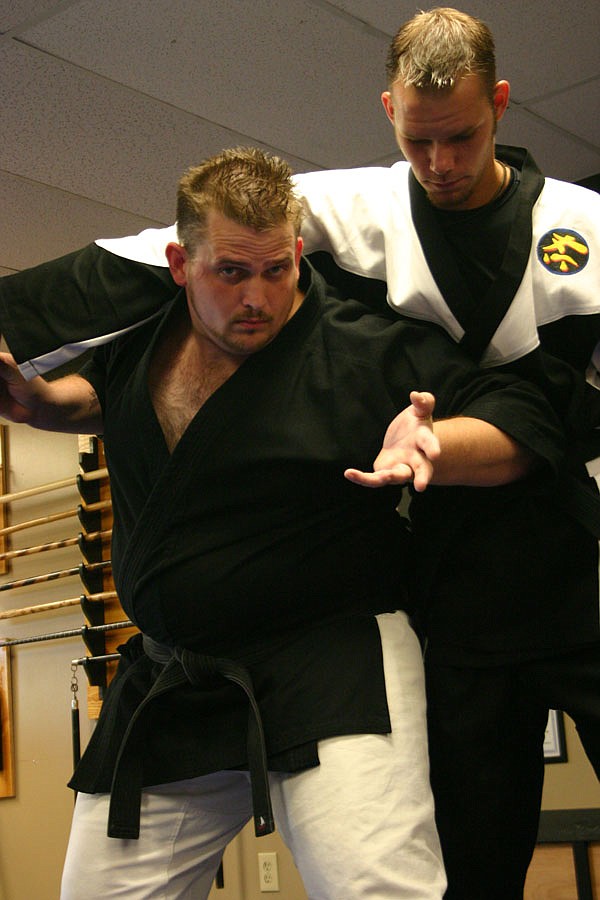 Wednesday, September 17, 2008
Robert Staples, owner of Staple Martial Arts and Self-Defense, studied martial arts for 23 years. He first started a studio in South Jackson, then moved to Byram three and a half years ago. He has been in his current location for two and a half years. A husband and father of six, Staples says that one of his goals was to pass along the discipline and joy martial arts has given him to his family and students. He lives by the simple motto, "No matter in victory or defeat, a martial artist is always humble and never disrespectful." He spoke to the Jackson Free Press about opening a martial arts studio, his students and how his spiritual faith affects his training.
Why did you decide to open a martial arts studio?
I opened my first martial arts studio when I was 19. I did not have enough business experience to make it work, so it dwindled down after six months. After that, I decided to focus on training because I had been training since I was 7. Martial arts is something that I wanted to do, and I wanted to give back what I got throughout my martial arts career. That was one of my biggest goals.
What did martial arts give you that you wanted to give back to your students?
The reason I got into martial arts is because (a relative) was abusive. A month before my seventh birthday, I was next door at the neighbor's house. I was good friends with the neighbor's son, and my neighbor and his brother-in-law were both doing martial arts at the time. When I started training, most martial arts studios did not allow kids to train. My neighbors started training me when my (relative) came over to their house, and I did not want to leave because I was afraid that he was going to start abusing me. He started abusing me in front of them, and they took him outside to show him why he should not do what he was doing. That was when I decided that I wanted to pursue martial-arts training. It gave me the confidence I was lacking. I understood, as I got older, that the martial arts did not just help me in my confidence, but it helped me in everything. ... Martial arts was the only father that I knew. That is why I stayed in it, so I can give back what was given to me from it.
Is it rewarding to teach the confidence that comes with martial arts?
It is more than rewarding. Whenever you have a parent that comes to you and says: "Before my child started here, they were being picked on, they had no confidence, they were antisocial or they were failing in school, but, now, they are doing this and this. Thank you for all that you have done for my child." I would not change that for anything in the world. It is the greatest gratitude whenever you see a student grow, and you are helping guide them the same way you were guided.
Have you ever had to defend yourself?
I have actually done security work in Jackson for the past 14 years. I started working in security when I was 16 years old for Ms. Inez Birthfield, (the owner of an all-ages nightclub). I just retired about six months ago. As far as fights go, I have been in a lot of fights. I had my shoulder dislocated; I had my knee kicked out; I have had broken ribs; I have had teeth knocked out; I have had someone fish out my eyeball and gouge my eye out. I have had multiple assailants. I can safely say—knock on wood—that I have never lost a fight. You see all these UFC fights and the MMA matches—that is sport competition. These people know that the other person is not trying to kill them.
Whenever you are doing security work, you do not know what these people are going to do to you. I have had knives pulled on me, and I have had guns pulled on me. I have been shot at, and I have worked at some of the hardest clubs in town. I have worked at some of the nicest clubs in town. Every single club that I have worked, there have always been incidents, and there always will be. Instead of trying to use force, I use technique. I control them, restrain them and lock them up.
What does your tattoo mean?
It is Kanji for, "Life is death, and death is life." In order to live, one must first realize they are going to die. Only after one realizes they are going to die, can they truly live. The red is for the blood of Christ. I am a Christian, and I get a lot of criticism for that. Some people ask, "How can you be a martial artists and be a Christian?" Martial arts has to have a religious base, or it is not martial arts. I am American, my beliefs are Christian, and I do martial arts from all across the world. I am who I am.
Staples' Top Karate Legends
Bill Wallace
Jackie Chan
Chuck Norris
Jean Claude Van Damme
Jet Li
More like this story