Wednesday, September 3, 2008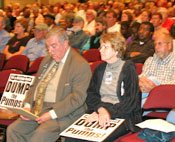 Sept. 3, 2008
The Environmental Protection Agency followed through with predictions and announced yesterday its decision to kill the U.S. Army Corps of Engineers' proposed Yazoo Pumps Project in the Mississippi Delta.
Benjamin Grumbles, EPA assistant administrator for water, said the agency reached its decision under the dictates of the U.S. Clean Water Act, which safeguards public drinking water, shellfish beds and fishing areas.
The EPA spent more than five months vetting the $220 million flood control project, which has been sitting on the nation's "to-do" list since 1941 when the Japanese bombed Pearl Harbor.
Many environmentalists descended on Mississippi during recent EPA public opinion forums discussing the project, including an April forum in Vicksburg.
The EPA eventually joined environmentalists and national media outlets such as the New York Times editorial board in describing 67,000 acres of the Yazoo Backwater Area, which would feel the impacts of the massive draining program, as containing "some of the richest wetland and aquatic resources in the nation, and serves as critical fish and wildlife habitat." It concluded that, "the proposed project would result in unacceptable damage to these valuable resources that are used for wildlife, economic and recreational purposes."
Gov. Haley Barbour and Republican Sen. Thad Cochran approved the massive project. Barbour, addressing outcry from many environmentalists and out-of-state media, harangued critics for being outsiders who did not have the best interest of state residents in mind.
"The overwhelming majority of the negative comments received against the project are by individuals who do not live in the affected area, or even in Mississippi." Barbour wrote in a statement.
He did not mention that the brunt of the $220 million cost of he project—including an additional $2 million in annual operation costs—would be carried by U.S. taxpayers outside the state.
Grumbles said in a statement that he was confident flood control could be reached through other means.
"We're helping to identify a better project that reduces flooding, protects the environment and saves taxpayer dollars," Grumbles said.
Barbour's office did not immediately return calls.
Previous Comments
ID

135509

Comment

The New York Times had a column about this two days after Adam's story.

Author

DonnaLadd

Date

2008-09-09T10:01:06-06:00
ID

135536

Comment

Maggie left out another key, very important, supporter of the project. Rep. Bennie Thompson (D-MS) is the congressman from the area. He has been a big supporter of this project for the same reason the overwhelming majority of people who actually live in the basin support it, they know what the flooding can do to homes and lives. Another reason that Thompson is a huge supporter of the project is that he has chosen to actually investigate the charges of national environmentalists that it is bad for habitat and wetlands and found that they are just that, charges. If all the money raised from national groups opposing the pumps could have been diverted to actually help the affected population, the pumps would have been built by now and alot of the homes of very poor people would have been spared this spring. Another reason Rep. Thompson supports the pumps is that he knows that the people most affected by these floods aren't the rich farmers the national opponents allege benefit, but the poorest among us. People who can't move to higher ground or afford protection. It's an issue called environment justice and it is very, very, real. Think Katrina cottages for some, but nothing for the flooded houses of the poor in the south delta. I've learned that flooding is very simple to explain if one wants to hear. Imagine the top of a ping-pong table being a basin where animal, birds, etc. rely on for thier living. Now, take away half of that table top because it's under water. Can the group exist on half....of course not. In my 17 years of working actively in public policy, I've never seen a bigger hoax put upon a group of people who are usually very good at sorting out how they really feel about something. I don't agree with Rep. Thompson on many issues, but he has cut through right to the bottom line on this issue and should be listened to.

Author

Hayes

Date

2008-09-10T08:24:15-06:00
ID

135539

Comment

For 220 mil, we could buy out everyone living there, put them in Madison and bar anyone from living in that swamp. Much better use of money.

Author

Ironghost

Date

2008-09-10T08:46:24-06:00
ID

135562

Comment

I don't think the people living there would agree with you on that. They would also say that all the federal money going into Madison County would be used better helping folk with less resources.

Author

Hayes

Date

2008-09-10T10:13:52-06:00