Tuesday, September 2, 2008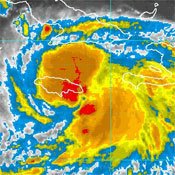 Mississippi residents woke up today to tornado watches and warnings swirling around the state, especially in central Mississippi, in the aftermatch of Hurricane Gustav. As we return to work and school, the JFP's best advice is to listen to Mississippi Public Broadcasting, which is live with constant updates, as it has been all weekend. Also, Gov. Haley Barbour is cautioning evacuees not to try to return to the Coast until Wednesday, even some highways down there are starting to re-open.
You can listen to MPB online here. You can watch Barbour's Monday evening press conference here.
Feel free to post any need-to-know information below.