Tuesday, September 2, 2008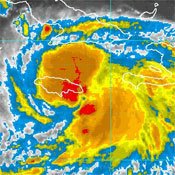 Power outages:
84,173 households without power. Entergy has 20,034; Electric Power Associations of
Mississippi have 14,936 and MS Power has 49,203.
Pearl River has 10,230 outages. Hancock has 16,401. Harrison has 15,610. Jackson has 1,096.
These counties make up 43,327 of the outages statewide.
Wind gusts in some areas are delaying the process of fixing some outages.
Road closures:
This information is constantly changing. Please contact the Mississippi Department of
Transportation for details. Highway 90 in Harrison County remains closed. Highway 90 in
Pearlington in Hancock County is open. Highway 604 in Hancock County is closed.
Boil water notices:
Adams, Franklin, Wilkinson, Hancock and Harrison counties.
Shelters:
There are 108 shelters housing 14,508 evacuees.
Of the total shelters, 64 are open and 44 are full.
The shelter population in the lower six counties is 1,207. George County shelters have closed.
Jackson County shelters are expected to close later today.
For more information call MEMA's Public Information Line at 866-519-MEMA or the Media line at
866-920-MEMA or visit http://www.msema.org.
Also see:
Jackpedia: Hurricane Gustav