Monday, September 1, 2008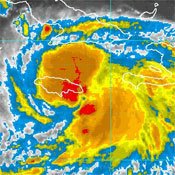 Also see: Jackpedia: Hurricane Gustav to get/post vital information.
News is coming in on organized ways to donate to help the victims of Gustav (and presumably incoming hurricanes that may yet do damage). The state of Mississippi has set up the Mississippi Hurricane Recovery Fund, where you can donate money or volunteer. In addition to the state, it brings together FEMA, MEMA, the Red Cross and the Salvation Army. Democratic presidential candidate Barack Obama sent out the following text message today to all supporters, asking for donations:
"Barack asks that you give to the Red Cross: give $5 by texting GIVE to 24357 or give more by calling 1-800-435-7669."
Please post other donation efforts you hear up below.
Previous Comments
ID

134964

Comment

You can also donate on the front page of Obama's site right now. I also heard them announce a donation site during the RNC yesterday (watching on C-SPAN), but I don't see it on McCain's site, and don't remember what it was. Anyone have it? Please post if so. It's great to see both campaigns try to solicit money for hurricane victims. That's much better than them rushing down here for face time.

Author

DonnaLadd

Date

2008-09-02T11:50:07-06:00
ID

134967

Comment

I want to thank Barack and the Democrats for making sure every greedy and desperate republicans of any power was out there working to make sure they didn't screw up this time with Gustav like they did with Katrina. They were even willing to call of the republican Farce on Minnesota to make sure Fema, et al, performed well this time. Republicans didn't care during the Katrian fiasco and and spent too many man hours having to lie and blame others for destroying Fema after Clinton had builted it into a remarkable and ready agency. Thanks Donna for telling us where we can donate.

Author

Walt

Date

2008-09-02T12:09:12-06:00