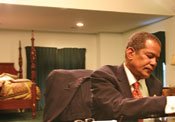 [Verbatim from the Mayor's office] Mayor Frank E. Melton says that he wants to resume his overnight visits to neighborhoods beginning Monday, May 12, 2008. The Mayor feels that he must spend an appropriate amount of time in various neighborhoods and get a close up view of the quality of life throughout the city in order to respond effectively to concerns that he receives daily. His visits will be scheduled on the following dates at the locations listed:
DATES: LOCATIONS
Monday, May 12, 2008: Holiday Hotel on Highway 80 West
Tuesday, May 13, 2008: Virden Addition – at the home of one of his adopted sons and his family (Moses Terrell Smith)
Wednesday, May 14, 2008: Salvation Army with the homeless
Thursday, May 15, 2008: Northeast Jackson - at the home of the late Bishop Phillip Coleman (invited by the family)
Friday, May 16, 2008: Homeless people – will spend the night on the street with the homeless (The focus will be on identifying young people who are without a place to call home)
The Mayor will arrive at his destination each evening at 6:00 and will depart the next morning at 6:00, traveling by JATRAN when possible. Additional visits may be made to other homes while the Mayor is in the designated neighborhoods.
Previous Comments
ID

129713

Comment

Is Melton's argument that, after three years in office, and many years of interacting with the inner city, he does not know what their concerns are by now!?! And why does he need to make it a press spectacle if he just wants to gather information? I don't call the media everytime I go on a fact-finding mission. He continually reminds me of that Warren Beatty line in "Truth or Dare" about Madonna only existing when a camera is present. Or something like that. Anyone know the exact line?

Author

DonnaLadd

Date

2008-05-13T10:39:47-06:00
ID

129717

Comment

This is just really funny to me. I actually giggled when I first heard of this. Does anyone take this man seriously anymore?

Author

ellen

Date

2008-05-13T11:09:26-06:00
ID

129720

Comment

I will point out that he is the same Melton he's been for the last 20 years or more. I think it just used to work for him better. It didn't hurt him that the media never, ever challenged him back before we came along.

Author

DonnaLadd

Date

2008-05-13T11:40:54-06:00
ID

129723

Comment

I do know now (due to the JFP) that this is the same Melton that he has always been. I will be honest and say that I really had no idea how much of a lunatic he actually was until he got elected. It's very obvious, after reading through all of the exceptional Melton coverage here on the JFP and by witnessing his antics play out on the local news, that this man has really got some personality/mental disorders. I have just noticed that there are very, very few who are willing to speak up for Melton anymore. There always used to be a few knuckleheads backing him up but not anymore.

Author

ellen

Date

2008-05-13T12:20:38-06:00
ID

129725

Comment

Well, you and others can't be blamed if no one was giving you the information you needed. It amazes me to read the glowing coverage he got in the Ledger, for instance, when criminals turned themselves into him, and he went around the police department, thus jeopardizing the case later for prosecutors. How much common horse sense do you have to have in order to recognize this as a problem!?! I noticed last week that the Ledger finally reported that the Carey Bias case was lost because the witness recanted. They had always blamed the last D.A. They just believed anything Melton told them over the years. We hear it's because he's been really close to at least one editor there, and that reporters have struggled with it for years. So you can't blame the reporters, necessarily, but you sure can blame the editors.

Author

DonnaLadd

Date

2008-05-13T12:25:04-06:00
ID

129729

Comment

This is it, Donna: Do you want to talk at all off camera? She doesn't want to live off camera, much less talk. There's nothing to say off camera. Why would you say something if it's off camera? What point is there, existing? -- Madonna from Truth or Dare

Author

blu_n_a_redstate

Date

2008-05-13T12:44:55-06:00
ID

129731

Comment

That's it. Thanks, blu. I need one of y'all would get my back on it. ;-)

Author

DonnaLadd

Date

2008-05-13T12:47:35-06:00
ID

129734

Comment

This man has lived in Jackson for almost 30 years, mayor for almost 3, and still does not know the state of this city or the residents who live here? This is unbelievable! Melton has been out of the spotlight since he fell ill with that sweating/fainting episode several weeks back. Remember that? I guess he's all rested and healed and ready (again) for his close-up.

Author

blu_n_a_redstate

Date

2008-05-13T12:55:19-06:00
ID

129800

Comment

Awww, someone needs a hug...

Author

Jeff Lucas

Date

2008-05-14T11:28:38-06:00
ID

129860

Comment

I find it interesting that he'll be "traveling by JATRAN when possible." Based on him wanting to cut their funding further and that they essentially have like 2 routes. Just a little giggle to myself. It would be so nice to have adequate public transportation, but that is another topic for another time.

Author

Puck

Date

2008-05-15T11:44:05-06:00
ID

129900

Comment

What about experiencing life at the girls dorm at Belhaven or Milsaps, the city jail, the youth detention center... I mean really he's missing so many demographics.... How about he lives the life of a middle-school student at Blackburn for a week? I see an MTV special here. He should forget the mayorship...I see Franks future is in TV.

Author

dd39203

Date

2008-05-16T10:36:24-06:00
ID

129908

Comment

First off, the main problem with that statement is "at the girls dorm", that would be boring... now if we went over to ezell....

Author

Puck

Date

2008-05-16T12:20:19-06:00