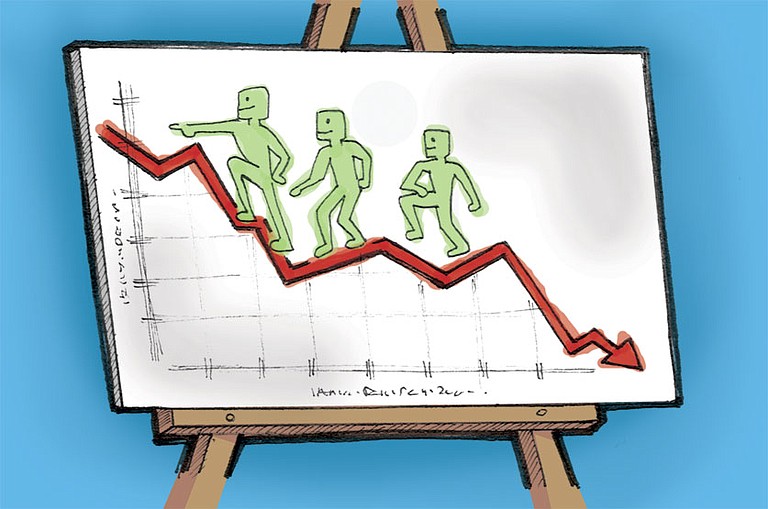 Mississippi has a problematic history with high-school dropout rates, often ranking near the bottom of the state roster for high-school completion. But last week, the Mississippi Department of Education shared the good news that the high-school dropout rate for the class of 2007 has decreased. Last year, 73.8 percent of students graduated, and 15.9 percent dropped out. This rate is an increase from the class of 2006, where 70.8 percent graduated and the remaining 17.6 percent dropped out.
"There have been improvements across the state," said Sheril Smith, director of the State Office of Dropout Prevention. Smith says in the state's 150 school districts, many schools have steadily progressed in producing high-school graduates.
The MDE attributes the significant decrease to the enhancement of the already existing programs. Smith says each district is responsible for developing their dropout prevention plans; however, each district's plans revolve around the Mississippi State Dropout Prevention Plan, which consists of four major areas that target at-risk students.
The school and community perspective combines learning and community involvement to help students stay in school. Early interventions detect students who may want to drop out. Basic core strategies involve fundamental learning strategies that suit each individual student. This involves tutoring and mentoring programs, alternative education and after-school opportunities. The last area, making the most of education, uses individualized learning with technology-based learning, which adapts to students' different learning styles.
To target the needs of every student, the MDE also uses many prevention projects. The "On the Bus" campaign uses advertisements to inform students and the community of the state's high school dropout problem. Projects funded by local businesses also help support school districts with their prevention plans.
The MDE is looking forward to new initiatives under the statewide prevention program. It recently set up the Mississippi Center for Education Innovation under the authority of Lana Seivers, the former Tennessee Commissioner of Education. "Dr. Seivers will bring a wealth of knowledge, particularly in the early grades," Smith said.
Jackson Public Schools also saw a significant jump in their graduation rates. The graduation rate increased 5.1 points from 2006. Last year, 69.8 percent of students graduated and 15. 7 percent dropped out.
JPS follows the plans set by the MDE, but the school district recently presented its five-year prevention plan for implementation this upcoming school year.
"We have a lot of academic initiatives, parent conferences, learning walks in our schools, supplemental educational services through various mentors and tutoring initiatives, and we have the Book Buddies Program to encourage students who do not do as well in reading," said Peggy Crowell, JPS superintendent for student support services and alternative education.
The highlight of the JPS plan is the Career Academic Placement program, which offers a student an additional way to finish high school by obtaining a GED or vocational certificate. JPS, like many other school districts, implements community-based initiatives to help encourage students to stay in school or prepare them for the job market.
Crowell stresses that parent involvement can also help students stay in school. "One thing is parents need to be closely connected to their children's learning. In other words, what is going on at school, what they should be doing after school–in terms of academic work," she said.
"Parents and community members can generally observe when a student is troubled at school. Tendency to drop out is not only characterized by poor performance. The top reasons why students drop out of school are because of loss of interest, the need to support their families or just learn differently."
"You don't have to be part of an organization to help out; you can always talk with a young person. Just be a mentor or a friend to them," Smith says.
The MDE hopes in the next five years to reduce the dropout rate by 50 percent and improve the state's performance in national assessments.