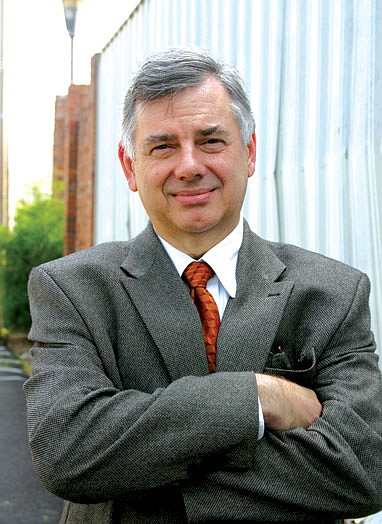 King Edward Hotel developer David Watkins may step in to help overcome financial speed bumps the Farish Street Entertainment District has suffered, according to Downtown Jackson Partners President Ben Allen. Allen was short on details Tuesday, but seemed confident that Watkins, one of the chief personalities behind the development of the historic King Edward and the upcoming renovation of the Standard Life building in downtown Jackson, was working with Performa to remove the financial barriers.
"I can only speculate what they're doing at this point, but if this works out, the financial problems are over," Allen said. "He's had some very good discussions, and he thinks he's going to be able to put this thing together in the next few days."
Cato Walker, vice president of Performa Entertainment Real Estate, told the Jackson Free Press that local banks were backing off from $3 million in loans to move the project forward, even though the state of Mississippi has agreed to back up the loan. Walker said the potential arrangement would not move Performa out of the picture and would preserve the company's lease agreements with entertainment venues such as B.B. King's club and Funny Bone Comedy Club. Allen said he was equally confident the deal would not jeopardize the input of the Memphis developer, which is also responsible for the re-invigoration of Memphis' Beale Street.
Jackson Mayor Frank Melton has been trying to push the city into pulling the Jackson Redevelopment Authority's contract with Performa, saying other, more local, developers could revitalize Farish Street in a fraction of the time. Melton complains that Performa has been fighting with the Farish Street development since 2000, but the mayor has no power to personally pull the contract.
"I don't see any way Performa's going to pull out. Performa's got the contracts for the whole damn area down there. They're the tail wagging the dog in this thing," Allen said. "David (Watkins) has got some details that they've both got to work out, but we're very encouraged."
Previous Comments
ID

130899

Comment

I really hope this works.

Author

LatashaWillis

Date

2008-06-17T13:58:18-06:00
ID

130901

Comment

If Pops gets involved, it will get done.

Author

golden eagle

Date

2008-06-17T14:11:36-06:00
ID

130902

Comment

Yeah as long as Ben Allen has something to do with it GOOD LUCK!

Author

Bell

Date

2008-06-17T14:25:56-06:00
ID

130903

Comment

I must say, I've had my problems with Ben Allen—he's stormed out of here a few times—but he is a get-er-done kinda guy as well.

Author

DonnaLadd

Date

2008-06-17T14:36:31-06:00
ID

130904

Comment

Well let's hope he puts his best effort with respect to this project. I have faith in David Watkins to be the encouraging voice in this project.

Author

Bell

Date

2008-06-17T14:45:00-06:00
ID

130905

Comment

Why do you think he won't? If you haven't something to say, say it so we can discuss.

Author

DonnaLadd

Date

2008-06-17T14:47:28-06:00
ID

130906

Comment

Call me cynical..but after many tries, If Performa is the second part of ANY equation in this issue it won't get resolved. This circus with them has been one for the ages. As one who has seen this from a close vantage point. THOSE guys won't be the ones who finally do complete this project. But I do believe it WILL get done.

Author

Kamikaze

Date

2008-06-17T15:08:44-06:00
ID

130907

Comment

I understand the concerns, but I think it's hard to judge Performa, so far, because of all the roadblocks the city has put up. But Melton's power play didn't work with the King Edward; hopefully, it won't work with this, either. And with the right people involved, they'll figure out how to make it happen with or without Performa.

Author

DonnaLadd

Date

2008-06-17T15:21:36-06:00
ID

130908

Comment

Ben voted for Performa to have the contact and now years later when you talk to Ben about Performa, it's alomost like he doesn't recall his vote. He blames Performa for everything knowing full well the amount of problems Performa has had in Memphis and other cities. I want this project to happen, trust me we need this for our city.

Author

Bell

Date

2008-06-17T15:29:56-06:00
ID

130909

Comment

That does rather sound like he's figured out that Performa hasn't been perfect and is willing to criticize them now. What are you wanting him to do—defend them no matter what because he voted for them? I suspect you'd criticize that, too, which would make more sense than criticizing him for, essentially, saying what you are. That is, I'm not sure I'm following your logic.

Author

DonnaLadd

Date

2008-06-17T16:04:01-06:00
ID

130910

Comment

Oh, and I want it to happen, too—that's why I don't really follow the personal grousing and fingerpointing on it. I know this city makes a sport out of being petty, but really, we do need to learn to rise above it on occasion if we're going to get anything done. The truth seems to be that Performa isn't perfect, AND we've had a city administration dead set on positive things not happening unless they can take credit for it, or send it to their friends back in Texas. Speaking of, let's all get ready to celebrate (note sarcasm): the convention center hotel is about to be announced. And chisel this in stone: Donna Ladd is going to get to say "we told you so" once again on that one at some point. But hey money talks. I'm just saying, and that's all I'm saying.

Author

DonnaLadd

Date

2008-06-17T16:07:46-06:00
ID

130911

Comment

Now on a positive note, Bell, Kaze et al: What is *your* solution for Farish Street? If you want Performa fired, what is your back-up plan? Who should do it? I know that "Pops," Ben and the rest of influential Jackson reads every word we post here -- smile; y'all are busted -- so make some positive suggestions. Let's leave the personal whining and anonymous insults for a lesser city, or some of the blogs around set up for expressly that purpose. Bring on the ideas. We're all ears here.

Author

DonnaLadd

Date

2008-06-17T16:12:35-06:00
ID

130912

Comment

Well thats the misnomer with this issue. And why I somewhat disagreed with this week's editorial. Performa is worthy of no sympathy. Being involved with this for about a year and better I know for a fact that the ONE thing that I can say this administration has done correctly is try to fix this FArish boondoggle. I know its convenient to put the mayor at the crux of every problem. And its easy to say he has contributed to this one. In actuality though hes powerless in this tussle since the conract is with JRAand even his public outbursts can amount to nothing more than attention grabbing. In fact, those outbursts have drawn more public attention to the issue.. much needed public attention. Performa's issues and bad press are of THEIR doing no the mayor's or Jackson's. Hell ust google em. FYI..they pissed a lot of people in public works off with their claims that infrastructure wasnt in when in truth it was. In truth the city has done EVERYTHING it was supposed to and commits to do more. Oh btw..MC school of law has not done any expanding. so says their prez. The alcohol issue could have been handled in 2002..not causing a contrived delay in 2008. Methinks they(performa) used the mayor's controversial record and poor public approval ratings to conjure up him a scapegoat to mask his mistakes. The city is in the clear on this.

Author

Kamikaze

Date

2008-06-17T16:13:07-06:00
ID

130913

Comment

Performa is worthy of no sympathy. Being involved with this for about a year and better I know for a fact that the ONE thing that I can say this administration has done correctly is try to fix this FArish boondoggle. Kaze, I know you believe that. But I've seen no actual evidence that that is true. Sorry. And don't even think about insulting me by saying the B.S. about "putting the mayor at the crux of every problem." You don't even know the lengths he went to kill the King Edward. Some of your good friends do, though. It is truly a crock to say the city is "in the clear" on this. With due respect, you do get a little snookered by Le Mayor and his folks from time to time. The truth is that there is blame to go around. You're the only one here who seems to be trying to put it all on Performa. That's naive, Kaze. I understand wanting to believe people, but come on. There's a lot of water under this bridge. Don't drown in it.

Author

DonnaLadd

Date

2008-06-17T16:17:41-06:00
ID

130914

Comment

Now back to those positive suggestions. Kaze, what do you think should be done next? Obviously, you want Performa fired. What then?

Author

DonnaLadd

Date

2008-06-17T16:18:18-06:00
ID

130915

Comment

My suggestion...which has been the same most will tell you from the beginning. Fire performa..Their last public decree in the paper and on the news that they'd have a couple businesses in in 90 days was my last straw. If been in the mtgs, looked em in the eye. and it doesnt smell right. Get a local developer. in fact lets create a dream team of local developrs. Watkins, IMS, Socrates Garret..we have some great business minds here that can do the job. We shouldve never relied on outside help in the first place. In the spirit of not being petty...I dont caref Melton finds em. I dont care if theyre Meltons friends, Bens friends, mine or a team of trained circus monkeys wit hammers. The folks down on Farish deserve better and that is ultimatly who Im fighting for

Author

Kamikaze

Date

2008-06-17T16:29:43-06:00
ID

130916

Comment

Actually I DO Donna re: King Edward so how about not insulting me...and further, you know just as well as anyone NO ONE snookers me. Im agendaless..if thats a word..If you have evidence to the contrary that the city and its different departments havent fulfilled obligations Id be happy to see because then THEY would be part of the problem. The fact is..youre one of the few folks giving Performa this looong leash. A leash they probably wouldnt be given under other administrations. The mayor cant fire anyone and he actually cant make Performa do jack. all he can do now is strongly suggest. Sure hes scrwed up a lot. His tenure is basically unsalvageable at this point. But right is right. and THIS time the city put their pieces in play..but a simple call to city works and the planning dept will clear that up.

Author

Kamikaze

Date

2008-06-17T16:44:33-06:00
ID

130917

Comment

Also, we're about to report new info on the MC Law School point. Adam iChatted me this update on that part: It wasn't the location of the building that changed things--it was the purpose of the building. Supposedly, the building went from a non-study use to a genuine schooling facility. This makes sense because the school president told us himself that the building's footprint did not change overtly.

Author

DonnaLadd

Date

2008-06-17T16:47:25-06:00
ID

130919

Comment

I appreciate that you care about the people on Farish Street, but there are folks using them, and you, as pawns in all this. And yes, you get snookered, and have been publicly, but so do we all. There's no shame in that, but letting it happen over and over again because you don't have all the information isn't a good thing. Kaze, go ahead and put blame on Performa, but putting it all there is truly naive. You don't have to defend them in order to see the problems the city has created. The mayor has created a climate that makes it very difficult to do business—especially for people who aren't from Jackson (other than Melton's Texas friends). Don't believe me; ask your friends about it.

Author

DonnaLadd

Date

2008-06-17T16:56:10-06:00
ID

130921

Comment

Well heeeere we go. Naive and snookered I must be. Im completely out of this loop. My lord where have I been. And here I thought I knew a little of the scoop lol. Donna no one is using me and no one ''uses'' me. Sorry. been down that road long enough not to be publicly anything. so this is one guy you dont need to save. Im good. thanks. And yes my agenda and ONLY agenda is for my folks..and yes they HAVE been used as pawns by a lot of people. The press included. Those down on Farish have been disenfranchised. Your last post was a tad condescending so Ill just bow out.

Author

Kamikaze

Date

2008-06-17T17:09:35-06:00
ID

130922

Comment

Come on, don't act so injured. Everyone who supported Melton was snookered. That doesn't mean they meant harm by it. Agreed with you about the people on Farish. I just don't hear any real solutions coming from you. Sorry. Mainly, you seem to be following some less-thinking folks than yourself down the path of wanting to blame everyone on one group, when that isn't going to solve the problem. If you know so much of the "scoop," why not stop the fingerpointing long enough to talk seriously about it. I'm actually not defending anyone if you hadn't noticed. You're spending most of your time blaming one side completely and completely lifting any responsibility from the other. Come on. You can do better than that.

Author

DonnaLadd

Date

2008-06-17T17:19:25-06:00
ID

130923

Comment

Your posts are also condescending, Kaze. I'm just looking you eye to eye, man to woman, to challenge you to go deeper on this. You're the one doing the binary jig; how do you expect people to react to that?

Author

DonnaLadd

Date

2008-06-17T17:21:17-06:00
ID

130925

Comment

ladd: working of the " what do we do to change it" issue as it relates to the alcohol within 100 ft of law students. Well, by working, I mean at least I've thought about it. Will post when I have more.

Author

charlesRom828

Date

2008-06-17T17:47:29-06:00
ID

130927

Comment

Thinking is good. Yes, please post. It's absurd to allow these planned clubs to go because the state doesn't want alcohol near law students. I mean, come on.

Author

DonnaLadd

Date

2008-06-17T18:10:49-06:00
ID

130928

Comment

OK, Kaze et al, this is what I'm getting from people with detailed knowledge of the Farish Street project and where it stands: Performa has a $5 million loan backed by the Mississippi Development Authority that requires requires a major housing component. Performa has agreed to subordinate this part of the contract to Hope development and their $65 million mixed-income housing development. If Jackson fires Performa, we go to court, we might win in three to four years, but we would probably lose Hope in the process. The current Farish Street Foundation supports Hope. Also, the entire area that Performa has under contract would be out of play until the court case is settled, and nothing would likely happen. Does this help clarify why it might not be the most prudent decision to just fire Performa and try to throw the project to Socrates or someone local? Considering the problems on both sides, it seems to make good business sense to try to work it out and stay out of court. Now, about that alcohol law problem ...

Author

DonnaLadd

Date

2008-06-17T19:05:13-06:00
ID

130929

Comment

Donna..great..But thats info I already had...and Im on the Foundation's board. And I really dig Hope and their project. I want THEM to suceed. They have acted professionally and like a Developer that actually knows what theyre doing by keeping a clean track record throughout the nation. Keeping positive references and staying out of financial trouble. When given the land they will finish what they start and they are not averse to solid deadlines in writing...Like I said..It doesnt smell right and in time I really feel Ill be right about those guys. But for now its a ''wait and see'' thing. And I said a ''dream team'' of local develpers..I didnt single out one. There's more than just the 1st 2 blocks.

Author

Kamikaze

Date

2008-06-17T19:38:45-06:00
ID

130930

Comment

...but of course I dont have ''detailed knowledge'' dunno what I could have been thinking. all those ad hoc committe and Farish District Foundation meetings..geez. I simply dont have the info to even form an opinion lol.

Author

Kamikaze

Date

2008-06-17T19:45:07-06:00
ID

130931

Comment

But thats info I already had...and Im on the Foundation's board. I figured you had it; I'd been mighty surprised if you didn't, just like I'm surprised that you didn't bring all this up above, being that it's such vital information to understanding what is happening. This isn't some simplistic city-v.-Performa game. I can only assume you think the rest of us don't know the details of a lot of these things well enough to know that you're not telling the whole story. Are you understanding that Performa taking the city to court for reneging on the contract will tie it up in lawsuits for years to come? Is it also clear that that will likely mean that we lose Hope? (Literally and figuratively.) You know this isn't a Performa-or-Hope thing, right? At least as I understand it. It would be about as smart as giving John McGowan his way on Two Lakes, and thus getting no flood-control plan done for the years it takes that case to wind through court. I'll be honest: There is plenty of work down there to be done beyond those two blocks. Which developers do you know are stepping forward to do them? Come on, give us names so we have something to consider. My experience is that a whole lot of talk happens in Schimmel's that doesn't necessarily pan into much when it comes down to it. Maybe you will be right about Performa, and that wouldn't surprise me (just as I believe I will be right about the Convention Center hotel, and that will be a bigger deal). But note that I am not competing here to be "right"; I'm capable of seeing the problems on both the city and Performa's side, and of getting the point of trying to work it out so it doesn't all end up in court. You?

Author

DonnaLadd

Date

2008-06-17T19:47:12-06:00
ID

130932

Comment

Laugh out loud all you want, but you're the one who wasn't exactly informing anybody of anything here beyond your hatred of Performa -- just hurling one-way blame. Kaze, I heard a lot about what was coming out of a lot of those meetings about Farish from several horses' mouth, including yours and Lathan's, and I'm going to be honest when I say that it all wasn't that convincing. Yours was the smartest I heard, but there was a whole lot of hot air being generated as well. Remind us who appointed that ad hoc group?

Author

DonnaLadd

Date

2008-06-17T19:50:26-06:00
ID

130934

Comment

Look, I want to see Farish finished. The people down there want relief and a better neighborhood. I have no agenda other than that. Well..that and the fact that in our first round of meetings over a year ago the committee was told we weren't ''sophisticated'' enough to understand the nuances of the Farish project. So my dedication to seeing this through is partially to stick it in the face of stuffed shirts who condescended to the intelligence of the people... It WILL get done. Hope WILL be a catalyst in that, but the other guys...I just dont think so. My gut says no. Purely instinct that Ive developed in navigating through one of the most treacherous businesses in the world. Instinct and a laundry list of failed projects, stalled projects, debt, and arrogant execs that you can google tell me that Farish is being held hostage by Performa. Hopefully we can fix it. ..And you know what..the city is slightly at fault..For signing a contract in the 1st place that no one worth their weight in beans would have signed with no deadlines and no escape clauses. Theyre at fault for allowing them to breach and not firing them 5-6 years ago. Watkins is a maverick and perhaps as the story reads..he can help. I hope so. But you can put Tom Brady on the Dolphins and it doesnt mean theyre goin to the Super Bowl. But..thats me. I will still work diligently with all parties to see that Farish is done. Im not gonna shut down on it. But with those guys..fool me once..shame on you. Fool me 4..5..6 times..shame on me

Author

Kamikaze

Date

2008-06-17T20:08:00-06:00
ID

130935

Comment

No need to shut up about it. Just put it all out there and be careful about casting blame in just one direction if it should be going several. I understand that you don't like the "sophisticated" thing; I wouldn't either. But the hard truth is that I have heard talk about Farish and other downtown projects who haven't bothered to get the full information they need in order to have an educated opinion about it state some pretty "unsophisticated" opinions. I'm being elistist when I say that; that's the case with anyone who is just casting stones without doing their homework. Melton just said on WLBT, by the way, that Council should take the money to pay for the youth jobs out of the JRA budget. No maneuvering going on there, eh? Even if you blame everything on JRA, it's pretty unethical to go after them under the guise of giving jobs to kids.

Author

DonnaLadd

Date

2008-06-17T21:12:53-06:00
ID

130936

Comment

Someone could organize a monthly event similar to Art Mix to attract people to Farish St. Remember the catfish that were downtown several years ago? The whole purpose was to get people downtown and it seemed to have worked. Maybe this will catch the eye of these developers and they will move a little faster. If we come , they might build it.

Author

saint H

Date

2008-06-17T21:42:55-06:00
ID

130937

Comment

First of all, he can't even do that. So why give credence to it. Of course its political maneuvering. And its cowardly to use kids even if you barely have good intentions at heart. But assume for once that someone besides yourself has done homework..and the classwork necessary to grasp an issue. I have, so my answers are a little more than ''unsophisticated'' and yes some folks are shooting blindly. And still..like I said above this is just my gut..nothing more..Im all for this negotiation..Im all for resolution..and I just stated the issues where blame could be placed on the city so well-played on your part. Assuming that other city administrations are not NEARLY as ineffective or controversial as ours..and assuming that no mayor is like ours..what then would account for the difficulties in Witchita..or New Jersey..or the money they owe the city of Memphis?? This clearly isnt an anamoly..or are all those city's mayors and governments creating bad business climates too..I dunno. maybe not, but it sure does smell funny. But maybe IM crazy!

Author

Kamikaze

Date

2008-06-17T21:44:57-06:00
ID

130938

Comment

Great idea Saint..and in the intrest of solutions Id be glad to help plan that. Jackson Progressives is already planning an event down there. Plus we'll be volunteering during the United Way Day of Action on Saturday at the Farish YMCA..The MS Restaurant Assoc. and Jeff Good are helping Roderick down at Peaches with some upgrades and business advice..and the council just elected me to that archaic Smith Robertson Board that has negelcted the ALamo so hopefully I can spark something there..So Action is being taken despite what I feel are a developers best efforts to fleece the city. And of course perceptiontown's ''crime on Farish'' deal.

Author

Kamikaze

Date

2008-06-17T21:56:42-06:00
ID

130943

Comment

So, Kaze, bring out the homework and dazzle us with it. So far, we're just seeing a lot of finger-pointing. That is my point. I don't pretend to know everything about this, but I am willing to ask questions and listen to all sides. I'm seeing how very complicated it is and that there has been a string of errors from every side. I didn't say yours are unsophisticated; just incomplete. Some others have been unsophisticated (start with the mayor). Would love to see something happen on the Alamo front. It's been near impossible to get any interest in, say, having films there or other things that would bring more people (and their money) down there. I hope I'm not stepping out too far to say that I'm not sure everyone involved with Farish Street already has exactly helped themselves. Like with Melton and his desire to control that street (seemingly because he's used the Farish Y for a home base of sorts for so long), some other folks seem to have a bunker mentality that doesn't help anything. And some of those bunker folks, as I understand it, have fed into the hysteria over the years. Melton certainly has. There seems to be something Solomonic at play here. Some people would rather have Farish split apart (or crumble) than see other people come in and try to help make something happen there. Of course, we saw that with the King Edward, too, but fortunately they were outmaneuvered by some smart folks.

Author

DonnaLadd

Date

2008-06-17T22:31:04-06:00
ID

130944

Comment

Re Peaches, Jeff talked to us about doing some events there. I think Kimberly is trying to figure out what exactly. Feel free to shoot her ideas.

Author

DonnaLadd

Date

2008-06-17T22:32:42-06:00
ID

130945

Comment

Sorry if I didn't express my point regarding Ben Allen but It's kind of hard trying to work and post your opinion at the same time: ) However, the point I was trying to make is that Ben stated in a meeting "We should have never hired Proforma" subsequently he informed the group about the many problems that Proforma has had in the past. Therefore, I ask "why did you vote for them for the project" Ben blew up! I asked if he thought the City of Jackson would ever have toll Booths? Once again Ben blew up! I hope farish street will become a reality in my life time (Just like the Chicago Cubs winning the World Series) with David Watkins on board it may become a reality. As for a back up plan, unfortunately it's too late in the game to change horses. It will be very interesting to see what the candidates have to say that are planning to run for mayor.

Author

Bell

Date

2008-06-18T06:49:50-06:00
ID

130949

Comment

Bell, that is total B/S and you know it. Define right here where I "blew up" about a toll road or the Performa issue, or better yet call me at 353 9800 and tell me all about it. If true, I will publically apologize right here. "Blew up about a toll road". Geez. If you are going to sling anonymous slime on someone, be a little more creative.

Author

Ben Allen

Date

2008-06-18T10:33:48-06:00
ID

130950

Comment

See you are doing it again!

Author

Bell

Date

2008-06-18T10:37:42-06:00
ID

130951

Comment

Just called you your secretary stated that you are out of the office!

Author

Bell

Date

2008-06-18T10:38:17-06:00
ID

130952

Comment

Ben has a point about the anonymous accusation, Bell. Why not identify yourself if you're going to make specific accusations? This is a bit one-sided at this point. One of the worst uses of the Internet is for people to make anonymous insults and accusations. Be above it.

Author

DonnaLadd

Date

2008-06-18T11:30:54-06:00
ID

130954

Comment

Donna, Ben and I talked and cleared the air.

Author

Bell

Date

2008-06-18T13:22:34-06:00
ID

130955

Comment

Also my statements weren't anonymous insults and accusations.

Author

Bell

Date

2008-06-18T13:23:29-06:00
ID

130958

Comment

Actually, they were here on the site. Glad you cleared the air, though. Any updates on what was posted here from either of you?

Author

DonnaLadd

Date

2008-06-18T16:06:33-06:00
ID

130986

Comment

Just in, verbatim: To all: In an attempt to keep you abreast of the negotiations transpiring regarding the "Farish Street Entertainment District" progress, we are pleased to make the following statement update: "Negotiations concerning the Farish Street Entertainment District are continuing in an accelerated and positive direction, and we are all encouraged and pleased with the tone and direction of these discussions. We had hoped to have an official announcement regarding this project today, but the complications, commitments and nuances of a project of this scope will require another few days to complete the ordinary due diligence required. We are cautiously optimistic that this project's fruition will be successfully announced soon, and if the negotiations bring to reality the direction these talks are going, Jackson and our entire state will be very pleased." Dale Danks and Ben Allen Not sure this one gives me hope. Danks is not my personal favorite cheerleader for Jackson, and he represents Melton. My guess would be that David Watkins' entry into the fray might be making them sit up a bit straighter in City Hall. Just a guess.

Author

DonnaLadd

Date

2008-06-19T08:25:24-06:00