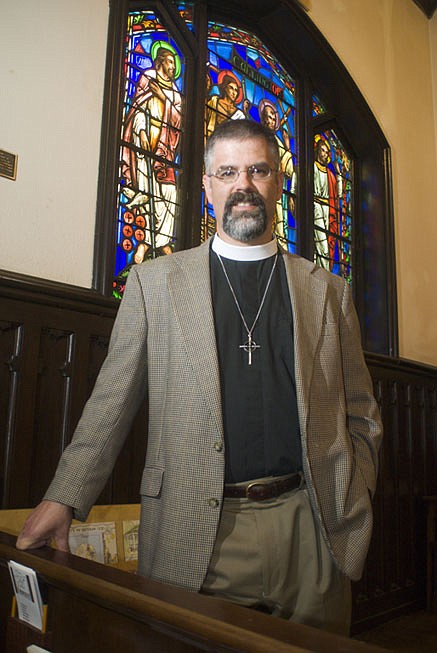 Music has always been a strong force in Rev. Bryan Owen's life, thanks largely to the influence of his acoustic guitar-playing father. After a difficult experience with his piano instructor who "had a pencil that she would chew on and she would literally rap you on the knuckles," Owen says, he found his true love: the bass guitar.
After the rector at Chapel of Cross in Madison, Alston Johnson, suggested they start a band, Owen found his way into a four-man all-priest rock band in 2006 called Rubrixx, named after the italicized guidelines in prayer books denoting when to stand or kneel. The bassist sees the band as a way to connect with his colleagues on a different level. "We're very different in many ways ... but all that gets transcended by this common love for playing music together," he says.
In addition to being a bass guitar player and Episcopal priest, Owen has a few other personas: He is husband to his wife Julie and father of two children, Mary Emerson, 8, and Hobson, 5. Exactly how Rev. Owen became a priest, father and rocker did not occur in the usual way—if there is a usual way for such a turn of events.
Born and raised in Tunica, Miss., ("Tunica, B.C.—Before Casinos," as Owen says), he chose to follow a different path than his family's farming business. After studying religion at Kenyon College in Ohio and earning his doctorate in religion from Vanderbilt University, Owen realized he was studying theology for reasons not entirely academic. With the help of friends and mentors, he realized that he felt called to the ministry.
Now at St. Andrew's Cathedral in his second appointment, Owen sees a bright future.
"The Cathedral is just on the edge of something new that could make a big difference for not only the participants here but possibly for Jackson," he says.
After talking with Owen for only a few minutes, it becomes evident that he succeeds in his role as an Episcopal priest by utilizing anecdotes. Ask Owen a question, and he responds with a well-told story full of engaging details and charming characters. Surely his story-telling abilities aid him in jam sessions with his band and help the four priests to get along. But Owen sees something more meaningful in the way his bandmates come together.
" think (Rubrixx is) a good model for the church itself: We can do something in common that doesn't negate or say that the differences are unimportant, but it also has a power to transcend them ... so that it's not something that separates us.
Previous Comments
ID

130779

Comment

Alston Johnson is amazing--he used to play guitar at the Spanish Rite II at St. Andrew's Cathedral, and would fill in for the Canon for Hispanic Ministries from time to time. A very good priest who is extremely comfortable outside of his comfort zone, and made his parishioners at St. Andrew's feel welcome and included.

Author

Tom Head

Date

2008-06-13T06:12:48-06:00