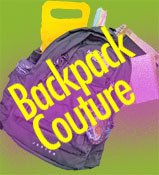 The words "bridal" and "shower," when paired together, are known to strike fear in the hearts of many aisle-bound women and men. No matter what lingerie and cookware parties your grannies may have in mind, showers needn't be the stereotypical estrogen fests of yore. Toilet paper dresses? We think not. Instead, many couples are choosing to go co-ed—dumping the traditional Jell-O salads and cheesy bride-to-be games for joint celebrations that honor the couple's distinctive interests and hobbies. The result? Less kitsch and a whole lot more fun.
Grow-A-Garden Shower
Would you rather nap under your favorite tree in the backyard than in your own bed? Do you spend most of your weekends digging up potatoes and weeding your potager, rather than going out on the town? Plant the seeds of your future with a garden party!
How: Advise guests to arrive at your backyard with sun block, gardening gloves and comfortable clothing, and to come ready to get their hands dirty! Suggest seeds or tools you'd like to add to your collection. Green thumbs welcome, but not required for admittance.
What to Serve: What better way to celebrate the bounty than with an all-veggie and/or organic lunch? Serve a healthy spread of farmer's market crudités, salads, fruit, honey and locally baked goods. Don't forget to flavor some water with cucumbers and mint, berries and sage, or oranges and cilantro. You and your guests are going to get thirsty.
Stock-Our-Bar Shower
Do you and your partner wax poetic over a pinot noir and lamb shank pairing, or refuse to drink anything other than locally micro-brewed beers? Expand your cellar/bar with the help of your family and friends.
How: Invite your friends to fête your nuptials at your favorite wine cellar, brewery, cigar bar or even your own home. Send out a "wish list" of specific libations you've been dying to get your hands on.
What to Serve: Wine and cheese? Yes, please! Small plates for tapas, charcuterie, artisan cheeses, olives, fruit and nuts, and mini desserts are ideal. Rustic breads and crackers round it all out. Chocolate-dipped strawberries are a must.
Sporty Outdoorsy Shower
Is your idea of a great time together a day in the great outdoors? Or is riding tandem through the woods on a bike—not through the city in an SUV—more your thing? Then, put up the "Gone Fishing" sign, gather your friends and get outside!
How: Get together for a day of fishing and campfire fun by the Rez, or head to the nearest park for a day of softball and a picnic. Don't forget to include a wish list of outdoor gear you've been eyeing, and tickets to a Mississippi Braves game.
What to Serve: The fish you catch, of course! Picnicking instead? Pack sandwiches and salads, or burger/hot dog fixings to grill. Don't forget marshmallows and chocolate for s'mores. Cold beer, sweet tea and lemonade are mandatory.
Book Shower
Is "The Cannon" the chief source for most of your dinner conversation? Are you more likely to browse your bookstore's aisles than those in the mall? Bibliophiles unite! This shower would make even Shakespeare proud.
How: Give guests a nudge in the right direction by letting them know what genres you normally enjoy reading, and books you've already read. Hold your shower in a cozy study, or schedule it at your favorite coffee house after a poetry reading or book-signing event.
What to Serve: Set up a coffee and tea bar where guests can spice up their brew with a selection of flavored creamers, sugars and mix-ins (chocolate, liqueurs, etc.). Serve scones, muffins, cookies and desserts from your favorite local bakery.