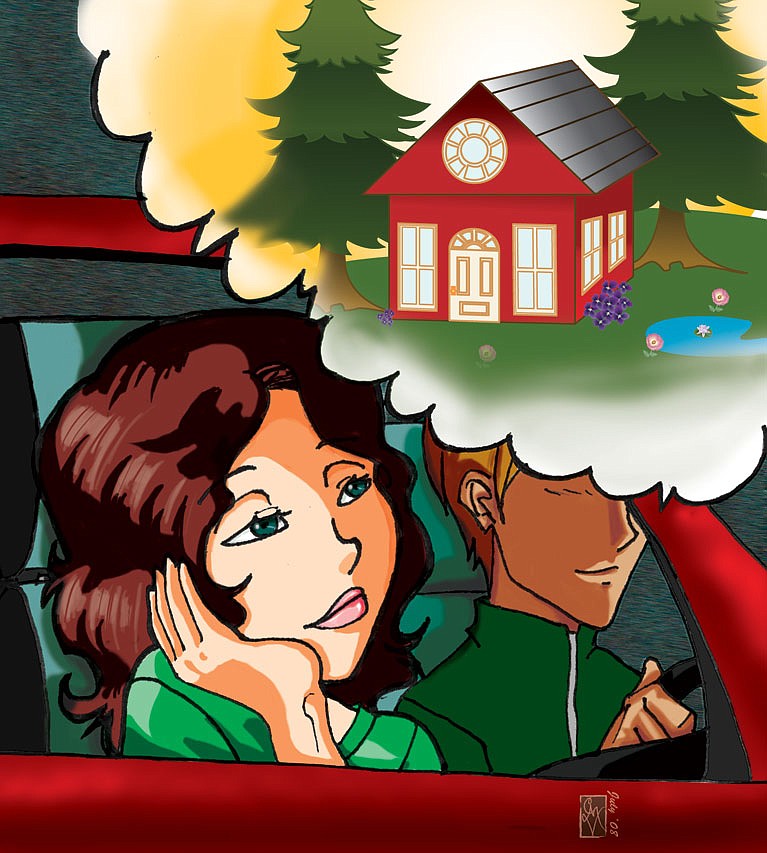 A few weeks ago, Mr. and Mrs. Green Girl drove south to Bogue Chitto in the middle of the night to start our annual breeding bird survey for the Audubon Society at the crack of dawn. Since Green Girl has little capacity for recognizing bird calls beyond the mockingbird and the red-tailed hawk (or is it red-shouldered?), she serves as the navigator, chief conversationalist and daydreamer on these types of excursions.
As Mr. Green Girl drove our 25-mile course, stopping every half mile to listen to the birds for a few minutes and record all the species he heard, I soaked in the rural beauty from the passenger seat and daydreamed about my environmentally friendly dream cabin in the woods. I could envision the trees, the vegetable garden, the cats curled up on the screen porch. But what would my cabin be built of?
SIP Panels
My dream cabin's walls are made of SIP panels, a durable building product made from polystyrene, which serves as the wall's insulation, sandwiched between a plywood-type material called OSB. OSB is a sustainable wood product that uses wood that would ordinarily be wasted in conventional lumber manufacturing. SIP panels are extremely long-lasting, and they do not have the chemical off-gassing associated with many traditional building materials. SIP panels make for a quick construction process, and a family company, Residential Advantage Building Systems, makes them here in Jackson.
Eco-friendly Bricks
I want my cabin to be made of durable materials that are not as susceptible to the elements, so brick seems like the right choice. The manufacture of conventional bricks can cause a great deal of pollution, although brick still may prevail over other building materials because they last longer, are recyclable, are energy efficient and don't off-gas. But now an environmentally friendly brick is in the works that is made from by-products of coal power plants, such as fly ash, which would otherwise end up in the landfill. These materials are hardened into bricks with the use of extreme pressure, which uses less energy than the standard brick use of extreme heat.
Efficient Windows
The average home loses 30 percent of its energy through its windows, and I suspect that those of us in older homes in Belhaven and Fondren are losing more than this. Windows have come a long way, and I often lust after the new Energy Star windows for my current house and my dream cabin, with two panes of glass insulated by clear gas in the middle. Special coatings on the glass affect the reflection or absorption of the sun's rays and can even filter sunlight differently in different seasons, keeping houses cooler in the summer and warmer in the winter. An efficient trick when building a new house is putting a lot of windows on the south side of the house for winter sun, and putting big roof overhangs over those windows to block the sun's rays when it is directly overhead in the summer.
Metal Roof
My eco-cabin in the woods will be covered with a roof made from recycled metal. Such roofs are an excellent choice for the environment because they are both recycled and recyclable, they are lightweight (which means less gas needed to ship them), they are fire proof, and they last a very long time. They are also energy efficient, because they reflect the sun's rays away from the house. This may not be the No. 1 roofing choice for Minnesota, where one wants to absorb as much sunlight as possible, but for Mississippi, they are a great option.
These days, environmentally sound building materials are easier to find and cheaper to use than ever before. SIP panels, bricks made from coal plant waste, insulated windows and metal roofs are only a few of the options available to the discerning consumer. Think solar hot-water heaters. Think insulation under your floors. Think living green roofs. We may not all be able to go out and actually build our dream cabins in the woods, but as things in our existing homes need to be repaired or replaced, we can consider these materials as an eco-friendly investment in our homes.
Local Resources
Residential Advantage Building Systems, LLC
387 W. Mayes St.
http://ResAdvan.com
601-896-9623
Online Resources
U.S. Green Building Council
http://chapters.usgbc.org/mississippi/
U.S. Environmental Protection Agency
http://epa.gov/greenbuilding/
Previous Comments
ID

132466

Comment

Hey Kelly! Sounds great, cant wait to visit yall there! You and the mister should come visit me, tour and work on some natural/ alternative building sites! And bring some soul. Northern California is devoid of the stuff! kat (west)

Author

Kat

Date

2008-07-26T18:13:10-06:00