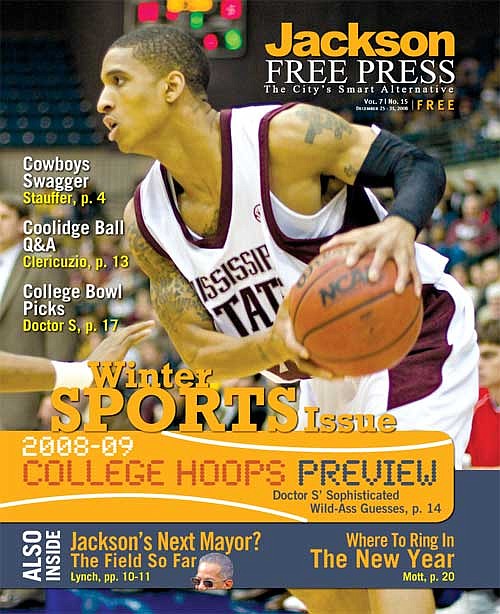 Wednesday, December 24, 2008
Before this college basketball season began, several national publications had projected Jackson State and Ole Miss as NCAA Tournament teams.
One third of the way into the season, JSU still looks like a good bet to make it to March Madness. Ole Miss was looking shaky even before the Rebels went to Cincinnati.
Meanwhile, Mississippi State is young and going through a tough December. Southern Miss has talent and experience, but the Golden Eagles have run into trouble against quality competition.
Remember, the season doesn't really begin until conference play tips off in January. That's when we will learn how good the Big Four teams are. So here are Doctor S' SWAGs (sophisticated wild-ass guesses) about how your favorite big-school cagers will fare:
MISSISSIPPI STATE
Coach: Rick Stansbury (11th season, 208-115)
2007-08: 23-11 (12-4 SEC), won SEC West, reached second round of NCAA Tournament
Arena: Humphrey Coliseum, Starkville
Radio: 105.9 FM
For a guy who has a reputation for not being much of a coach, Rick Stansbury has won a lot of games. The Bulldogs' 23-11 record last year gave MSU its seventh 20-win season in Stansbury's 10 seasons as head coach. The Bulldogs also won the SEC West for the fourth time in six years. Among SEC schools, only Florida and Kentucky have won more games than MSU since Stansbury became coach in 1998.
Stansbury has a young team: So what else is new? MSU's roster seems to turn over every year. This year's big-name defection was Ben Hansbrough, who transferred to Notre Dame.
MSU's top two players are juniors, big man Jarvis Varnado and guard Barry Stewart. The two are not exactly rah-rah types.
"They're quiet guys," freshman point guard Dee Bost told the Northeast Mississippi Daily Journal, "so they're trying their hardest right now to get comfortable as far as talking and being vocal leaders, but they're leaders as far as showing actions."
Varnado is a terror on defense. He is blocking 6.0 shots per game and grabbing 9.8 rebounds. He has also added some offense, scoring a team-leading 14.3 points per game. Stewart averages 9.8 points per game, but his experience makes him even more valuable on such a young team.
Sophomore guard Ravern Johnson is second in scoring with 11.5 ppg.
The Bulldogs were hurting last week. Stewart was day-to-day with a wrist injury and Stansbury spent three days in the hospital because of a viral infection. Both returned to the court for last Thursday's loss at Cincinnati.
MSU OUTLOOK
MSU is off to an OK 8-4 start after Monday night's 74-68 victory over Nicholls State. The Bulldogs are picked to finish fourth in the SEC West, but based on past history, that means little. If the Bulldogs' young players can step up as they have in the past, it could be an interesting season.
SOUTHERN MISS
Coach: Larry Eustachy (fifth season, 60-63)
2007-08: 19-14 (10-7 C-USA)
Arena: Reed Green Coliseum, Hattiesburg
Radio: 1180 AM/103.3 FM
Southern Miss will go as far as Jeremy Wise can carry the Golden Eagles this season. The junior guard led USM in scoring (18.7 points per game) last season and reached 1,000 career points faster than any player in USM history. Wise also led USM in assists, 3-pointers and steals. The Murrah High School alum is doing more of the same this season, averaging 18.4 points a game.
"He's come a long way in both mental maturity and skill level. He can take over a game," USM coach Larry Eustachy told the C-USA Basketball Media Day Blog. "He has the ability to be the best player on the floor and single-handedly take over a game and win it. He's vital. He's our most prized player."
Wise has plenty of help, mainly from senior guard Courtney Beasley (12.2 ppg) and sophomore point guard R.L. Horton (12.3 ppg), a Lanier High School alumnus.
USM suffered a major loss when Sai'Quon Stone was lost for the season after breaking his foot in the William Carey game.
Eustachy has quietly built a program that has been the second best in C-USA over the past two seasons. Unfortunately, there's a huge gap between C-USA's No. 2 and No. 1, perennial powerhouse Memphis.
Eustachy is convinced that his Eagles are moving in the right direction.
"It's real exciting because we've got five guys that are really, really good." Eustachy told the Albuquerque (N.M.) Journal. "So I feel we can do some things that have never happened here before. We're just going to get better and better."
USM OUTLOOK
Promising. The Eagles are 7-4 headed into the holidays, but have struggled against upper-level competition. Two of their wins were against NAIA teams. The Eagles are picked to finish fifth in the conference this year. They should do better than that and earn a spot in the NIT.
JACKSON STATE
Coach: Tevester Anderson (seventh season, 77-85)
2007-08: 14-20 (10-8 SWAC)
Arena: Athletics and Assembly Center, Jackson
Radio: 1300 AM
Last season, Jackson State came within one point of going to the NCAA Tournament for the second straight year. The Tigers lost to Mississippi Valley State, 59-58, in the SWAC Tournament final.
JSU has reloaded for another run at the NCAA. The Tigers have four starters back including preseason SWAC Player of the Year, Grant Maxey. And JSU has a bench full of talented reserves.
"We do have depth, and it's a pretty talented team," Tigers coach Tevester Anderson told USA Today before the season began. "We've got some good young kids, too."
Maxey, a 6-foot-6-inch junior forward, has averaged 15.0 points and 7.4 rebounds per game this season. And this has come against some big-name competition that includes defending national champion Kansas, LSU, Arizona State, Illinois, Providence and Texas A&M.
"He's one of the best I've ever coached," Anderson told Blue Ribbon Yearbook. "I expect Grant to get a lot of recognition this year. I expect him to get stronger this season, and with the right opportunity and right timing he could make some money (playing pro ball) one day."
Other top players for the Tigers include Darrion Griffin (13 ppg) and Murrah High alum Jeremy Caldwell (10.5 ppg).
JSU OUTLOOK
Excellent. The Tigers are 1-10, but that will mean nothing when SWAC play begins. Every SWAC team has a losing record right now. And JSU has been playing its usual band of heavyweights in November and December. Hey, the program needs the money.
"You never know who (in the SWAC) is going to have a knockout punch or hit a home run," Anderson told USA Today. "But we always feel like we will be in the top three."
The Tigers should cruise through SWAC play and—barring a major upset in the SWAC tourney like last year's—go back to the NCAA Tournament.
OLE MISS
Coach: Andy Kennedy (third season, 45-24)
2007-08: 24-11 (7-9 SEC), reached NIT semifinals
Arena: Tad Smith Coliseum, Oxford
Radio: 97.3 FM
Holy Bad Day at Black Rock, Batman! Attention, Ole Miss: Never. Go. To. Cincinnati. Again.
Dec. 18 might go down as the worst day in Ole Miss hoops history. First, coach Andy Kennedy was arrested early that morning after allegedly physically and verbally assaulting a cab driver.
Things got worse after that. Ole Miss lost to ninth-ranked Louisville. In the final seconds of that game, point guard Chris Warren, the Rebels' second-leading scorer, suffered a season-ending knee surgery. Warren is the third Rebel guard lost to a knee injury this season.
So much for what was supposed to be a promising season for the Rebels. Ole Miss won 45 games in its first two seasons under Kennedy. The Rebels were picked to finish third in the SEC West and expected to make a run at the NCAA Tournament this season. Then returning starters Eniel Polynice and Trevor Gaskins suffered season-ending knee injuries. And the Rebels' post play can charitably be described as inconsistent.
"We're struggling," Kennedy told The Clarion-Ledger before the trip to Cincinnati. "We're young. We make mistakes. When you're looking at 10 healthy guys on the roster and only four have played in a Division I basketball game before this year, realistically, it's just going to take some time. That's what we're facing."
And now? The Rebels' offense is crippled. The scoring burden falls on guard David Huertas (20.9 points per game). Freshman Will Bogan will take over at the point.
OLE MISS OUTLOOK
Dismal. The hangover from Kennedy's night on the town in Cincinnati could produce a lingering headache for the program. Ole Miss is 8-4 heading into Christmas. Unless the Rebels can find somebody besides Huertas who can score, Ole Miss' problems are just beginning.