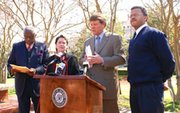 At a press conference on the south lawn of City Hall today, four City Council members—Margaret Barrett-Simon, Leslie McLemore, Marshand Crisler and Council President Ben Allen—called for Mayor Frank Melton to resign.
"The council is extremely frustrated with the current situation and feel among the four of us here that we are at a crisis point," Barrett-Simon said. "At a time when we have so many exciting economic development possibilities going on … this city needs and deserves someone who is capable of providing strong, visible and definitive leadership as mayor of Jackson."
"We strongly feel that it would be in the best interests of not only the city of Jackson but Mr. Melton as well that he should resign as mayor of the city of Jackson," Barrett-Simon continued. "His deteriorating health has been an issue for him for quite some time, and coupling this with his legal situation, we feel that there is no reasonable way Frank Melton can continue to govern the city of Jackson. Resigning would not only afford Mr. Melton the opportunity to focus all his energies on his health and to fight the criminal charges against him, but it would also afford us, the people of Jackson, the opportunity to begin to heal."
"The last 20 months have been very trying for the city of Jackson," Allen said.
"It has put us in the national limelight in a way that we really don't want to be in the limelight," McLemore concurred. "We are in the national news for the wrong reasons. This was the making of the mayor. It's not anyone else. He has chosen to put this city in the national spotlight in a manner that is not becoming to the city or the citizens of Jackson."
"On more than one occasion," McLemore said, "we have found it so frustrating that the mayor has elected not to follow state statute, not to follow the law. … State law 21-8-23 makes it clear that the council has the responsibility to establish municipal departments. The law is very clear on that, but the mayor decided, without talking to council, without consulting with council, to establish the Department of Neighborhood Enhancement. That is just one of many examples where the mayor has decided to go in his own direction."
Crisler said that Melton had failed to address increasing crime even though he ran for mayor on that issue. "There's no doubt that crime has steadily increased rather than decreased under this administration. … I believe that one of the reasons why is because of the crime-fighting tactics employed by this administration. My experience in law enforcement certainly teaches me that there is a way to do things, and these types of grandiose tactics do not work. They actually have an opposite effect on crime, and I think that's what you're seeing today.
"After 20 months in office, Mayor Melton and his administration, in our estimation, have not produced any tangible crime-fighting plans or outlines," Crisler continued. "One of the things we requested on the front end is how to address the crime situation in the city of Jackson. … People are losing confidence in the city because of these issues."
Crisler also criticized the mayor for hiring "an unprecedented number of temporary workers."
McLemore said he believes that the city attorney's office does not serve City Council, the city of Jackson or even Melton well.
"Mayor Melton has a lot of supporters in this city," McLemore said, "and he is doing what he's doing because he has supporters. But I think primarily that he has not been getting good legal advice from the same group of people that are constitutionally bound to represent City Council. I advocated—and my colleagues did not go along with me because they said it was not constitutionally possible; I think it is possible—I think we should eradicate, totally eradicate, the legal department and start all over again. I think we should divorce them. We should divorce them because the mayor's office deserves solid legal advice, and the City Council deserves solid legal advice."
As an example of why City Council regards advice from O'Reilly-Evans as unreliable, Allen referred to a legal case, Carroll, Bailey and Bradly vs. Johnny Dupree. Allen said this was a lawsuit concerning confirmation of department heads that was very similar to the current dispute between City Council and the Melton administration. In that case, the circuit court ruled that two council members and one private citizen had standing to bring a writ of mandamus against Dupree for failing to confirm department heads. However, O'Reilly-Evans advised Allen, in writing, that a writ of mandamus against Melton would have to be passed as an order by a majority of City Council. That order would then be subject to veto by Melton himself.
"My question back to them is: What's different between the city of Jackson and the city of Hattiesburg?" Allen said.
The four City Council members also said that they are concerned about city employees participating in political rallies while on city time. Both today and yesterday, there were "Free Frank" rallies, apparently led by city employees and Melton loyalists Stephanie Parker-Weaver, Bob Hickingbottom and Carolyn Redd, who is Melton's sister-in-law.
"I'm not a lawyer, but I think it's illegal," McLemore said. "I don't think they should be doing that, and I gather from the best sources that we're looking at 15 to 16 people on the city payroll. Even if it's not in violation of any civil service statute—and I know a number of these persons are political appointees—they're doing it on the city's time. The citizens of Jackson are paying them—they shouldn't be out protesting. I hope the acting mayor, Mr. Bluntson, will move on this issue immediately and ask people to discontinue that process. If they don't discontinue, I would hope that he would fire them, summarily fire them on the spot."
"There are certainly guidelines that government employees are prohibited," Crisler agreed. "We are pulling the statutes on that right now. … We're taking names, we're taking still shots, and we're going to do something about that. There's just no doubt about it. That breaks down government, and that doesn't work. When we have employees, whether on the clock or off the clock, challenging the system we work with, which is the judicial system, that breaks down the very fiber of government. We're going to take action on that one way or another, and we want to be very clear on that. It's a problem, and we don't need that in the city of Jackson."
Earlier in the day, the Jackson Free Press broke news that Melton had signed an executive order naming Bluntson acting mayor. Bluntson announced his assumption of duties at 1 p.m., but by 4:30 p.m., the Mississippi Supreme Court had overturned Melton's arrest warrant, ensuring that Bluntson's tenure as acting mayor was short.
Before news of the court's decision, Crisler said that City Council would appoint their own choice of who should be acting mayor after 60 days.
Allen said that having an acting mayor wouldn't change anything. "The requests are to the administration, whoever that may be," he said.
When asked about divisions on the council, McLemore expressed confidence in the new four-member voting bloc. "One, two, three, four," McLemore said, pointing to himself and each of his colleagues. "Simple math."
Melton bodyguards Michael Recio and Marcus Wright, who are out on bond for their alleged role in the destruction of a Ridgeway Street duplex, watched the proceedings from the steps of City Hall. When Recio noticed that a JFP photographer was taking his picture, with two JFP reporters looking on, he extended his middle finger.
This story has been substantially updated since it was first posted.
An earlier draft of this story called in by telephone stated that Recio "flipped the bird." This paraphrase is misleading. Recio extended his middle finger and slowly scratched his chin with his other fingers down, all the while maintaining eye contact with JFP reporters. The message was clear, but not quite so clear as flipping the bird. In fairness to Recio, he might have an unfortunate proclivity for glaring at people while scratching with his middle finger.
Previous Comments
ID

126288

Comment

LOL! Recio! What a man! Good thing he didn't have his gun! To our four council members - Thank you!

Author

pikersam

Date

2007-03-08T14:11:19-06:00
ID

126289

Comment

Pike: you forgot the pom-poms. *o/*

Author

Lady Havoc

Date

2007-03-08T14:22:12-06:00
ID

126290

Comment

LOL! My leet speak is weak! I am really glad that the Council is going to address the employee rally issue.

Author

pikersam

Date

2007-03-08T14:24:34-06:00
ID

126291

Comment

I saw them behind city hall leaning on a truck when i passed by. I thought what exactly do they do now! Do they just hang out or are they gonna get arrested so they can protect frank in raymond

Author

jd

Date

2007-03-08T14:25:04-06:00
ID

126292

Comment

Nice pompons. ;-) I will say that I *liked* both Recio and Wright when I was around them during the interviews and ride-alongs. I keep thinking that they got in WAY over their heads, and now they're going down with the Titanic. That is so sad.

Author

DonnaLadd

Date

2007-03-08T14:29:01-06:00
ID

126295

Comment

They are Melton's eyes and ears on the outside while he's on the inside.

Author

pikersam

Date

2007-03-08T14:29:12-06:00
ID

126293

Comment

Hmm.... Do we have Recio doing that on camera? That seems like conduct unbecoming an officer. The cop that video taped himself quit before he was fired, remember?

Author

LawClerk

Date

2007-03-08T14:29:33-06:00
ID

126294

Comment

Brian said he doesn't think Darren snapped the picture quickly enough, unfortunately. But several people saw it—including our editorial cartoonist. ;-)

Author

DonnaLadd

Date

2007-03-08T14:32:01-06:00
ID

126296

Comment

You know, I am getting tired already of Bluntson and his one-sided request. He is asking that we pray for frank. What exactly are we asking God to do for frank that he could not have done for himself, Mr. Bluntson?

Author

justjess

Date

2007-03-08T15:06:07-06:00
ID

126297

Comment

I'll remain in wait and see mode regarding Melton being ousted, meanwhile it's about time these four gave some indications of possessing spines!

Author

K RHODES

Date

2007-03-08T15:14:41-06:00
ID

126298

Comment

"I will say that I *liked* both Recio and Wright when I was around them during the interviews and ride-alongs. I keep thinking that they got in WAY over their heads, and now they're going down with the Titanic. That is so sad" I certainly hope that the underlings get treated with some decency since the top guy is getting his punishment. Real lives are being impacted here, and careers are being ruined, so justice is being served in more facets than just the judicial system.

Author

GLewis

Date

2007-03-08T15:32:26-06:00
ID

126299

Comment

Ladd: I agree…I feel the same why about Robert Walker. He is a very good man and long time friend of the family. My mother feels that he is 'just doing this job' but I have to believe that at some point your core beliefs have to come out and say that enough is enough. Recio, Wright and Walker may be good guys but they should have 'jumped ship' a long time ago. They will (for a long time) be remembered for their roles in this administration and not for the good people that they once (prayerfully still are) were. Justjess: I have always been taught to especially pray for those who chose and/or will not pray of themselves. God love us all…so I will pray that the Lord touches Frank's heart (no pun intended) and reveals to him his wrongs and prayerfully Frank will hear the Lord and act accordingly. Shoutout to my girl Ann...I love you and always will!!

Author

Big Tee

Date

2007-03-08T15:37:32-06:00
ID

126300

Comment

Okay - clearly we (the enlightened) are tickled to see that the Council is 'damn well going to do something now!" and I am delighted to hear that at least 4 of our ELECTED officials are willing to take a stand and 'speak for the majority' of the people forced to endure this display we have been hit with for approx. 20 months now. Since I currently reside in Crisler's area, I am very thankful to see my vote counted for something when he was put into office! Regarding our city employee's gathering at the 'Free Frank Rally' yesterday - WHILE being paid by tax dollars non-the less, I wonder..... (pondering quietly) if other city employee's, ON the cities time, had gathered on the other side of the street with bullhorns and picket signs chanting, "Keep Melton in Jail' or better still, 'Bring Johnson Back' - do you think THEY would still have jobs today? Hhhmmm, let us all take a moment of silence to contemplate on this question!........HELL NO! MY view - Keep Melton in Jail or let him resign and send him to Texas; frankly, I don't care anymore about being upright, and lawful, oh crap, does that mean that Frank has 'rubbed' off on me - yek!

Author

Katie D

Date

2007-03-08T15:37:32-06:00
ID

126301

Comment

I feel you Katie...BTW does anyone know if Harvey even wants his old job back!?!

Author

Big Tee

Date

2007-03-08T15:40:24-06:00
ID

126302

Comment

I certainly hope that the underlings get treated with some decency since the top guy is getting his punishment. Real lives are being impacted here, and careers are being ruined, so justice is being served in more facets than just the judicial system. This is a bit cryptic. Which underlings do you mean? I agree that real lives are being impacted—all over the place. There are real people, for instance, who own that place on Ridgeway Street and who cry about their son who was in it when it was attacked. There are real people who live in homes throughout Jackson where the mayor and his "protective staff" goes in in the middle of the night. I'm concerned about Recio and Wright, and believe they are caught up in something they don't quite understand. (I hope that's true.) But they are also grown men, and police officers. They have responsibilities, and should know right from wrong. And if they see the mayor hurting himself or others, it is their responsibility to stop him, not help him. The same goes for the chief and any other adults around him.

Author

DonnaLadd

Date

2007-03-08T15:41:47-06:00
ID

126303

Comment

IMHO, what Recio and Wright should do to set themselves right and get a new start is to make a deal, testify about everything they know and ask forgiveness for any mistakes they might have made. They are young enough that people would forgive them if they were "ordered" to do certain things, even if they shouldn't have gone along with it. But the longer they play this game and the tighter they get wound in, the harder it's going to be for them to come out in a good place on the other end, I'd guess. As I said, I liked them. I hate to see them go down because they might have believed in someone who led them down a dark alley. Maybe they're due a prayer or two while folks are at it. Pray they will do the right thing and get a new start for themselves and their families. In so doing, maybe they can help Melton get the help he obviously needs.

Author

DonnaLadd

Date

2007-03-08T15:45:34-06:00
ID

126304

Comment

BIG TEE - to add to your comment, do you not believe, as I do - that essentially all of the politican's and/or want-to-be politicians are not committing political suicide by alligning themselves with Melton thru-out his term? I 'almost' can conjur up some sympathy for those who have fallen on the band-wagon of Melton's including, Walker, Recio, Wright, Lewis, and many others, because honestly, I believe when this is all said and done -they will be forced to endure the hardships that their alliance with Melton has placed upon them! Do they really believe with the state of turmoil that this city is under that Melton will 'stick around' when it's all said and done to ensure that their futures are set in stone? Melton will be the first one to kick his heels and take off for another city to set up shop and destroy, leaving behind those who did believe in, and followed him to the bitter end. This leaves behind T. Lewis, who from my understanding, has been an upstanding officer for many years, but clearly, a new police chief would not allow someone so vocal to remain; Chandler (Fire Dept.) who has been under scrutiny from the first day he took the position, will clearly not be able to return to working on a fire truck. Anderson (PD) who by all accounts did not have the necessary qualifications normally looked for in hiring a police chief for a city this size, she will NEVER be able to work anywhere in any high administrative position because she has ultimately proven that she can't even make her mouth form the word 'NO' when it comes to dealing with Frank. As I said, I almost can find some sympathy for these persons, based simply on the fact that they, along with many others simply have committed political and career sucicide in MY opinion! Where will that leave them, and their families when Melton is gone?

Author

Katie D

Date

2007-03-08T15:48:30-06:00
ID

126305

Comment

I agree with you Katie D and it is funny that you bring up Chief Anderson...I would joke to a friend that I hope that she (Chief Anderson) has a good saving plan becuase no entity in their right mind would hire her after all this...let's hope not! Come to think of it...a good savings plan maybe good for a number city leaders before it is all over!

Author

Big Tee

Date

2007-03-08T16:02:22-06:00
ID

126306

Comment

Right, Katie D. I've long thought one of the saddest fallouts of the Melton Madness are the lost careers and reputations. People get promised grandeur, and look what they end up with. It's downright tragic, but it's hard to help people who won't figure out how to jump ship before it's too late. Now, there seems to be a history in Jackson of people recovering from some pretty icky stuff without the proper scrutiny because the media didn't give a damn enough to hold them to that scrutiny. So maybe that empowered people in certain positions. But I think those days are over, and Jackson has turned the corner on continually turning our collective heads about things that make us uncomfortable. I hope so, because our future depends on us taking on things head-on and holding public servants accountable.

Author

DonnaLadd

Date

2007-03-08T16:12:44-06:00
ID

126307

Comment

"He operates outside the box..." Not anymore; he lives in one.

Author

Cliff Cargill

Date

2007-03-08T16:21:21-06:00
ID

126308

Comment

When Melton leaves and it looks to be just a matter of when now, hopefully the city leaders will have some compassion when considering the fate of some of his underlings, as so many just appear to have been swayed under his forceful personality. The disarray in the city government evidenced by the JFP coverage is just astounding, it is really hard to believe something like this is happening in this day and time.

Author

GLewis

Date

2007-03-08T16:23:51-06:00
ID

126309

Comment

I can see that, GLewis. However, I would think now is the time for them to ensure that happens. The ones who are out front leading rallies or trying to sway juries, or making a fool of themselves in public with obscene symbols and the like, are not helping themselves. I would guess that now is the perfect time to come clean and to shore up their futures. BTW, we are open to whomever wants to talk to us. Always. [email][email protected][/email] 601.362.6121 ext. 5, 7 or 8

Author

DonnaLadd

Date

2007-03-08T16:27:08-06:00
ID

126310

Comment

I feel sorry for whomever wants to be the next mayor. He/she will have a "tuff row to hoe" after this mess!

Author

Fitz

Date

2007-03-08T16:28:19-06:00
ID

126311

Comment

Heh. What exactly are the rules about what happens if the mayor resigns or gets a felony conviction? Would there be a special election?

Author

GLewis

Date

2007-03-08T16:38:39-06:00
ID

126312

Comment

Cliff, that's a great one! Guess when Recio flipped-off Adam, et al, he validated the JPF's having been the one to break the news that landed them in this predicament today. Nice work, JPF!

Author

ChrisCavanaugh

Date

2007-03-08T16:40:28-06:00
ID

126313

Comment

If the Mayor is not there for Recio and Wright to protect, shouldn't the Chief have them at headquarters or a precinct doing some actual police work?

Author

JenniferGriffin

Date

2007-03-08T16:45:50-06:00
ID

126314

Comment

For GLewis: Yes, there would be a special election. No party primaries; just a winner-take-all election. The date for this election would be set by the Governor, I believe. In that event, the acting mayor would be replaced by an interim mayor and this could person may be the same person. Some of you legals please explain in layman-like language. Fitz, this will certainly be a 'tuff row to hoe', as you and my daddy would say. But with an honorable man (or woman) many good people right here in Jackson would help. Many would and are helping the current administration but behaviors have been so very volitile that most shy away.

Author

ChrisCavanaugh

Date

2007-03-08T16:49:09-06:00
ID

126315

Comment

EVERYONE IS SAYING THAT FRANK MELTON IS GETTING A BAD DEAL. ALL OF HIS SUPPORTERS COMPLAINED ABOUT MAYOR HARVEY JOHNSON. AT LEAST, MAYOR JOHNSON DID NOT GO TO JAIL. MELTON'S SUPPORTERS STATE THAT MELTON IS TOUGH ON CRIME, BUT YET WE HAVE NOT SEEN ANY STATISTICS FROM THE POLICE CHIEF OR THE MAYOR, BECAUSE EVERYONE KNOWS THAT CRIME IN THE CITY IS UP. YES, FRANK MELTON SHOULD RESIGN. DID ANYONE NOTICE THAT MELTON APPOINTED ONE OF HIS FRIENDS AS ACTING MAYOR.........

Author

kinvillage

Date

2007-03-08T16:50:13-06:00
ID

126316

Comment

I figure if Melton says he's sorry and offers to do better that Ben will be the first to extend the olive branch and we are right back where we started.

Author

pikersam

Date

2007-03-08T18:03:54-06:00
ID

126317

Comment

I just updated this story with much longer quotes, so take a second glance.

Author

Brian C Johnson

Date

2007-03-08T18:23:46-06:00
ID

126318

Comment

From Jennifer - "If the Mayor is not there for Recio and Wright to protect, shouldn't the Chief have them at headquarters or a precinct doing some actual police work?" That's just the point.........they didn't do "real police work" before Frankie became Major. They can't do what they don't know! Regards, Larry

Author

Larry

Date

2007-03-08T18:52:02-06:00
ID

126319

Comment

MAYOR

Author

Larry

Date

2007-03-08T18:53:10-06:00
ID

126320

Comment

If the Council's new bloc stays together we may be able to keep the mayor from damaging the City too much more. If they go after legal and his department heads - all of them. If some of the people jump ship that need to jump ship. If and when the real (over) budget numbers come out. If Crisler and Allen realize they have more in common then they think. :-) We can have an awesome Council! It will be tough on the City while we do this; but, it is the right thing to do. If it takes the support of these four to finally root aout the problems in this City and with the County then let's do it! We can hang on for a couple of more years if they stay committed to saving the image of Jackson from Melton's bad image. Don't forget, we get another round of Melton crap in April. He needs to go home. The "new" Council is right, and they are saying the right things. They need to stop the bleeding as much as possible, then begin to lay the ground work to sweep out the other three through elections if we are stuck with this drama for the next two years. I mean watching Melton is like watching a dog chase his tail, and it is getting old. I mean really... What is Melton going to try and put Alan Lange up against Ben Allen? LOL! ROTFLMAO!

Author

pikersam

Date

2007-03-08T19:42:40-06:00
ID

126321

Comment

Stephanie Parker-Weaver, Carolyn Redd, and some of the others in the demonstration are not civil service employees. They serve on the Mayor's Staff, are appointed and serve at the will and pleasure of the Mayor. One the other hand, "real" civil-service employees which are usually those who have worked under several mayors are prohibited from this type of activity. They can't even put a political bumper sticker on their cars. Not only has the mayor hired an unprecedented number of temporary workers, he is the only Mayor I know about in the recent history of the City who changes his appointed Department Directors every few months, plus appointing a "Consultant" to help the Department Director. Example the CAO's office, Mr. Walker, has four deputy directors plus a consultant, Jayne Sargent. What on earth are all of these people doing? You would think the City would be spinning like a top. But it isn't. Maybe "too many cooks." Frankly if a Director can't run his own department, he (or she) shouldn't be there. This constant shifting of consultants, directors and "temp" workers (which is just a convenient way of circumventing the civil service system which requires the City to hire the best qualified person) is one of the reasons the Counsel is distrustful of the Mayor. They know something is wrong but just can't keep track of all of it. You sure wouldn't know the City is broke with this type of extravagance. If the Mayor would just hire one Director for each department and fire all of the consultants (except Jimmy Heidel of course), maybe we could pay our police officers more money to clean up Jackson. Maybe this doesn't seem like a big problem to anyone but me, but I think the City's resources should be prioritized and elected leaders should not be able to abuse the system by putting all of their cronies in a high-paying job where they essentially have no real accountability.

Author

realtime

Date

2007-03-08T20:46:53-06:00
ID

126322

Comment

Are we to assume that the City Council's call for Melton's resignation is still in effect--or not?

Author

jasp

Date

2007-03-08T21:12:16-06:00
ID

126323

Comment

I am wondering did the city workers who were showing public support for the mayor on the front lawn of city hall break some kind of law?...I am also curious did the four city council members who have been opposing the mayor at every turn on every issue break any laws when consulting with a private law firm and dismissing the acting mayor robert walker and city attorneys to discuss city business?...looks like to me some people just can't let crap go....Simone,Crisler,Allen and Mclemore are nothing more than vultures....the four of them have got a rush of power in them and the smell of kick back money from construction contracts under their noses...they need frank melton to get out of the way so they can fatten their pockets...I am really sick of hearing crap about that house on Ridgeway street....Melton bashers have nothing left to hold onto....As if you people really care about one stupid crack house in a poor black neighborhood!!!!...gimme a break...as far as somebody's son being in a house when it was torn down...did the family of the guy in the house file a police report or hire a lawyer..I'm pretty sure if someone had a complaint against the mayor there are a number of lawyers who would have been glad to take the case....any human being that is sane enough to live by themselves in their own house, should be sane enough to accept responsibility for their own actions...you don't get to claim being retarded or not well in the head when you get caught with illegal drugs...why don't you investigate that angle of it?!?!?!?!.....And while you're at it, I got another story/case for you to check out..it concerns the one hundred fifty million dollar school bond money..i heard it's something suspicious going on with that...I don't quite understand how that works, but i have heard that you have to hire a lawyer or lawyers to handle a situation like this and i hear that this bond issue situation was possibly illegally awarded to one white lawyer who has already lined his or her pockets with about 22 million dollars of the money....and for the record, I don't know where you media types get your information, don't assume that black people that are in the media profession or members of civil rights' groups speak for all black people in the city of Jackson...I am speaking specifically of groups like the ACLU and the NAACP....

Author

nosweat

Date

2007-03-09T00:50:51-06:00
ID

126324

Comment

outside of this mess about probation violation and the ridgeway incident..what other laws did melton break?...who cares about who he appointed as acting mayor?....the city council had plenty of business to occupy themselves with besides their sick obsession with getting rid of the mayor....hell the few days that the mayor was in jail the imbeciles couldn't even figure out what to do with themselves..they spent more time bitching and complaining and scheming against the mayor, that they couldn't even do their own jobs...as far as Marshand Crisler threatening city workers, how ignorant and petty...he better be careful or the lawsuits that could come up because of this might be another mess that will further divide the city...

Author

nosweat

Date

2007-03-09T01:08:36-06:00
ID

126325

Comment

outside of this mess about probation violation and the ridgeway incident..what other laws did melton break?... - nosweat I guess to you being convicted of three misdemeanor gun charges and charged with five felonies (including inciting minors to commit felonies) just "isn't a big deal"??? Sorry but I really can't see how that isn't a big deal. If you don't see that, to me it seems you are in denial. Drinking the kool aid as Cliff likes to say.

Author

Izzy

Date

2007-03-09T07:43:29-06:00
ID

126326

Comment

Nosweat: posting after they have to quit serving alcohol is never a good idea.

Author

Kingfish

Date

2007-03-09T07:52:31-06:00
ID

126327

Comment

Go ahead, nosweat, stand by your man (lol)! But don't expect a lot of folks here who have been paying attention to and opposed the actions of this mayor from his days as a candidate to agree with you.

Author

Jeff Lucas

Date

2007-03-09T08:26:43-06:00
ID

126328

Comment

1-2-3.... Sometimes its hard to be a woman Giving all your love to just one man You'll have bad times And he'll have good times Doing things that you don't understand Stand by your man Give him two arms to cling to And something warm to come to When nights are cold and lonely Stand by your man And tell the world you love him Keep giving all the love you can Stand by your man But if you love him you'll forgive him Even though he's hard to understand And if you love him Oh be proud of him Cause after all he's just a man Stand by your man Give him two arms to cling to And something warm to come to When nights are cold and lonely Stand by your man And tell the world you love him Keep giving all the love you can Stand by your man Stand by your man And show the world you love him Keep giving all the love you can Stand by your man

Author

Cliff Cargill

Date

2007-03-09T08:29:58-06:00
ID

126329

Comment

Author

Kingfish

Date

2007-03-09T08:34:36-06:00
ID

126330

Comment

or this

Author

Cliff Cargill

Date

2007-03-09T08:43:29-06:00
ID

126331

Comment

King, talk about mud flaps! Nosweat: I am wondering did the city workers who were showing public support for the mayor on the front lawn of city hall break some kind of law? We don't know. Instead, they may have broken city regulations, or maybe they haven't broken anything by protesting. We'll find out and let you know. ...I am also curious did the four city council members who have been opposing the mayor at every turn on every issue break any laws when consulting with a private law firm and dismissing the acting mayor robert walker and city attorneys to discuss city business? Oh dear. Robert Walker was never acting mayor, and City Council did not dismiss city attorneys to discuss city business. Instead, the city attorney walked out on City Council while they were seeking her advice. Sources tell me it's gotten so bad that city legal won't even pull statutes for council for them to paruse. You've got it factually backwards. ...looks like to me some people just can't let crap go.... Settle down. Simone,Crisler,Allen and Mclemore are nothing more than vultures.... Ad hominem, though the metaphor is apt if you mean they're feeding off Melton's political corpse. the four of them have got a rush of power in them and the smell of kick back money from construction contracts under their noses...they need frank melton to get out of the way so they can fatten their pockets... This is slander, amigo. Do you understand that you could be sued for making such statements without evidence? I am really sick of hearing crap about that house on Ridgeway street....Melton bashers have nothing left to hold onto....As if you people really care about one stupid crack house in a poor black neighborhood!!!!...gimme a break... Um, yes we do. It's called the rule of law. Go to Belarussia if you're not down with it. as far as somebody's son being in a house when it was torn down...did the family of the guy in the house file a police report or hire a lawyer..I'm pretty sure if someone had a complaint against the mayor there are a number of lawyers who would have been glad to take the case....any human being that is sane enough to live by themselves in their own house, should be sane enough to accept responsibility for their own actions...you don't get to claim being retarded or not well in the head when you get caught with illegal drugs...why don't you investigate that angle of it?!?!?!?! Good God you're an ignorant little thing, aren't you? Welch wasn't in the house. Sutton, the owner, has filed a lawsuit, and there are many, many lawsuits against Melton. Welch was not caught with illegal drugs, at least not when Melton smashed his house. Also, why are you so hystrionic with your punctuation?!?!?!?! .....And while you're at it, I got another story/case for you to check out..it concerns the one hundred fifty million dollar school bond money..i heard it's something suspicious going on with that...I don't quite understand how that works, but i have heard that you have to hire a lawyer or lawyers to handle a situation like this and i hear that this bond issue situation was possibly illegally awarded to one white lawyer who has already lined his or her pockets with about 22 million dollars of the money.... Interesting. I heard that you smoke dead people's ashes for the ephemeral high. Of course, that's just a rumor. In other words, not journalism. And you see, that sort of thing could lead both you and the JFP into legal trouble. That, my friend, along with your staggering ignorance about nearly every factual apsect of this issue, is why you are hereby banned. Don't go off and whine about the JFP "censoring" dissenting opinions. You are banned for making ad hominem and slanderous attacks. You are also banned for being completely ignorant of facts, which makes your opinion completely uninteresting. See ya around, Nosweat!

Author

Brian C Johnson

Date

2007-03-09T09:35:25-06:00
ID

126332

Comment

damn. another one goes to the Group W bench. He and tango earned it.

Author

Kingfish

Date

2007-03-09T09:52:51-06:00
ID

126333

Comment

Things I never thought I would read in a blog: "I heard that you smoke dead people's ashes for the ephemeral high..." HAHHA.... wow. Now, how does one get coffee off a keyboard? Thanks Brian!

Author

LawClerk

Date

2007-03-09T09:53:39-06:00
ID

126334

Comment

Damn Brian! Did you get a hold of some decaf or something this morning!

Author

Cliff Cargill

Date

2007-03-09T10:41:27-06:00
ID

126335

Comment

I mean really... What is Melton going to try and put Alan Lange up against Ben Allen? LOL! ROTFLMAO! That's really funny. Don't give him ideas. Of course, I don't think Alan could get two votes after his antics of the last couple years. It would be fun to watch Ben obliterate him in public, though. ;-D

Author

DonnaLadd

Date

2007-03-09T11:15:29-06:00
ID

126336

Comment

On a serious note, the four council members need to be wary. The City Legal department will use all of its resources to destroy them. If not all, just one will kill the majority. IMHO, city legal does not operate in the best interest of the city. This situation is very scary. SORE can be very dangerous.

Author

Fitz

Date

2007-03-09T12:12:21-06:00
ID

126337

Comment

"The City Legal department will use all of its resources to destroy them." Not much of a threat.

Author

Jennifer2

Date

2007-03-09T13:00:14-06:00