Wednesday, October 25, 2006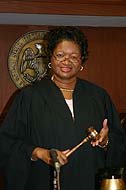 Chancery Court District 5-1 is probably one of the busiest districts in the state. Every week, the district processes some of the most heart-wrenching court cases ever to face a family. Divorces, child-custody battles and estate problems usually have their day within the walls of chancery court—and the kind of issues facing judges can cause tremors. After almost two decades of service, incumbent Stuart Robinson is retiring from his $104,170-a-year post, leaving it to be fought over by four contenders.
Minor F. Buchanan
• Jackson resident since 1975.
• Raised in Holly Springs.
• Graduated from Ole Miss in 1973 with a double major in history and anthropology.
• Graduated from Mississippi College School of Law in 1978.
• Worked with the Mississippi Supreme Court as a research assistant/law clerk.
Chancery Court hopeful Minor F. Buchanan says he can do a better job than his opponents and wants to give it a try.
"My biggest issue is that I would like to see whoever gets elected be available," says Buchanan, 54, explaining that he wants to encourage more judicial effort in the court's mediation program, adopted by the Mississippi Legislature in 1998.
"They've used it successfully in Rankin County and Madison County. I've seen it used successfully here. One of the greatest complaints I have in domestic cases is that it'll take a year to resolve the case, but with mediation, when parties get together and sit across the table from one another, people can resolve these issues without having to fight."
Buchanan, who is a mediator, emphasized that both parties should be able to mediate at least a part of their issue, most of the time.
Minor says his dedication to the city is an advantage he holds over his opponents.
"I would ask all my opponents if they voted in Jackson, and if so, when was the last time? I've been voting in Jackson, in this district, for 30 years. I've maintained my practice in this district for 27 years. It's always been right here in downtown Jackson. It would have been very easy to pack up and move either my residence or my business to Madison or Rankin County, but I have chosen not to do it because this is my home. I've got two opponents who practice outside this district. One is a Rankin County attorney, been out there 10 years supporting that community out there. The second one has only been practicing for 13 years. He's in Madison. He had just registered to vote in Hinds County on Jan. 31, 2006. The third one … lives down in Byram."
Dewayne Thomas
• Byram resident for 14 years.
• Graduated from Ole Miss, in 1977.
• Graduated from Mississippi College School of Law in 1980.
• 26 years experience as attorney.
• Served in state senate for nine years.
Despite the opinion of Buchanan, Dewayne Thomas, 52, said his location in Byram should have nothing to do with how well a judge can do his job for residents in Jackson.
"The chancery court judge doesn't have a constituency. If you were a member of the House or Senate, yeah, you'd have a constituency to answer to, but in this situation you don't. You have no obligation to that litigant other than to be fair and honest in your deliberation," Thomas says.
Thomas, a Mississippi College School of Law graduate, says his 26 years of legal experience qualifies him to handle chancery cases. "I've paid my dues in service, almost all my adult life. I've had a variety of experiences that have prepared me for this," Thomas says. "Chancery is a people's court, and I've always considered myself a people's lawyer. Chancery is always the heartbreak court. You have to deal with the pain of a lost loved one, or divorce or the joy of adoption. I've done a lot of these cases. I could take the bench tomorrow and preside over these cases with confidence."
Thomas says the right mentality is required for chancery court, and he thinks he has lived the work long enough to know how to be a fair, good judge.
"You need someone with the judicial temperament to hear these types of cases and foster a positive resolution in these matters and a good knowledge of the law that governs these matters," Thomas says.
Rusty Willard
• Living in Jackson since fourth grade—"either 1964 or 1965."
• Graduated from Millsaps College in 1978.
• Graduated from the Mississippi College School of Law in 1984.
• 21 years experience working as an attorney specializing in family law and chancery court.
• Taught seminars on domestic adoptions.
Chancery court contender Rusty Willard, 50, thinks he has the experience for this court, too.
"I've been doing chancery-court work for 21 years," Willard says. "Somebody asked me what all I've done, and I had to think about what all I haven't done. I haven't done an annexation case. I haven't done a bond issue, but short of that, I've done just about everything else you could do in this court."
Willard says that it takes a special kind of mind to see the real picture in a divorce or custody case.
"I think it's important to understand the emotional dynamic that goes on with these kinds of cases, the financial frustration of not having child support paid, having to explain to a child why visitation hasn't gone well and the emotional turmoil that affects a family when custody is an issue. I'm a step-dad. I've not just dealt with those issues. I've been in them, and I think that gives me some insight into the people that are standing in front of me," he says.
Willard says he has the patience to ferret out the mistakes that other attorneys or judges don't pick up on, and he said there was one case, in particular, that convinced him to run for the bench.
"I have a client in California. What happened with her was (false) evidence was presented to the chancellor and they gave her husband total control of visitation. A few years later, they went to a different chancellor, lied to that chancellor and got her rights terminated and her kids adopted out by his new wife. I … did some investigation and found out that indeed, she was right. Went back … and showed them the evidence and through their good work, they set all that stuff aside and gave her joint legal custody of her kids, set up visitation. A judge should pay attention to every detail in a case, and that's what I do," Willard says. "In chancery work, you have to look a little beyond the material."
William Bell
• Born in Atlanta, raised in Starkville.
• Graduated from Miss State University in 1985.
• Graduated Ole Miss Law School 1992.
• Miss National Guard Veteran for six years.
• Member of the Mississippi Bar Family Law section.
• Practiced in family law in chancery court for 14 years.
Chancery court candidate William Bell, 43, says he has his own personal experience to bring to the seat.
"I have two boys, 5 and 6. Having children that age gives me a perspective that none of the other candidates have. I've been working 14 years. Chancery court's really a unique court, because chancery judges are the judge and the jury. If I could sum up my drive to run in one concise package, I'd say that chancery court deals with kids, day in and day out. In these types of cases, kids often get caught in the middle of feuding parents and the only person in that courtroom that's ultimately there to protect those kids is the judge. I've got the experience to do it, and that's why I want to do it."
Bell says he also wants to throw the doors of the court open even wider.
"As a chancellor, my court would be open from January 1 until December 31. Judges have certain days that they'll hear ex parte cases—things like getting orders signed, no-fault divorces and so forth. I would want attorneys and litigants to feel like they could come in any time," Bell says, adding that schedule inconveniences on the judge's part often cost clients money.
"My schedule has been inconvenienced by judges because they'll have certain days that they'll only see certain matters, and that often ends up costing clients more money because lawyers have to juggle their schedule to meet the judge's schedule—when it's the judge who's on the taxpayers' payroll," he adds.
T.K. Byrne
• Resident of Jackson since 1994.
• Graduated from Sam Houston State University 1980.
• Graduated University of Maryland in 1989.
• Graduated from Mississippi College School of Law in 1994.
• 20 years experience in the Navy.
• 12 years experience as an attorney.
The chancery race in Jackson isn't limited to District 5-1, of course. There's also District 5-22 to contend with, and incumbent Patricia Wise is up against family law attorney T. K. Byrne in that race.
Byrne, 48, is a Jackson resident who thinks District 5-1 needs more access.
"The district needs a judge that'll show up on time, and be in court at 8 in the morning," says the 14-year legal veteran. "I think just by being there you can make the process easy for the attorney and the client. Many of the matters going before a judge are not contested matters. They're worked out. They're close to resolving and you just need a judge to sign an order. I've worked not just in Hinds, but Rankin, Madison and Yazoo … and some of the chancellors unlock the courtroom in the morning. One will see you at 7 a.m., and that really makes a difference."
Byrne says his clients can't usually afford to face a chancery-court judge more than once.
"My client load is about 90 percent black, working class—I don't have the high-end clients—and they don't have the financial wherewithal for a judge to make a wrong decision that they have to appeal. They only get one bite of the apple. They can't afford otherwise, and I'm there to improve that for them. We need swifter decisions, not a year or a few months later," he says.
Patricia Wise
• Born in Memphis, raised in Oxford.
• Jackson resident for 35 years.
• Graduated in "'71 or '72" from University of Mississippi.
• 5 years as an attorney in family law.
• 1 7 years as a chancery judge.
Wise, who has held her seat for 17 years, says she doesn't believe her opposition has an accurate view of how she does work, or the speed with which she does it.
"I don't think … he has a clear understanding of what needs to happen in chancery court and that judges are available at all times. My ex parte is Mondays. It's been Monday morning from the first day 17 years ago. My schedule is unique in that I don't set appointment times. A lawyer can just come in anytime between 9 and 11:30 a.m.," Wise says. "It's easy for someone to stand from the outside and look in with criticism, but domestic cases are heart wrenching and complex. You can't run them through the mill. You can't just stand up and say, 'You get the kids, you get the dog and you get the cat.'"
Wise brags that she spent 17 years working in family law before her two decades on the bench. "My lifelong practice has been in the area of domestic relations, and I take pride in that. Family law has been my specialty, and I preside over those sensitive cases with full respect to all parties involved. That's the way you have to do it. You can't just rush a decision. These lives are impacted for years."
Previous Comments
ID

66979

Comment

"The district needs a judge that'll show up on time,..." Looks like Byrne is trying to imply that Judge Wise doesn't "show up on time." If so, he's being dishonest. I've handled several cases in front of Judge Wise, and she's NEVER been late to court. Judge Wise is very deliberate and intelligent. In my opinion, the people of Hinds County are lucky to have her on the bench.

Author

Curt Crowley

Date

2006-10-27T16:12:20-06:00
ID

66980

Comment

You know, after reading this, I'm tempted to show up on November 7th just to vote for Judge Wise and the JPS bond. This is NASTY campaigning--almost nobody in the general public knows how judges operate on a day-to-day basis, so the only thing that could possibly work in his favor on that claim is a public assumption that if she's a black woman, she must be phoning it in. Disgusting. Cheers, TH

Author

Tom Head

Date

2006-10-27T17:40:27-06:00
ID

66981

Comment

Dammit, I'm SICK of all these Jackson College of Law Graduates passing themselves off as MC Law School Grads.

Author

Kingfish

Date

2006-10-27T22:22:34-06:00
ID

66982

Comment

This is great, Adam, but I've seen signs for a number of other candidates and other races whom/which you don't mention. Are you planning to expand this list? I'd love to read it if so. There's a serious lack on information available to base informed voting choices on.

Author

lucdix

Date

2006-10-29T12:12:21-06:00