Wednesday, October 11, 2006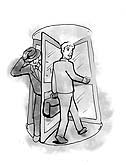 Watkins, Ludlum, Winter & Stennis are moving their offices from State Street to a planned building at Jackson Place, effectively replacing the firm originally slated to serve as anchor to the development. The move puts the development tentatively known as "2 Jackson Place" back in production and sets the ribbon-cutting for 2009.
The project had been moving along until two months ago, when its anticipated anchor business, the law firm Butler, Snow, O'Mara, Stevens & Cannada, got seduced to the distant hills of Ridgeland. That firm now plans to relocate to Colony Park in 2009, much to the outrage of City Council members, who then cancelled the firm's contract with the city.
Certified public accounting firm Horne CPA is also moving to the same mixed-use development as Butler, Snow & O'Mara, costing the city a combined 300 jobs. Both are abandoning offices at the AmSouth Building, a central spot for downtown business, after caving to bargains from Barksdale Management Corp. and H.C. Bailey Cos., which co-owns Renaissance at Colony Park.
Preceding that departure, however, are Cellular South and Merrill Lynch, who will also be joining the latter two at the same development.
Andrew Mattiace, of The Mattiace Company, which is handling real estate for the project, would not comment on whether Renaissance was bringing in new business to the metro area or merely parasitizing pre-existing firms, but Downtown Jackson Partners President John Lawrence said the departure of the two firms will leave a vacancy in the AmSouth Building in 2009.
"We'll have a lot of work to do to fill up Amsouth Plaza and the Landmark Center, and in the Trustmark Building, where (law firm) Brunini (Granthum, Grower & Hewes) will be moving out of, so for the next five years we're really got to work hard to fill some of this existing space," Lawrence said.
Still, the city is off to a fine recovery with Watkins, Ludlum, Winter & Stennis moving their staff of 70 attorneys to a building slated to occupy the empty space beside One Jackson Place in 2009. The new building, developed by Parkway Properties Inc., will sit in an area normally occupied by thousands of partygoers during the annual Jubilee Jam.
Parkway properties CEO Steve Rogers offered no indication of the Watkins, Ludlum decision days ahead of the official announcement on Oct. 16, even to assuage growing concerns surrounding the Butler, Snow derailment.
"We're a very careful company, and I don't feel like we should announce things that aren't thoroughly done, put to bed, thought out and financed. We'll make this a reality now, though. We're going to absolutely make it happen," he said, adding that Trustmark National Bank is also planning to take up some space on the ground floor of the new building.
Brunini, Grantham, Grower & Hughes is also slated to occupy office space in the new building—vacating offices in the Trustmark Building. Rogers said that other firms are kicking around the idea of packing up and moving to the new spot, though he remains cautious about naming names.
"There are some professional firms that are getting some internal approvals that'll be forthcoming (sometime soon), so I can't pre-announce those for them," Rogers said.
The Jackson Redevelopment Authority cobbled together the territory currently occupied by green space and One Jackson Place, coordinating the acquisition and demolition of smaller buildings in expectation of the development of picturesque high-rises. The only development that found traction was One Jackson Place, however.
Lawrence says that the JRA has gotten "much more aggressive" in pursuing development on that property, however, and with the help of ubiquitous GO Zone tax credits making investment easier to afford, the blocks finally seem to be coming together. GO Zone legislation, devised in Washington to spur investment in Hurricane Katrina-damaged areas, is also playing a role in kicking off development of the nearby King Edward Hotel and the Old Capitol Green Project, further east, on Jefferson Street.
Lawrence said he expects the area to be just another part of the downtown renaissance coming in Jackson.
"A marketing firm is already coming up with a name for the building," he said. "I don't think the office building will actually be called Two Jackson Place, but everything on that block will be known as Jackson Place. You'll have One Jackson Place, you'll have this new building at Jackson Place, the shops at Jackson Place—yes, there'll be retail—and a significant portion of the property will be dedicated as gardens. You'll have the plaza. But what we're most excited about are the residences at Jackson Place."
Developers expect Jackson Place to be another residential option for downtown, joining other mixed-use properties such as the King Edward and Old Capitol Green. Developers say they expect Parkway Properties to handle parking for the area, with the opposite side of the garage featuring restaurants and retail that will merge with the incoming entertainment delights of Farish Street.
Previous Comments
ID

66945

Comment

Did you also know about this? Architect Firm Prepares to Move to Jackson

Author

LatashaWillis

Date

2006-10-11T22:25:09-06:00