Wednesday, October 4, 2006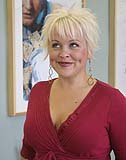 There is nothing average about Roxanne Rogers, 27. This self-avowed "Pearl girl" is unique, from her Southern drawl to her gorgeous, funky hair. From the moment you enter Rogers' salon Stella, one glance at the suit of armor by the door, the artwork on the walls and the chairs that spin around in stomach-twisting circles make it clear that this is not your mama's salon.
"Go ahead and spin, girl! Those chairs are made to spin. Don't think I haven't spun in those chairs a million times myself," Rogers says, stirring her hot chocolate while waiting for a client's hair to set.
Rogers' goal when she opened Stella, in Ridgeland, Aug. 8 was to make a place that was different: a salon where her clients, from all walks of life, could come and be real. She wanted it to be a place where artists who might not have the exposure to be in galleries could show their work. She imagined a place where you can give to different charities while getting beautified.
"If I can't have a place where my clients can bring their kids in and it still be nice, why have it? That's real life, that's how women live," Rogers says. "Every day, I see a different woman in my chair who has something going on in her life, and I want each of them to feel like a rock star when they leave here."
Stella, which means brightest star, is already thriving with gorgeous artwork and photography on the walls. Rogers and her core team of five stylists do the rest, making the space feel like home.
"Here's the thing: God gives you a venue ,and you do whatever you can with it. This is my venue, and I want something that is more than just a salon, something more me and unique to Jackson. Jackson isn't a cookie- cutter type of place," Rogers says.
Rogers grew up in Pearl and graduated from Pearl High School before moving on to Hinds Community College in Raymond. She now lives in burgeoning downtown Jackson and loves the town she has always known as home. Much like her salon and her view on life, she hopes people will look for the good in the area.
"People need to quit being scared and live," she says. "Jackson is a beautiful, unique place. Let's get on the ball and get busy. Bad stuff can happen anywhere."
Although Stella has been open since August, the grand opening celebration is scheduled for Oct. 16 at 7:30 p.m. Artists such as Renee Reedy, Josh Hailey, Jan McDaniel, William Goodman and Ginger Williams will be featured, along with live music.
Stella, the salon, is located at 863 Centre Street, Suite B in Ridgeland.
Previous Comments
ID

82516

Comment

My baby-momma's a Jacksonian! I absolutely adore Roxanne!

Author

kaust

Date

2006-10-04T20:45:37-06:00
ID

82517

Comment

I am hoping ot get my hair cut there soon. :)

Author

Heather

Date

2007-05-08T08:36:39-06:00
ID

82518

Comment

Got my hair done there today, b/c of this column. LOVED it and love my new do.

Author

Heather

Date

2007-05-09T15:22:39-06:00