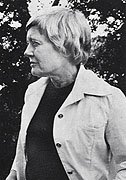 I didn't know Florence Mars growing up in Neshoba County. She was from a different part of town—the side that had old money. I don't have memories of her walking around town in her floppy hat like Sen. Gloria Williamson describes, or driving her little bug around town as former Neshoba Democrat editor Stanley Dearman does. I don't remember seeing her at the Neshoba County Fair. I certainly had no reason to visit the stockyard that she owned, the one that white folks boycotted for awhile.
But she came into my life like a sudden bolt of thunder when I was in the 10th grade at Neshoba Central. I was working in a beauty shop in the Valley View Shopping Center in my first job—as a shampoo girl. One day, while bending over a woman's head, squishing through the shampoo, I heard these words from a customer: "That Florence Mars ought to be shot."
I perked up to listen as they continued to curse her. "I can't believe she'd do something like this." "Traitor." "She oughta be run out of town."
I soon figured out that native daughter Florence Mars, a white woman—really, the only one—dared to speak out against Jim Crow in the 1960s and had spoken out against the murders of James Chaney, Andrew Goodman and Michael Schwerner in 1964. Then, a decade later, she was daring to tell the world everything she knew in her book "Witness in Philadelphia."
I had only known about those murders for a couple years, since a TV movie had come out about them in 1975. But that film, "fact-based" rather than "factual," had left me with so many questions—questions that people around me would rather not hear, much less answer, although my mother tried. Most people had shut out the actual facts of the case and our history, since the awful summer of '64 put us on the map in the worst possible way. They couldn't have satisfied my yearning for knowledge if they wanted to. Neither could the news archives—the real news stories were cold and distant, not from the inside.
I read Ms. Mars' book with fervor. I soaked up the stories about my hometown, written in the non-fiction storytelling style I would pay a lot of money to learn up north many years later. She made me see, and helped me understand, my history. She alone was the one in my hometown willing both to stand up then and to teach young folks like me later.
Most importantly, this woman inspired me. I truly don't know if I would be doing what I do today without learning of her courage when I was trying to figure out how to be a loud, opinionated girl in Mississippi. The idea that she could stand up, write about it, and still be a strong and loving force in her community drove my own passions for going against the grain when it's necessary.
My favorite story about Florence Mars came from Dick Molpus when I was still at Columbia University, but visiting Mississippi to do my master's project about "the murders," as Neshoba Countians have always called them. It was the first time I had met Dick, and we sat in his conference room on North State Street as he told me about his memories of the time. He was 14 in 1964, and had many painful memories, including of people he loved who were unwilling to speak out against the violence and ignorance.
Then he described his most vivid memory from the day that Dr. Martin Luther King Jr. first marched through our hometown, with people we both know in the crowd, yelling, cursing, throwing bottles, waving Confederate flags or doing nothing as others committed the ugliness on their behalf. One even drove a car straight into the crowd of marchers.
But all the while, Dick remembers, Florence Mars stood regally on the court square, holding a huge American flag straight out in front of her with both hands, pushing it as far forward as she could. She didn't flinch, or look one way or the other—just stared straight ahead, a single sane voice of love in a confused jungle of hate.
That image of Ms. Mars, whom I would later meet and get to know slightly through recent efforts to get Edgar Ray Killen convicted—thank God she lived to see him go to jail—is as American an image as I can muster. It's about courage, determination, passion and stubbornness, even as the world falls apart around you. Most vitally, it is a symbol that real patriotism has nothing to do with the whims of public opinion.
I moved home to Mississippi within a year of hearing Dick tell that story about a woman whose words had given me strength of conviction when I was 16. I can't say it was the only reason I came on back home, but it played no small part.
Previous Comments
ID

66085

Comment

I was wondering whether you would write abut this remarkable woman and human being. It took great courage to do what she did in face of all those crazy morons. And she knew from experience and education that many of those same fools were capable of killing her.

Author

Ray Carter

Date

2006-05-04T14:24:43-06:00
ID

66086

Comment

Indeed, they were. But her story is so vital to me because, not only did she fight the good fight, but then she came back and told about it in detail for future generations -- even as people in her town said "all that stuff is in the past." She knew better.

Author

DonnaLadd

Date

2006-05-04T14:31:21-06:00
ID

66087

Comment

I should add that she is in my Hall of Fame of Strong Women Who Inspired Me (and so many others).

Author

DonnaLadd

Date

2006-05-04T14:31:58-06:00
ID

66088

Comment

I grew up down the street from Florence. I attended the Methodist Youth Fellowship when she led it (and stopped attending when they made her "resign"). She took me across the track many times, and introduced me to Bud & Beatrice Cole, Clint Collier, Allan Schiffman, Aunt Lil Jones. She did me the honor of asking my opinion on the chapters as she wrote them, and she paid attention to my thoughts. Now I'm remembering her in my own collection of "insider stories" from both sides of the color line as we came of age. She changed a lot of people's lives then, and her work continues to resonate even after she's passed on. "The past is not dead - it's not even past." Or as George Orwell said, "he who controls the past controls the future." Thank you, Florence, for trying to help us remember it right - andthank you Diane for paying attention. Richard Perry

Author

footsy

Date

2007-08-23T18:02:39-06:00
ID

66089

Comment

Thanks for the story, Donna. her names sounds familiar, but I don't think I have heard about who she was and what she did before.

Author

LatashaWillis

Date

2007-08-23T19:50:12-06:00