Wednesday, January 25, 2006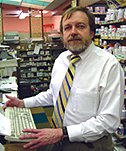 Lester Hailey stands ready to help anyone who walks into Beemon Drugs. Since graduating from pharmacy school 28 years ago, he's been behind the counter, on the raised area occupied by shelf after shelf of pharmaceutical containers, filing prescriptions and answering questions.
Hailey, 52, effortlessly listed what he likes about owning the neighborhood fixture: meeting people, interacting with customers, watching children grow up and start to have their own families. Most fulfilling is having a customer he's helped return to say thanks.
We talked as he waited for one such customer who had called to say she was on her way. "She didn't want to go someplace else," Hailey explained. That sort of personal attention makes Beemon's unique in today's chain-store world. In fact, Beemon's still delivers in the North Jackson area.
Two years ago, right after he bought out his partner, Hailey hired a consultant to spend the day in the store, to make recommendations. Naturally, the first thing Hailey did was answer the phone when it rang; the consultant pointed out that he really ought to use an answering machine. "I told him no way, my people want to talk to me, and I want to be available for them," Hailey explained. Since Jan. 1 and the advent of Medicare prescription drug coverage, Hailey's been especially busy.
But he's not all work and no play. Hailey likes Jackson's restaurant options and arts activities. He supports all things Fondren, including his artist-son Josh whose studio is in the Fondren Corner building—his daughter Jordan is a junior at the University of Southern Mississippi, majoring in business. Hailey often spends time listening to one of his favorite local groups, the Pates. "I'm just crazy about them. I hear them just about every week at Lager's or Archestratus. They're a neat family."
Picking up his iPod, Hailey went on. "Josh and I are interested in New Age piano. I brought a couple of pianists here to perform at my church (St. Philips' Episcopal Church): David Nevue from Oregon and Peter Kater from California. I'll play some Peter Kater for us," he said. Clear, relaxing piano filled the drugstore.
"I want to have Kater at the Capri; it's a great place, and I want to promote the Fondren area," he said.
The progress made in Fondren makes Hailey optimistic about the entire city.
"I hope to be here for a long time, to stay in business for a long time," Hailey firmly stated.