Wednesday, January 18, 2006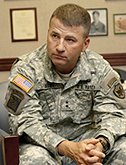 Avian flu, hurricanes, weapons of mass destruction, drug runners, illegal immigrants, would-be terrorists, Fox News, CNN, and Google are just a few of the things Col. Tom Muir's men and women keep their eyes on.
Behind a series of doors inside a building at Peterson Air Force Base in eastern Colorado Springs, where many national military decisions are made, a couple dozen people sit inside a conference-style room, each watching multiple computer screens.
There are soldiers, sailors, Coast Guard officers, a National Guardsman, a Canadian military officer, civilian specialists, a lawyer, a meteorologist and a chaplain. Two big video screens loom on the wall in front of them, on this particular occasion displaying computerized maps titled "Operation Western Vigilance" and "Hurricane Support."
It was here in late September, at the Joint Operations Center of U.S. Northern Command, that President George Bush went gaga over the military and its disaster-response prowess. Joined by his entourage and Homeland Security Secretary Michael Chertoff, the president watched from a conference table as the command coordinated the military response to Hurricane Rita.
"It was a full house," recalls Muir, the center's director.
Stung by the chaotic aftermath of Hurricane Katrina just weeks earlier, Bush seemed to have an epiphany as he watched the beaming screens: Disaster response is a job best handled by the U.S. armed forces.
The Bush administration went on the stump, pushing its new solution. Perhaps, it suggested, Northern Command—created in the wake of 9/11 to coordinate the military's "homeland defense" efforts—should lead the response to future disasters, rather than being limited to its traditional supporting role, subordinate to state and civilian authorities.
After all, the old-fashioned model appeared to have failed during Katrina, and widespread confusion had led to an atrociously slow military rescue effort.
But the push failed to gain traction. State governors, Democratic and Republican, balked at the proposed usurpation of their sovereignty.
"Are we going to allow the military, without a shot being fired, to effectively do an end-run coup on civilian government?" Montana Gov. Brian Schweitzer fumed to the Associated Press.
"It's dead on arrival," said James Carafano, a homeland security expert at the conservative Heritage Foundation, of Bush's suggestion. "Everyone realizes it was a dumb idea."
Nonetheless, outside public view and starting long before Katrina and Rita made landfall, America's military forces quietly have been preparing and implementing plans that are boosting their involvement in domestic affairs.
One plan drawn up by Northern Command, or NorthCom, reportedly lays out scenarios in which the military seizes control over civilian authorities during a major disaster. Other schemes call for increased intelligence-gathering by military agents on American soil.
All of it, of course, is in the name of "homeland security." But civil libertarians on the left and right increasingly worry that lines are being blurred as the military, which supposedly exists to fight wars, gets more deeply involved in domestic law enforcement. That's an area from which the armed forces traditionally have been barred, based on the notion that Americans shouldn't be bossed around by their own military.
"When you start to erode these lines, you really have a danger of mission creep," said Gene Healy, a homeland security expert at the Cato Institute, a free-market think tank. "I do worry that the more you allow this sort of thing, the easier it gets to call on the military in the future to presume more of a domestic role. And I think that'd be pretty dangerous."
"I think we are on a slippery slope," agreed William Arkin, a former Army intelligence officer who writes a daily blog on security issues for The Washington Post. "Not necessarily because NorthCom is evil, but I think that there is a confluence of events—a perception of a greater need for the military to engage in domestic affairs."
'WE CALL THAT MARTIAL LAW'
When an emergency has arisen—whether a hurricane, an earthquake or widespread rioting—state authorities always have been able to request assistance from active-duty federal military forces, as well as activate National Guard troops, who are under state control.
However, federal armed forces traditionally have been subordinate to civilian control—a principle that dates back to the Posse Comitatus Act, passed by Congress in 1878 to stop federal troops from acting as police during the Reconstruction era in the South.
Though Congress since has passed a number of exceptions to the act, experts say it retains symbolic importance as an official recognition that the military should stay out of domestic matters.
Plans being prepared by NorthCom could erode that recognition. Since before Katrina, the command has been busy working on CONPLAN 2002, a homeland-defense plan that describes certain disaster scenarios in which the military takes control over civilian agencies, according to Arkin, who claims to be familiar with the classified document.
"We call that martial law," Arkin said.
NorthCom officials are tight-lipped about the plan. The command's director of operations, Maj. Gen. Richard Rowe, won't talk about its details, including when it could be implemented. "I would be hesitant to go deep into that kind of discussion," he said.
Pentagon officials did not respond to requests for information.
Meanwhile, NorthCom already has gotten itself involved in domestic matters. Congress years ago approved an exception to Posse Comitatus to allow military participation in the so-called War on Drugs, enabling the armed forces to help bust smugglers. And last month, NorthCom completed Operation Western Vigilance, in which it gave reconnaissance support to Border Patrol agents in New Mexico. The undertaking netted more than 2,000 illegal immigrants.
SPYING AND COLLECTION DOSSIERS
At the same time, it's becoming clear that the military is weaving itself more and more into an ever-expanding, intricate web of local, state, federal, military and cross-jurisdictional intelligence outfits, several of which for years have been spying on Americans engaged in political activism.
Collection of information on dissenters who have broken no laws, by both military and civilian agencies, is nothing new. The Pentagon amassed dossiers on anti-war protesters and other activists in the 1960s and early 1970s, and spied on and infiltrated civil rights and black power groups.
The Army's spying was condemned and officially ended following congressional hearings in the early 1970s, which also revealed massive surveillance of political and civil rights activists by the CIA and the FBI. The feds worked with local police in Jackson to infiltrate and spy on many civil rights sympathizers and black-power groups in the 1960s and early 1970s. When the FBI's COINTELPRO files were revealed later, the contents confimed that the FBI had wiretapped the Jackson alternative newspaper, The Kudzu, in 1970. It shocked Americans to learn that the FBI had opened more than 500,000 intelligence files on more than 1 million citizens during the paranoid decade between 1965 and 1975.
The FBI is back to its old tricks, however, working closely with local police agencies.
Three years ago, the American Civil Liberties Union uncovered documents showing that Denver , Colo., police had put together intelligence files on more than 3,000 individuals and groups involved in political activism, the vast majority of whom had broken no laws.
As first reported by the Independent later that year, Colorado Springs police also contributed to the so-called "spy files." Moreover, both Denver and Springs police forwarded some of their information on activists to the FBI's Joint Terrorism Task Force in Denver.
In 2003, The New York Times reported that the FBI had been spying on anti-war protesters nationwide and had written a training manual to help local law enforcement counter political protests.
EAGLE EYES AND MAGIC
Increasingly, evidence of military participation in the domestic surveillance dragnet is falling into place:
• NorthCom boasts an intelligence "fusion center" that analyzes and exchanges intelligence with a multitude of sources, including the FBI and local law enforcement. Based on various reports, the total number of intelligence agents working for NorthCom at Peterson and other bases appears to be somewhere between 150 and 300.
• Across the nation, states are setting up similar federally funded "fusion centers" to collect and analyze intelligence related to homeland security from local, state and federal law enforcement agencies.
• The White House is considering expanding the power of a little-known Pentagon agency called the Counterintelligence Field Activity, or CIFA, The Washington Post reported. The proposal would give the agency, formed three years ago to protect military facilities from attack, the authority to investigate crimes within the United States such as treason, foreign or terrorist sabotage or even economic espionage. Meanwhile, the Department of Defense has pushed legislation to allow the FBI and others to share information gathered about U.S. citizens with the Pentagon, the Post has reported.
• The Air Force Office of Special Investigations three years ago launched an anti-terrorism program dubbed "Eagle Eyes," which urges Air Force personnel and civilians alike to report "suspicious activities" in their communities. Two years ago, Air Force investigators involved with the program showed up at a church in Colorado Springs, where a New York film crew was attending an activist event. The investigators demanded to see footage the crew had shot earlier in the day outside Schriever Air Force Base.
• At least two military agencies have attended meetings of a Colorado organization known as the Multi-Agency Group Intelligence Conference, or MAGIC. Made up of intelligence officials from local, state and federal law enforcement, the group began meeting bimonthly in 1987 to exchange information on "extremist groups," a term that included environmentalists and "left-wing" and "right-wing" organizations. An attendance sheet shows that agents from the Army Criminal Investigation Division at Fort Carson, and from the Department of Defense at Buckley Air National Guard Base in Aurora, attended a 1992 MAGIC meeting.
• The military also participates in a similar intelligence-sharing network run by the U.S. Attorney's Office in Denver, called the Anti-Terrorism Advisory Council. In addition to local, state and federal law enforcement officers from throughout Colorado, the council includes members of the Department of Defense Criminal Investigative Service and Fort Carson's Naval Reserve.
• Two years ago, the Pentagon decided to assign "military special agents" to each of the FBI's 56 field offices, whose job would be to track "potential threats to the military," according to the Los Angeles Times. A spokeswoman for the FBI in Denver, Monique Kelso, confirms that military agencies participate in the FBI's Joint Terrorism Task Force, although she refuses to provide further details.
ALERT TO OVERSIGHT
Does all of this mean that the military keeps tabs on activists? Officials insist it isn't so, saying laws and directives restrict them from carrying out domestic surveillance.
Rowe, the NorthCom director, says his intelligence staff doesn't "collect" intelligence; it merely analyzes information received from others. A team of 14 lawyers reportedly helps the command stay in compliance with Posse Comitatus.
"We do not operate as an intelligence agency or a law enforcement agency," Rowe said. "We're very alert to intelligence oversight rules."
Under those rules, if intelligence isn't military-related, "we can't look at it," said Lt. Cmdr. Sean Kelly, a NorthCom spokesman.
But with the military so deeply involved in numerous organizations that are known to have spied on activists, and whose entire existence centers on sharing and exchanging information, is it realistic to believe there's a "firewall" between intelligence the military should, and shouldn't, have access to?
Not all agencies have the advantage of an extensive legal staff. Colorado's state fusion center, which passes intelligence along to military agencies and the National Guard, has no lawyers at all, said Clem, the center's spokesman.
"We don't have anybody on staff to review everything that comes in and goes out," Clem said. "No one has ever, at this level, expressed a concern."
Col. Hans Kallam of the Colorado National Guard, who oversees the guard's assistance to civilian authorities, says he sometimes receives intelligence from civilian agencies that he's not supposed to have, like the name and license plate number of someone who was involved in a political protest.
"I have to make an assessment: Does it have any value to me at all?" Kallam said. "And if it doesn't have any valuable information, then I have to delete that information. If I accidentally leave it on my hard drive and someone comes and finds it, then I can be accused of storing information on U.S. citizens."
The Colorado National Guard accepted an invitation to join the state fusion center, but has put its participation on hold due to legal concerns, Kallam says.
"We desperately would like to be a partner in that fusion center," he said. "But we, right now, are very cautious because we do not know how to do it and not get in trouble."
Christopher Pyle, a former Army intelligence officer who helped the U.S. Senate investigate and expose the military's political surveillance 30 years ago, said separations between military and civilian intelligence, and between collecting intelligence and analyzing it, are increasingly meaningless.
Perhaps military agencies don't send spies into the streets of America. But "they don't have to go out on the streets anymore, because they have computers," said Pyle, now a professor at Mount Holyoke College in Massachusetts. "There's so much personal information about us accessible through the Internet, it would be possible for NorthCom to set up 'roundup lists'" of subversives to be detained during an emergency.
Fusion centers also are convenient mechanisms to work around legal restrictions, Pyle said. "Only the feds are bound by the federal laws, and only the state officials are bound by the state law, and so you just hand (the intelligence) across the desk, and the other person collects it," he explained.
Arkin argues the legal barriers to military spying are undermined by so many exceptions as to be toothless. For instance, the military already is allowed to spy on people deemed potential threats to defense installations—but what constitutes a "threat" is subject to wide interpretation.
'LIKE GOD'S TRUTH'
Perhaps one of the biggest concerns is that the intelligence that's gathered tends to be riddled with errors. Military personnel typically are poorly trained for intelligence work, Pyle said. Moreover, once an agency is set up to hunt terrorists, it needs to actually find some terrorists to justify its continued existence.
"There isn't that much terrorist activity to go around," Pyle asserted. When intelligence agencies apply for federal money, "one of the things they have to point out is the threat that exists within their local community. So they point to the various anti-war groups ... as potential sources of terrorist activity. And that way, they can show they have a dire need for more equipment and more money."
Whether by accident or on purpose, the myriad interconnected agencies, task forces and fusion centers wind up entering misinformation into their numerous shared databases, which then spreads like a virus, Pyle says. The agencies also mine commercial databases such as ChoicePoint, which are notorious for their unreliable information.
"Garbage goes in, it settles and festers, comes back out—and looks like God's truth," Pyle says.
Indeed, anyone who suspects that a vast conspiracy by the military-industrial complex is behind the increased surveillance tends to forget that the Department of Defense is a gargantuan bureaucracy, divided by turf wars, in which the left hand rarely has a clue what the right hand is doing.
Possibly, a combination of things is to blame: paranoia, incompetence, overzealousness, the need of bureaucratic agencies to justify their existence and budgets, and officials' desire to appear as if they're doing something to fight terrorism.
"All of these agencies want to keep up with each other," Pyle said. "They all want to have a collection arm as well as an analytical arm. They don't trust anybody else's stuff, and so it's the normal bureaucratic response to set up what amounts to a J. Edgar Hoover Memorial Vacuum Cleaner," which, like the infamous former FBI director, sucks up information about everyone and everything.
"Paranoia knows no boundaries," Arkin said. "The danger is that you start seeing al Qaeda cells behind every peace group."
Several recent, well-publicized incidents seem to validate Pyle and Arkin's concerns.
In June, the San Jose Mercury News revealed that an intelligence unit of the California National Guard had monitored a Mother's Day peace rally at the state capitol in Sacramento. Among the bogeymen organizing the rally was a group of geriatric women known as the Raging Grannies.
A state Senate committee and the office of the Army Inspector General both launched investigations of the Guard's conduct. Though no wrongdoing officially was proven, the Guard's intelligence unit later was disbanded, and its commander reassigned.
Last year, two Army agents attended a conference on sexism and Islam at the University of Texas at Austin and later demanded a roster of attendees and a videotape of the conference. The Army later admitted that the two had overstepped their authority and promised it would retrain its intelligence officers.
"These are not folks who are sophisticated about civil disturbances or about dissident groups or about dangerous groups," Pyle said of the military spies. "They really can't tell them apart."
Arkin argues that if military intelligence personnel have nothing better to do than watch peaceful activists, they should be fired.
"If they don't have enough work to do in focusing on the bad guys, then the defense budget is too big, and there's too many of them, and we should get rid of them."
The problem isn't restricted to military spooks. The Denver Police Department's spy files labeled the American Friends Service Committee, a Quaker organization that once won the Nobel Peace Prize, a "criminal extremist" group. After the ACLU sued, the city of Denver agreed to stop police from further spying on political activists.
KILL, OR WIPE NOSES?
For most observers, the bottom line seems to be that military personnel are neither well trained nor wisely used as emergency responders or spies.
Carafano, of the Heritage Foundation, said there are 6 million emergency responders in the United States, who are better equipped and prepared than the military to handle local emergencies.
"You always want the local guy in charge," he said.
The military should get involved only when state and civilian efforts break down, Carafano argued.
Of course, that's exactly what happened during Hurricane Katrina. But if civilian agencies such as the Federal Emergency Management Administration are broken, they should be fixed rather than replaced with the military, Arkin said. "There is a general, ill-advised public consensus that because FEMA was so incompetent in responding to Katrina, we must have the military do this."
Having "18-year-olds with guns" enforce the law in an emergency situation is both dangerous and stupid, Arkin argued. While responders are trained to help people, soldiers are trained to kill. "Their response is intrinsically military. The military is about defense, offense. It's not about wiping noses."
The military isn't even particularly well suited to fight real, bona fide terrorists on U.S. soil, argued Healy, of the Cato Institute.
"You can't beat a shoe bomber with a tank column," Healy said. "This is not traditional warfare ... it's a job for law enforcement."
But the Bush administration has developed "sort of a reflexive tendency to reach for the military when there is a crisis," Healy noted. "I think that's a dangerous reflex to have in a democratic republic."
The military generally operates in much greater secrecy than do civilian law enforcement and intelligence agencies, noted Joseph Onek of the Constitution Project, a civil-liberties advocacy group.
The FBI, for instance, reports to the House and Senate Judiciary committees, which have a tradition of trying to protect civil liberties, Onek argued. But civil liberties, historically, have not been a major concern of the Armed Services Committee, which oversees the military.
Take, for instance, the military's abuse of prisoners at Abu Ghraib in Iraq, in which military intelligence officers were implicated. "You don't want them running prisons here," Onek warned.
Experts across the political spectrum agree that more than anything, greater transparency and debate about the military's domestic role are needed. So far, the expansion of that role has taken place "outside the view of most of the public," Arkin said.
NorthCom's CONPLAN 2002, for instance, is taking shape in secrecy, apparently without any congressional involvement.
"Congress has never engaged itself in any meaningful oversight over contingency plans," Arkin said. "We need to have greater congressional scrutiny."
Winslow Wheeler, a homeland security specialist at the Center for Defense Information, a Washington think tank, says oversight on Capitol Hill has been "feeble" in recent years—perhaps because members of Congress are "too afraid to be labeled as unpatriotic or somehow soft on terrorism."
But if the people's elected representatives don't take responsibility, "the threat of terrorism can be used by an irresponsible government to threaten Americans' liberties," Wheeler warned. "And that's doing the terrorists' job for them."
This story first appeared in the Colorado Springs Independent. Donna Ladd contributed to this report.