Tuesday, December 19, 2006
Mr. Steam Jeans and I are spending our first Christmas together with our "blended" family. The Monkey is nine; the Princess is ten, so we have about a decade of tradition to combine. Then there's the fact that he's Yankee, which is another story for another day. He says he's Californian, but I'm not splitting hairs on that one. He's a Yankee, and a Yankee does not know a southern Christmas.
So, yep. We've endured some stress, some misunderstanding and Mr. Steamjeans is proud to say, lots of tacky yard art. Oh my goodness. He went out for lights, and he came back with a "twinkling" six foot berry tree, "glittering" snowmen on a stick and lots of other butt ugly, mismatched decor. God love him.
He's Griswald; I'm Southern Living. He's cartoon Christmas t-shirts; I'm a simple red velvet wrap. He's glitter, bling and colored twinkle; I'm a natural wreath with a red bow illuminated with a flood light.
Our family counselor told us that it's much better to put our family in a crockpot instead of a blender. In a blender, we all get creamed. In a crockpot, we cook together and form something all new from equal parts. So to properly stew our holiday traditions, we agreed that he gets outside, I get inside and we both use a little of each to decorate.
Here are the pictures from our combined tradition. I used ornaments the kids and I hand-made with mod podge and tissue paper, Christmas balls that belonged to Mr. SJ's mom and my Eudora Welty print because nothing says Christmas quite like southern literature.
Blurry Mantle:
Hot Chocolate and Liquor Station:
Christmas Tree (Husband Likes Them BIG):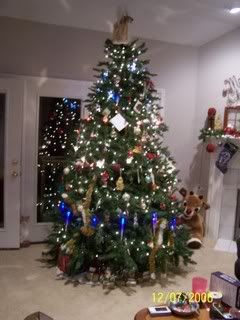 For my efforts, my friend Mike in Dallas (who offered the GREAT eggnog recipe) has given me his seal of approval.
I'm quite proud of us. Too bad the camera broke before I could get pictures of the yard. That's my story, and I'm sticking to it!
Previous Comments
ID

109497

Comment

Thought this might be a good place to discuss where to see best lights, talk about traditions and what they mean personally, etc.... For example, we always had navel oranges and apples in our stockings. HE thinks I'm nuts and no kid wants fruit. I maintain those were the best oranges ever. My mom got them, her mom got them....where did it start? Our kids WILL have oranges and they will love them. Or give them to me. Whichever.

Author

emilyb

Date

2006-12-19T11:20:13-06:00
ID

109498

Comment

My Dad always gave us nuts. I never did figure out why, as I never liked them. Dad always ended up eating them. Which could have been the point, I guess. :)

Author

Ironghost

Date

2006-12-19T11:35:48-06:00
ID

109499

Comment

YES! We got walnuts with the oranges and apples. It reaks of Victorianism. Betcha a monkey. Can't find a source on it though!

Author

emilyb

Date

2006-12-19T11:37:59-06:00
ID

109500

Comment

There is a neighborhood near Brinkley High School - right across the streets, I think, where I saw some beautiful Christmas decorations a few years back. What I liked the most was that it wasn't a rich or upper class neighborhood but everyone had beautiful and thoughtful decorations nevertheless. We alway got nuts, apples, peppermint candy, and oranges for Christmas. I never liked either too much. Especially the oranges - they gtt your hands too dirty with sticky juices. I don't like sticky stuff on my hands for long. Now, the wife doesn't get me shat! She says I'm too hard to please, and have everything a man should want, including her. You know what would make me happy though - about 10 books that she would let me choose.

Author

Ray Carter

Date

2006-12-19T12:26:21-06:00
ID

109501

Comment

What would those books be Ray? I still need to do some shopping for Mr. SJ. I don't buy him much because he goes and buys what he wants when he wants it. I was going to get him some video games he wanted. Yep. He bought them the Saturday after Thanksgiving.

Author

emilyb

Date

2006-12-19T12:30:11-06:00
ID

109502

Comment

There used to be this great neighborhood off Raymond Road in South Jackson, West of Ellis Avenue, I think, that we would drive through every Christmas Eve after leaving my grandmother's house when I was a kid. The whole neighborhood got involved and there were a lot of moving Santas, reindeer, etc. I specifically remember one house that had a huge wreath arch over their driveway, and the lights changed colors. Wonder if anybody here knows where I'm talking about? I don't even know if they do that anymore over there.

Author

andi

Date

2006-12-19T12:40:52-06:00
ID

109503

Comment

I don't really know Emily. I can stand and sit in libraries and bookstores for hours. Barnes and Noble is coming within walking distance to my house in Ridgeland some day soon and I will be lost there for hours. I have always liked books, but I stopped reading them except when compelled once I found out about basketball and girls. I gave up other girls once married but I didn't give up basketball and sports until about 5-10 years ago. Now, I'm back to reading for my favorite hobby. I don't too much like fiction. I like books about self-help; self-improvement; social justice; overcoming odds and disadvantages, historical accounts on race, religion and the making of America; scholarly accounts and takes on issues facing every day people; books about Mississippi wherein the whole truth is told; books about shaping and raising children to be examplary, et al. Now, you have probably concluded like the wife that I don't really know what I want. The wife loved me dearly. Probably more than I love myself.

Author

Ray Carter

Date

2006-12-19T12:51:47-06:00
ID

109504

Comment

Also there is supposed to be a castle that is beautifully decorated in Raymond. I never could find it though. I meant the wife "loves" me dearly.

Author

Ray Carter

Date

2006-12-19T12:54:05-06:00
ID

109505

Comment

Ohhh the castle!! If I'm not mistaken, I think you just go through the square in Raymond and turn off somewhere on the left. I think there are signs directing you there. If I'm wrong somebody correct me... drove through the castle experience a few years ago, and it was both creepy and cool at the same time! Lots of inexplicable mannequins included in the displays. :)

Author

andi

Date

2006-12-19T13:01:06-06:00
ID

109506

Comment

There is a house off Old Canton in the Woodland Hills area that has a big wooden cutout of Santa about to dive into a swimming pool. And he's wearing a red speedo. It's hilarious!

Author

Renee Reedy

Date

2006-12-19T13:07:27-06:00
ID

109507

Comment

BWWAAAHHHAAA! We've got to find speedo santa! Here's McGee's castle: http://mcgeescastle.com/ The proprieter passed away suddenly a while back. It was a sight to see! Not his death, mind you....the castle. Lost a Jackson landmark! Have y'all seen Graceland Too? http://www.gracelandtoothemovie.com/

Author

emilyb

Date

2006-12-19T13:17:03-06:00
ID

109508

Comment

We didn't have that many traditions for Christmas, and the main one I want to keep is being met with great resistance by my "bah humbug" husband. It involves the lights and the tree. As a kid, we always put up the tree and the lights on the day after Thanksgiving, and would not take them down until January 6 (Epiphany). Hubby thinks that is a very long time to leave that stuff up, and favors putting it up the week of Christmas and taking it down Christmas Day. Whaddya do? Anyway, I never had a stocking, but there was always a bowl of nuts on the table. There was always a new pair of jammies for that night, cause, well, I don't know. But I liked that. And I always got to open one small present on Christmas eve. Christmas Day! Oh, what a joyous occasion! As a child and a teenager, I always went to church on Christmas morning, then came home and opened presents. Then we'd have fun until dinner. Dinner was always ham, mashed potatoes, peas, some kind of bread, and chocolate pie. So, that was Christmas in the Proctor household. :)

Author

Lady Havoc

Date

2006-12-19T13:20:28-06:00
ID

109509

Comment

:) We do the jammies on Christmas Eve too! They open TWO presents and ONE will be jammies. The other will be a book to read to sleep ;) We do the lights day after Thanksgiving here (now...when single I skipped them sometimes!) because he's obsessed with Christmas. He never had a good one as a child, and he's damned determined for everyone to have a great holiday now! He still cussed when he put them up. Just like my daddy did. I think that should be tradition too. LH, where'd you find pj's this year? We're heading out to get those as soon as he finishes up some work. I feel like I've waited to long to get decent ones....especially matching. We must torture them with matching!

Author

emilyb

Date

2006-12-19T13:27:13-06:00
ID

109510

Comment

Haven't gotten the jammies yet, Emily, but Wal-Mart has a good stock of them. Especially the matching ones! :) As far as the lights... can you help me convince IronScrooge of that???

Author

Lady Havoc

Date

2006-12-19T13:33:30-06:00
ID

109511

Comment

(Not to go scrooge on y'all's a$$es, but you do know that Wal-Mart is singlehandedly making the world a worse place to live in, right? Please consider being part of the solution by not shopping at Y'all-Mart. It's not like you can't get cheap stuff elsewhere that doesn't have such an awful track record on every front.) Personally, I like putting the tree and lights up in the days before Christmas and leaving them up until Tweflth Night, thus avoiding being overly a part of the early commercialism and not being tired of Christmas by the time gifts are opened. Also, the traditions of Kwanzaa are just beautiful and good for folks of all races. They're much less commercial than Christmas hype, and would be a fabulous way to teach multiculturalism during an important time of the year. You can start that the day after Christmas as a way to extend the spirituality of the season. Natalie has a great piece on it in this week's issue.

Author

DonnaLadd

Date

2006-12-19T13:44:45-06:00
ID

109512

Comment

Mr. SJ has a strong argument for it. Mind you, he had on his Snoopy in a Santa hat shirt on at THANKSGIVING DINNER. Which is an abomination to me. However, as a child, the only Christmas trees he ever saw were at other people's houses. He can tell you how much that sucked, and how valuable time is with the kids. He wants the special lights to be up as long as possible, and he could possibly make us all sing Jingle Bells out of our assholes with his commanding Christmas spirit. It makes sense to me to put them up on that day just if you have the day off. Great thing to do while watching football? Does that work? I was always told it's bad luck to have the lights up after New Year's.

Author

emilyb

Date

2006-12-19T13:44:49-06:00
ID

109513

Comment

I like the idea of putting the tree up on Christmas Eve Donna. We travel so much during the holiday though (family so spread out) that it's not possible now. But putting the ornaments on the tree is soooo special to me. I still have everyone my grandmother gave me...down to Baby's First. Very much looking forward to the Kwanzaa piece! I don't shop at Y'all Mart because there's always someone in there whooping a kid. I hate to hear a crying kid while I'm shopping more than anything. We're trying Hudson's. I haven't had my weekly Hudson's fix.

Author

emilyb

Date

2006-12-19T13:50:15-06:00
ID

109514

Comment

Since Emily told on her husband, I guess I'll admit I never really felt like I had a good Christmas as a child either. I never remember getting a single thing for Christmas I wanted. So, I made sure this didn't happen to my son, and it won't happen to my grandchildren if I can help it. The wife claims I'm still scarred by it. I'm just thankful the Lord allowed me to grow up and be able to afford anything I wanted. Consequently, Christmas as far as possessions go can be any day I choose. Actually, I regret being told there was a Santa Claus. I'd preferred being told the truth, and I'd have slept better.

Author

Ray Carter

Date

2006-12-19T13:52:13-06:00
ID

109515

Comment

I got to work on staying away from Y'all Mart. I even go to the one in Madison some time, a no, no. I want Madison to go under. I'll look for a substitute beyond the Y'all Mart in Ridgeland.

Author

Ray Carter

Date

2006-12-19T13:58:05-06:00
ID

109516

Comment

The one in Madison is nice. I just wish it had some competition on the grocery side. :)

Author

Ironghost

Date

2006-12-19T13:59:33-06:00
ID

109517

Comment

Ray, we had to compromise on Santa and we downsized TONS, and I'm so glad we did. His view is that when kids go back to school listing all the crap they got, there are kids in the room who got nothing or hardly anything and are thinking "I was bad." I can imagine a huge feeling of shame there that would hurt in that moment and carry on into adulthood. He NEVER wants anyone to experience that shame. (Me either now that he's shed a light on that perspective!) I came to the marriage with Santa and the "believing in the spirit of Santa." With the giving and such. I never threatened Monkey with Santa NOT bringing toys; I never made it a good/bad kid thing. I STILL can't admit to my mother that Santa is not real. Santa to me was love. When I was old enough to know how much my parents sacrificed to give me Santa gifts....that was love. In its own twisted way ;) And my parents put stuff off until Christmas. Santa brought me clothes I NEEDED. Santa got the shoes I NEEDED. It was lots of needs met. (makes me think of the oranges and food as gifts....) So we are doing three Santa gifts. Like the three wise men. His daughter knows; my son probably does too, but he'll never admit it to me. Because we believe in the Christ-like Spirit.

Author

emilyb

Date

2006-12-19T14:02:48-06:00
ID

109518

Comment

The one in Madison is nice. I just wish it had some competition on the grocery side. :) Why would it have competition? Their whole goal is to be so mammoth that they can undercut competition at any cost. Think of them as the Gannett of the retail (and now grocery, and gas, and health-care) world. I do wonder: What could possibly render a Y'all-Mart "nice"? So we are doing three Santa gifts. Like the three wise men How wonderful, Emily. You're my idol.

Author

DonnaLadd

Date

2006-12-19T14:06:04-06:00
ID

109519

Comment

I know it may not be much better than Wal-Mart (but I can at least say I don't even remember the last time I was in a W/M), but Old Navy has really cute PJs. I found some pj pants with MONKEYS in SANTA HATS on them! Nothing cuter than that, IMHO. I'm looking forward to one day having some Christmas traditions of my own. Since I only have one grandmother left and she is not as healthy as she used to be, my family's traditions have changed dramatically. Now it's a tossup each year as to what exactly we're doing and where. And I didn't even put up decorations this year in my apt. because I'm usually at my boyfriend's house or just out in general and there's no one to enjoy them! I lost my doggie this year to cancer and so even my little tradition of getting him a stocking every year is gone. I'm still looking forward to Christmas, don't get me wrong, but I feel like I'm in a transitional period or something.

Author

andi

Date

2006-12-19T14:06:30-06:00
ID

109520

Comment

For some of us, there's not much of an option. I have mobility issues, and cannot spend a lot of time on my feet anymore. Also, we don't have a lot of wiggle room as far as groceries, etc. So, WM and Sam's are my best options.

Author

Lady Havoc

Date

2006-12-19T14:06:53-06:00
ID

109521

Comment

It has plenty of competition; The one here in Clinton couldn't have a worse staff if they hired straight out of Whitfield. I hit Krogers a lot simply because they aren't staffed (with one or two exceptions I know of) idiots.

Author

Ironghost

Date

2006-12-19T14:09:16-06:00
ID

109522

Comment

andi, i understand! this was one of my transitional years: http://www.jacksonfreepress.com/comments.php?id=P4803_0_7_0 I will look for those monkey pj's. Notice the green and red monkeys on our Christmas tree in there with all the Tinkerbells.

Author

emilyb

Date

2006-12-19T14:10:26-06:00
ID

109523

Comment

For some of us, there's not much of an option. That's what they're counting on. Sadly, people's blind devotion to that abhorable chain is what has created that situation for you. Are there no other grocers in Clinton? I'm not trying to lecture you, but Y'all-Mart is really, truly bad news for our local communities and our society as a whole. And on a personal note, they almost ruined the life of one of my family members by falsely accusing him of writing bad checks–because their video camera was off. And have they apologized for having him hauled into jail and his picture in the paper? No. They can do no wrong. Funny that we didn't know that the antichrist would be in the form of the world's largest corporation. Consider this: It is quite possible that you can make more difference for the most people by refusing to shop at Y'all-Mart than about anything else you do. Just a little food for thought for the holidays. ;-)

Author

DonnaLadd

Date

2006-12-19T14:11:30-06:00
ID

109524

Comment

Someone sent me an email last week that I should have kept. It was story of a little boys who was good all year long then Santa didn't bring him Shat for Christmas. In his first letter he set out beautifully how he got his lesson, was nice to everyone, did his chores, et al; but it didn't matter. In his next letter he cussed Santa out including telling him he would shoot the damn reindeers thereby keepig Santa's fat ass from getting back to the North Pole without walking. I'll see if I can find and post it.

Author

Ray Carter

Date

2006-12-19T14:15:37-06:00
ID

109525

Comment

I had no idea they were doing a Graceland Too documentary!! I have been there twice ... one more visit and I can get my picture in the leather jacket! Maybe Paul will get enough money from the movie to finally get some Fixodent for those floppin' teeth! Emily, I see those minkeys now! (I call them minkeys, don't ask me why) That was a great article from a couple of years ago. You're right, Christmas is not always going to be exactly the same each year! I do think it's more fun with kids around, which there aren't any in our family this year, but my sister is about to 'splode so by next Christmas I'll at least have a niece to spoil!

Author

andi

Date

2006-12-19T14:31:34-06:00
ID

109526

Comment

andi, BWWAAHHHHHAAAAAAAAA! I was teaching there when the house was half pink and half white. I'm loving his Jail House Rock tribute in the back yard. He has a MySpace page too. I love his blog!

Author

emilyb

Date

2006-12-19T14:59:00-06:00
ID

109527

Comment

Here is Little Johnny's letter to Santa: Dear Santa, you must be surprised hearing from me on December 31. Well, I would very much like to clear something up that has occurred since the beginning of the month, when filled with illusion, I wrote my letter to you. I asked for a bicycle, electric train set, pair of roller blades, and a football uniform. I destroyed my brain the whole year studying. Not only was I first in my class, but I had the best grades in the whole school. There was no one in my neighborhood who behaved better than me. I would go on good Samaritan errands and even helped the elderly cross the streets on numerous occasions. What balls you have leaving me a ______ yoyo, a lame whistle and a pair of socks. What were you thinking, you fat _______, leaving some unwanted ____ like this under my tree? To top this off, you left James across the street so many toys he can't walk into his house. He had terrible grades, didn't help any elderly, and wouldn't mind his parents. You had better hope I don't see you or any of those reindeers in my neighborhood again. And you surely better hope I don't catch your fat azz stuck in my or anyone else's chimney. I got something for you Santa and those reindeers, too. Next year I'm going to whup your azz and run off those reindeers so you will have to walk your fat azz back to the North pole just like I would have to since you didn't get me a bike or any roller skates. Sincerely, Little Johnny

Author

Ray Carter

Date

2006-12-19T15:13:13-06:00
ID

109528

Comment

Oh I have to check out his myspace page, that is too much!!

Author

andi

Date

2006-12-19T16:01:12-06:00
ID

109529

Comment

This has the be the funniest thing I've read all day: this woman came into the house on night and went into the TV Room she past out and stayed there about 6 hours I just gave tours of the house with her laying there in the floor, I just told everyone to walk around her. Later on she got up ran upstairs where i had the Paul Bunyan beds, and stayed up there 11 days, I have not idea what she was doing, I really didn't want too. Then the 11th day she came down stairs and left. I believe she was one of those women that hung around truck stops.

Author

andi

Date

2006-12-19T16:26:09-06:00
ID

109530

Comment

I know! I love the Japanese women who stole the concrete lions. So he wrapped them in barbed wire to make sure that didn't happen again.

Author

emilyb

Date

2006-12-19T17:49:02-06:00
ID

109531

Comment

We got the Stocking Fruit in Texas too. We always had 1 orange, 1 apple, 1 banana, Hershey Kisses and candy canes. Plus little gifts. My future children will be getting the Stocking Fruit. You have some great traditions, Emily. I hope you, Mr. SJ, Monkey and Princess have a great First Christmas together!!

Author

Melissa

Date

2006-12-20T10:49:45-06:00
ID

109532

Comment

I do too Emily, and I hope Little Johnny didn't spoil anyone's expectations and dreams for the holidays. Little Johnnie was only temporarily angry. I hope he doesn't turn out to be a bad Santa too.

Author

Ray Carter

Date

2006-12-20T11:02:50-06:00
ID

109533

Comment

Little Johnny didn't spoil anything! He's right on! My grown-up little Johnny is now claiming it's never to late to have a happy childhood. He's eaten up with the Christmas spirit. Dropped our Katrina Kid things off today, then he wrapped presents and now he wants to make cookies. Pray for me.

Author

emilyb

Date

2006-12-20T18:03:22-06:00