Wednesday, December 13, 2006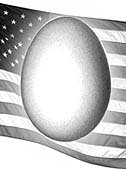 There are certain holiday essentials. One such essential: eggnog. And you simply can't have eggnog without alcohol. Now, that's a holiday essential.
Granddaddy, in case you are reading this, let me explain. We have to stir the liquor in the eggnog, or we'll die. The whiskey cooks the eggs, you know. In addition, we must have the eggnog to honor our forefathers who created this great country. We're doing it for our country. Drinking to fight the terrorists … I like it. Peace on Earth! After all, even the colonists knew eggnog needs lots of rum. They used it to keep them warm; we use the liquor to kill salmonella. God has a way of taking care of things. In this instance, because we have heaters and such now, he had the good sense to create salmonella to make sure we still had an excuse to drink whiskey … err, eggnog.
Thanks to Miss Marilyn, who has taken me under her socialite wings over the years, I now understand the politics of southern eggnog, and I have been educated on how to proffer spirits at any holiday social.
Considering your audience, keep these things in mind.
1. If Baptists are coming, cut the alcohol in half.
2. When Methodists are in the room, you may double the liquor.
3. If granddaddy, or some other patriarch/matriarch will bless the food during the holiday season, do not alter the recipe in any way, but make sure the bowl is left in the back room on the deep-freeze. You'll need to word-of-mouth its location, and do not openly advertise the libation as part of the meal.
4. Present all eggnog in a pretty bowl, or you might as well be dancing to the devil's music while swearing in a mini-skirt. Lack of an artistic table setting will damn you to hell for sure.
Considering my tee-totaling Baptist upbringing, my only prior experience with eggnog was the grocery-store carton of green-packaged Borden with the tempting red bow. On Christmas Eve, my sister and I were allowed to have eggnog with our Santa. Little did we know at the time, dad was fortifying his with Jim Beam. And in hindsight, I imagine our mugs might have included a drop of medication to sedate us while Santa made his rounds. Nevertheless, eggnog was essentially a delicacy—like chocolate milk—for us, and I drank it simply because it was such a rare offering. Now I realize Borden's eggnog was just overly sweet, too-thick milk that was always in the fridge for my dad to get through another family dinner.
According to the "Monticello Hostess Book" circa "around 40-something," to make premiere eggnog, you will need cup of sugar, six eggs, one pint of whipping cream, one cup of whiskey and nutmeg for garnish.
Beat separately the whites and yellows of the eggs. (Be sure to call them whites and yellows, or some tradition will be lost and will taint the eggnog.)
Add cup of sugar to the yellows while beating.
In a separate bowl, after beating the egg whites stiff , add cup of sugar.
Add the cream and whiskey to the yellows, and fold in the stiffly beaten egg whites.
Garnish with nutmeg; serves eight.
Now, this recipe must be prepared the day of, so you might want to arrange an on-site rubbernecker to check for granddaddy's truck. The last thing you need at Christmas time is to get caught shaming your family.
Previous Comments
ID

84781

Comment

This is the *funniest* story about eggnog ever, Emily. Love this: 1. If Baptists are coming, cut the alcohol in half. 2. When Methodists are in the room, you may double the liquor.

Author

DonnaLadd

Date

2006-12-13T22:49:02-06:00
ID

84782

Comment

THIS is why you were bugging me about egg nog Saturday? Plagerist. When do I get credit? When do I get what I deserve? When am I going to get what's coming to me?

Author

Kingfish

Date

2006-12-13T23:04:17-06:00
ID

84783

Comment

Hey. I got my eggnog from Monticello society. She made it AND brought it to me. She wins. Hospitality right there. She also wouldn't let go of me until I had ALL the hostess recipes! This book has been through generations....even a few years of waiting for some tee-totallers to kick off! Hey, I was on deadline! I still like my original first paragraph better ;)

Author

emilyb

Date

2006-12-13T23:44:28-06:00
ID

84784

Comment

spoiled ole miss sorority brat.

Author

Kingfish

Date

2006-12-13T23:58:07-06:00
ID

84785

Comment

Its that time of night. http://www.youtube.com/watch?v=6--4sfqxWa0

Author

Kingfish

Date

2006-12-14T00:03:33-06:00
ID

84786

Comment

But what if the Baptists don't allow liquor through their door? Is it OK to bring a flask to the Baptist Family Christmas? I can add a bow to it to make it festive. Great one, Emily. I think #4 is my favorite.

Author

Melissa

Date

2006-12-18T14:02:00-06:00
ID

84787

Comment

Indeed Emily, this is good story telling. Funny too. I guess, in my neighborhood, we had different kinds of Baptists. I can't imagine anyone drinking more alcohol than my relative, be they Baptists, Methodists or other drunks. They weren't alcoholics either because alcoholics have to go to those meetings - they didn't.

Author

Ray Carter

Date

2006-12-18T14:10:31-06:00
ID

84788

Comment

Emily sez... And you simply can't have eggnog without alcohol. Say it ain't so, Emily! *sigh* Back to glugging the Kroger version, straight from the carton...

Author

Lady Havoc

Date

2006-12-18T14:20:50-06:00
ID

84789

Comment

I should add, in support of so many of my dead drunk relatives, that they were some of the funniest people I ever met. If I didn't know better I would think Richard Pryor was spying on their houses. He has done so many characters and routines that mimicks some of my relatives. Especially when he imitates drunks. The neighborhood wasn't the same without them. One of my favorite cousins was a very good vocalist who loved singing and hearing preaching at Mt. Calvary Baptish Church. Sadly though, he rarely got to enjoy much of it. It always got so good to him that he couldn't resist pulling out his whiskey bottle right there in church and taking another drank. Cousins Lincoln and Eddie Hue always threw out out after the first or second swallow. Later, I learned Lincoln, Ernest, Eddie and many more deacons were hitting the bottle too before and after church. Long live my relatives. I should write a book about them someday.

Author

Ray Carter

Date

2006-12-18T14:30:45-06:00
ID

84790

Comment

LH-The alcohol "cooks" the eggs. Without the liquor, you're risking salmonella! Yes, if you are a drinking Baptist, a flask will suffice. This past weekend at our Memphis gathering, the husband learned what it means to have the Dixie Cup with the straw. The kids KNOW not to drink from those. I'd love that book Ray. I love a southern story, especially drunken ones.

Author

emilyb

Date

2006-12-18T16:10:00-06:00
ID

84791

Comment

Since I don't imbibe, I'll just have a scrambled egg sandwich with my pint of Kroger eggnog. :)

Author

Lady Havoc

Date

2006-12-18T16:21:04-06:00
ID

84792

Comment

Lordy, Lordy, I finally found another person doesn't drink alcohol. We're a dying breed. The Carters were known for drinking and lying (playing comedian and making up stuff). They would have lying contests and a Carter always won. We children sneaked and watched despite the women trying to shield us from it. No other families could match the Carters in either of these talents I'm belatedly proud to admit.

Author

Ray Carter

Date

2006-12-18T16:39:19-06:00
ID

84793

Comment

I only drink when I'm in Europe, which, so far, is just three times. And I never drink much there...I don't want to wake up in a field wearing somene else's liederhosen, and wondering why I feel like I've been pummeled by a Panzer division.

Author

GLB

Date

2006-12-18T16:48:20-06:00
ID

84794

Comment

I don't want to wake up in a field wearing somene else's liederhosen, and wondering why I feel like I've been pummeled by a Panzer division. You know, if I ever tried to compile a list of stuff that I would never want to happen to me, waking up in a field wearing someone else's liederhosen would be really close to the top...

Author

Rico

Date

2006-12-18T18:14:00-06:00
ID

84795

Comment

Ray Carter sez... Lordy, Lordy, I finally found another person doesn't drink alcohol. We're a dying breed. No kidding! Neither Ironghost or I drink, so we don't really go out much. :) I could tell some horror stories about what happens when my family and booze got mixed up. The funniest (and saddest) one involved a whole lot of beer and two of my uncles. They were falling-off-the-barstool drunk at home, and one of them set the house on fire. They stayed inside and watched the house burn down around them. They both died in that fire. I always say they both died of stupidity. (oy!) But I love eggnog. :)

Author

Lady Havoc

Date

2006-12-18T20:57:28-06:00
ID

84796

Comment

You know, if I ever tried to compile a list of stuff that I would never want to happen to me, waking up in a field wearing someone else's liederhosen would be really close to the top... How ironic. I wasn't sure what liederhosen was, and as I'm reading this, my nephew is watching a cartoon that shows an elephant wearing liederhosen. Kinda creepy, ain't it? :-) I don't drink either, so maybe I can just fake it with vanilla ice cream and Sprite or something. I don't like eggnog out of the carton.

Author

LatashaWillis

Date

2006-12-18T21:11:50-06:00
ID

84797

Comment

Well, this person doesn't drink either......... Is blogging the lateral addiction? Never really thought about it before.

Author

ChrisCavanaugh

Date

2006-12-18T22:10:35-06:00
ID

84798

Comment

Could be, Chris. After all, blogging is another opportunity to get caught up to the point where you say something without thinking straight and apologize for it later.

Author

LatashaWillis

Date

2006-12-18T22:24:42-06:00
ID

84799

Comment

Lady, I'll tell my cousins I finally heard of an incident that tops theirs.

Author

Ray Carter

Date

2006-12-19T10:36:35-06:00
ID

84800

Comment

Hahaha...Em, In my Grandpa's good ole Baptist house, that I spent many a Christmas in, you got some of Grandma's nog, and then snuck out to the woodpile (where PawPaw hid his bottle) and spiked it to your heart's content. Thank you for triggering that memory.

Author

Sandy Smith

Date

2006-12-20T08:16:32-06:00
ID

84801

Comment

how is your lil girl doing? still sick?

Author

Kingfish

Date

2006-12-20T08:19:01-06:00
ID

84802

Comment

Awwww....Sandy. Thanks for stopping by! How'd you keep PawPaw from noticing his liquor was dwindling? Did he mark it? JH, do you have me confused with someone?

Author

emilyb

Date

2006-12-20T08:48:14-06:00