Wednesday, December 6, 2006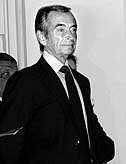 December 6, 2006
The crime summit, once billed as the key to solving crime in Jackson, has devolved into little more than a neighborhood association meeting focused on quality-of-life issues like illegally parked 18-wheelers.
City Hall was decked out for Jackson's third crime summit, with bright lights illuminating red bows tied to the building's fluted columns. Large speakers flanks a podium on the south steps. Members of a children's choir—and there is something irresistible about children in Santa hats—sang snippets of holiday favorites, eager for their chance to take to the stage. Inside, Santa Claus was posing for the cameras, a child on his knee, while adults and children alike eyed the cookies that had been set out on a long table.
None of this had anything to do with the crime summit. Santa and the other revelers were at City Hall for the lighting of the Christmas tree, as were some members of city government like Councilman Frank Bluntson, who did not attend the crime summit.
The summit itself was held in City Council chambers. Attendance was down markedly from the first summit, when hundreds gathered at the TelCom center. This time, about 45 citizens and police officers attended.
Mayor Frank Melton left the Christmas celebration in order to kick off the crime summit. He spoke for less than three minutes, and urged members of the summit to take concrete action. "You know I'm very impatient," Melton said. "I don't like dealing with the same problem over a long period of time. So let's decide what we need to do, hold me accountable for getting it done, and then let's get it done." Melton then returned to the Christmas celebration and did not come back to the crime summit.
Former mayor and Melton attorney Dale Danks said that the city was depending on citizens to find solutions to crime. "(The leadership of this city) can't do it by themselves. They can only do it with your help," Danks said. "I have no doubt that Jackson, Mississippi, can be the greatest city in the world. The reason I say that is because of the people who live here, people who can put aside pettiness and other issues and address the problem as a master plan to make this city greater, better and safer than it's ever been before."
Following Danks' comments, JSU criminology professor Jimmy Bell made brief remarks before handing the meeting over to Belmont Trapp. She urged citizens to participate in community-oriented policing meetings with the police department to hold commanders accountable.
"We should not be politically moved in any way," Trapp said. "We really need to do this on a neutral level. We have to think about what, as citizens, we can do."
Two weeks after the first crime summit, Trapp said, the neighborhood focus group had held a working session to identify areas of concern, which included excessive noise and illegally parked vehicles. Members of the focus group then brought their concerns to City Council, where their persistence eventually resulted in the city's new noise ordinance.
"It all goes back to the broken-windows syndrome," Trapp said. "It's the little problems that are really the beginning of crime. If you don't take care of the little problems, then they're just going to expand into bigger problems. We explained that to (City Council). We had this one particular neighbor who had a noisy neighbor, and if something wasn't done about the noise, she was going to move. Not only was she going to move, but everybody on the street was going to move. And then there goes the neighborhood. That not only happens with noise, but it happens with other things like cars parked in yards or garbage left on the street."
However, broken-windows theory, as applied in law enforcement, does not hold that ticketing 18-wheelers will reduce violent crime. It was applied most famously in New York City in the 1990s, where ticketing for relatively minor infractions was accompanied by a massive increase in the number of police officers, more patrols focused on troubled areas identified through ComStat figures and aggressive gun-control efforts.
The neighborhood focus group that met Thursday is part of a rotating slate of breakout groups from the first crime summit, according to Bell. Next month, for instance, the criminal justice group meets, and the following month, the churches group will meet. Although several police officers, including Police Chief Shirlene Anderson, attended Thursday's meeting, they did not participate.
Trapp's comments on broken windows-theory are silly, but I don't question either her sincerity or the importance of community involvement. It's hard to involve the community when the city gives such short notice of the summit, and there were a number of other community meetings Thursday that were scheduled long before this summit.
The real problem, however, is that the rhetoric from figures like Danks—who organized the first crime summit—and Melton—who used a 10-year-old boy as a stage prop at that summit—give the impression that the crime summit will produce a "master plan," that it is our best hope for reducing crime in Jackson. If that is true, we are screwed.
The next crime summit is scheduled for Jan. 9.
Previous Comments
ID

172653

Comment

Hey everyone, we need to get together and meet up for the next summit. Take a friend. Even if you don't live in Jackson, show up. I am planning on being there.

Author

LawClerk

Date

2006-12-06T21:38:52-06:00
ID

172654

Comment

If I remember correctly we elected the Mayor to come up with a crime fighting strategy. Where is the indignation that was evident when Mayor Johnson's Police Chief "assigned" blame on the public for the crime problem? I have no problem with citizens cooperating 100% and in doing whatever the Police Chief and Mayor ask them to do to HELP fight crime--but the responsibility for devising a workable crime fighting strategy rests with the Police Chief along with the Mayor backing her up.

Author

realtime

Date

2006-12-09T18:48:10-06:00
ID

172655

Comment

realtime, could you show me a quote where Moore placed blame on the public for the crime problem? I don't recall that ever happening.

Author

kaust

Date

2006-12-09T19:32:09-06:00
ID

172656

Comment

Knol is right; that didn't happen. The whole PerceptionGate™ hype came about when the chief challenged teh media to not sensationalize crime—and then they, amazingly, twisted what he said out of context in order to condemn him (and sell papers and raise TV ratings). You might as well let go of that argument, because it's flat wrong. And you are right that the police chief need to preside over formulating a good plan—which Chief Moore did, and was made fun of incessantly by The Clarion-Ledger et al, even as it was working. That was a sad chapter in our city's history, and we're paying the price for it now with an ineffective chief and a mayor whose under criminal indictment. A better informed citizenry wouldn't have made these bad choices, and the mainstream media failed us on that front.

Author

ladd

Date

2006-12-10T12:22:49-06:00
ID

172657

Comment

I remember well when former Police Chief Moore made comments very similar to those being made now--that it is up the people to stop (or fight) crime. Frankly, Jackson has not had an effective crime fighting strategy since the drugs hit the streets (back in the 80's). If Johnson had been able to control crime, he would have been re-elected. You are wrong if you think the mainline media had a significant influence over the voters in the last election. I think it is normal for media people to believe they can weld this kind of influence--but it isn't necessarily so--not in all cities. People in Jackson are fed up with crime and they had hoped Frank Melton could "fix it." Obviously they were wrong. Ladd and Aust, with all due respect to you opinions, neither of you have been living in Jackson long enough to understand the big picture as it relates to the crime issue and how much it influences what has happed to Jackson.

Author

realtime

Date

2006-12-10T17:47:00-06:00
ID

172658

Comment

I remember Chief Moore saying "We have a cancer growing in the black community". I don't believe this is 'blaming the public'. Whether some want to believe it or not, crime was decreasing under Moore and recruiting was progressing well. The media used the 'preception' non-quote like a bludgeon, realtime, and they definitely influenced the voters. If the media didn't influence, why spend money on advertising? As far as public involvement, yes it is called for. Will the Crime Summits solve anything? Doubtful; it is lead by the wrong people. The COPs program is proven in other cities. Why are they trying to reinvent the wheel here?

Author

ChrisCavanaugh

Date

2006-12-10T19:41:37-06:00
ID

172659

Comment

"Ladd and Aust, with all due respect to you opinions, neither of you have been living in Jackson long enough to understand the big picture as it relates to the crime issue and how much it influences what has happed to Jackson." - realtime I'll piss my line... I've been here my entire life minus about 8 where I spent most of my time in the rural 'burbs. realtime, I'm a taxpaying, home-owning Jacksonian, $450 tag-paying Jacksonian. That's my line. I've lived in this city for 15+ years and remember when Danks wasn't a bad word. Moore suggested community policing and community involvement... He NEVER placed the blame or the core of the problem on the citizens. Show me the quote!

Author

kaust

Date

2006-12-10T20:25:08-06:00
ID

172660

Comment

Okay, time for me to piss my line, too: I'm a friggin' lifelong Jacksonian, I remember when Dale Danks didn't have a tan, and I agree with Donna and Knol on this. But this is all argumentum ad hominem anyway, realtime. I mean, we can whip 'em out and measure 'em all day, but where are your facts? Where's your real argument? Cheers, TH

Author

Tom Head

Date

2006-12-10T21:43:04-06:00
ID

172661

Comment

With due respect to you, realtime, I've been on the planet long enough to know a liar and a con artist when I hear one, and then not vote for him. I'll leave that at that. It's one thing to be "fed up" with crime; it's quite another for the mainstream media to lie, twist and not give the whole story on what was actually going on in order to sensationalize crime, which is exactly what happened. Any good police chief will tell you that the community has to help fight crime. That's a no-brainer, and it's their job to try to get the community to believe that (a) crime is not out of control, so they don't give up and stop doing their part and (b) that what they do can have an effect, too, from locking their car to keeping an eye out in the neighborhood. The problem in this situation, though, is that the media took the exact opposite tack with the last chief, who was doing something. He did have a plan. He did talk to the public every week (in press briefings that were more attacks on him and efforts to catch him saying something wrong)—and, most importantly, crime was dropping dramatically. Now, we have an absentee chief who won't address the public pretty much at all. The police department is in disarray with morale in the toilet because these people can't lead the JPD. We have a mayor under indictment for supposedly trying to fight crime by being a criminal and using young men out on bond to help do his dirtiest work. And, lo and behold, suddenly the mainstream media are saying that we all need to fight crime. They are actually giving this administration more of a break that they did the last one when they wrote those belittling editorials about Chief Moore saying things he never said! Otherise, realtime, cut the ad hominem crap and talk about the issue instead of attacking people if you want to keep posting here. I suspect you just voted for a mayor who hasn't exactly lived here his entire life, and hasn't bother to vote here or move his homestead exemption here, so your pulling that out your butt is plain stupid and an attempt to deflect attention from an argument you're going to have a tough time winning at this point.

Author

ladd

Date

2006-12-11T10:51:53-06:00
ID

172662

Comment

I am not attacking anyone. Obviously everyone has an opinion and all of us are sincere and want the best for Jackson. I have a problem with anyone who chooses to use the "crime situation" as a bully pulpit to attack the media, or folks who do not always agree with JFP political persuation. All I am saying is that we should look at the crime issue as a problem that can be improved, look at the proven ways that other cities deal with crime, and try to work together to implement these issues. Perhaps my words were too severe; but I am tired of politically correct statements that minimize a problem that is tearing apart our wonderful city. Like so many others, I was born and raised in Jackson and remember better times, before rampant crime tore apart the fabric of inner city neighborhoods. I am not satisfied with the results of any of the recent mayors including Danks, Ditto, Johnson or Melton because none of them have faced this problem squarely and taken the steps needed to effectively address this problem. As for not posting here, Donna, if you are so sensitive that my comment about your not being from here upset you, I can assure you not posting on this web site will not bother me at all. The problem with your page, is that you do not welcome open honest comments, only those that mirror your political persuation. I agree with many of your positions and post comments that say that, but when I disagree, I would hope you would afford readers of you site an opportunty to engage in open dialogue. TThanks for your contribution the City.

Author

realtime

Date

2006-12-16T12:03:57-06:00
ID

172663

Comment

Just another couple of points. (1) My original comments were meant to convey the question: "Why aren't people allowing as outraged about Chief Anderson's comments as they were about Chief Moore's?" (2) Please do the favor of removing my name off of your "approved" bloggers. That will remove my trying to express my opinion in a venue where it is obviously not welcomed. Hope all of you have a wonderful holiday season!

Author

realtime

Date

2006-12-16T15:58:11-06:00
ID

172664

Comment

realtime writes: "Why aren't people allowing as outraged about Chief Anderson's comments as they were about Chief Moore's?" People were not initially outraged at Chief Moore's comments; that controversy was manufactured by the Clarion-Ledger as part of its long-term anti-Johnson campaign. Since it has no such jihad against the Melton administration, ostensibly deeming it harmlessly wacky (and having refocused its crosshairs on Peterson and Moore in anticipation of 2007 anyway), it will let Chief Anderson's comments slide. Hell, it basically let the beating of an 18-year-old handcuffed suspect, and the subsequent "damn thug" remark, slide; why would it deign to criticize anything Chief Anderson said? She and Melton are perfect representatives of Jackson as far as the editorial board's suburban agenda is concerned. Cheers, TH

Author

Tom Head

Date

2006-12-16T17:19:17-06:00
ID

172665

Comment

Realtime sez... The problem with your page, is that you do not welcome open honest comments, only those that mirror your political persuation. Am I the only one who is plumb sick of this argument? Every time we get someone on here who can't stand up to the responses they're given, this argument shows up. I guarantee you, Ironghost and I don't agree with everything on here all the time. But we have been welcomed as members of the JFP family. And I will keep my mouth shut on the state of Jackson in this thread, since I have only lived in Mississippi close to 9 years and don't know enough to say anything. Nope, can't do it. What the sam hill? Frank was voted in because people believed he could help bring the crime rate down. No one had any idea he would resort to vigilante justice, and hire a Chief of Police who will not challenge him. And now, since the way he wanted to do it didn't work, and he got his hand slapped for it, he wants to take his toys and go home? He wants to shove finding the solution back onton the citizens of Jackson? That's no Mayor, and that's no authority figure. That's a flippin' child. My two kids behave better than that. And I don't care how long you've lived here. That's the bottom line.

Author

Lady Havoc

Date

2006-12-18T14:38:21-06:00
ID

172666

Comment

You tell 'em, Lady. You're right: This is the tired and stupid refrain of people who come on here, violate the User Agreement with ad hominem attacks, get called out on it and then start whining about how the JFP doesn't allow "honest comments." Realtime, Baby Cakes, we don't allow personal attacks. Learn the difference and maybe your comments will be welcome in intelligent, diverse company. Otherwise, go whine somewhere else. We don't give a damn. We have real debate and discussion to attend to. As for this gem by the Lady: And I don't care how long you've lived here. That's the bottom line. I second that emotion. I don't care, either. Leave that tired outside-agitator sh!t in the 1960s where it belongs. It makes you sound really silly. (Not to mention that it doesn't make sense here; the folks who have lived here for a long time are the ones who didn't figure out sooner that Melton has a problem with dishonesty and talking in sound bites with nothing behind them. It would seem that longevity in Jackson has little to do with some people's ability to recognize a con artist when they see one.)

Author

ladd

Date

2006-12-18T14:44:08-06:00