Wednesday, April 12, 2006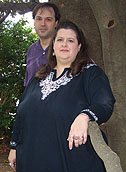 John Howell, 39, and his wife, Diana, 40, believe in the power of the stage. As co-founders of the Fondren Theatre Workshop, they've brought new and bold shows to community theater in Jackson, shows that you're not going to see in other local community theaters.
There aren't changes in the script to make it squeaky clean. "If the material is not suitable for children, then we put that on our posters around town," Diana Howell says. She explains that some people will go see a show just because it has cursing in it. In most of the metro community, she says, theaters purge scripts of profanity or adult content.
The Fondren Theatre Workshop has no permanent location, yet—call it the "gypsy" theater of Jackson. Performances have been held at The Cedars, Rainbow Co-op and the coffeehouse formally known as The Artery.
"We're always looking for new spaces to perform in," Diana Howell says. She explains that one day they would like to have a permanent location, but until then they use whatever performance space is available.
In 2001, the Howells partnered with the Fondren Renaissance Foundation in the production of "Who's Afraid of Virginia Woolf?" This production attracted a group of Fondren residents who wanted to produce community theater.
From there, the FTW was formed. In 2003, the Howells partnered with Sam Sparks, Joseph Frost and Camp Best to found the Fondren Theatre Workshop. Diana Howell says, "We've never really had an organized committee, so we're always open to other people's ideas." John Howell adds that if they were an organized theater group with a big board, then it would be all work and no fun.
In 2003, the FTW began hosting acting workshops, which provided them an opportunity to get the word out about their new community theater and to involve local actors and actresses. The FTW has produced four full-length plays: "Through the Looking Glass" (a musical adaptation by John Howell), "The Lion in Winter," Tom Stoppard's "Arcadia" and Fondren resident John Webb's world premiere of "The Sound of Steel."
The FTW performed "Talking With" in 2004. "We had new directors and actors," John Howell says. "This was their first time to act, and they all did a marvelous job."
Then there was Jane Martin's "Vital Signs" in 2005, a cabaret-style play. "Vital Signs" is built around a number of monologues, mostly told through the eyes of women.
As college students, the couple met in the theater department at MSU. He received his bachelor's in theater and master's in English. She received an emphasis in theater and marketing.
John Howell most recently directed "Bald Soprano" and performed in "The Lesson" this past January at the FTW. He has also appeared in numerous productions at New Stage over the years. His most recent performance at New Stage was playing Tim the stage manager in "Noises Off" last fall. He has been the arts facilitator at Casey Elementary for nine years.
Diana Howell is a paralegal and chapter 13 bankruptcy administrator by day and a director by night. She also has experience in stage management, lighting, acting and sound. She has always been the organized one out of the two when it comes to performing.
She got her start early in directing as a student at MSU. After graduation, she helped in directing with her husband for the Neshoba County Arts Council. She has directed numerous shows at the FTW.
The FTW has a partnership with HeARTS Against Aids, and Diana Howell is directing "Sordid Lives," a Southern comedy, this fall as a fund raiser. She and her husband will also be part of upcoming FTW productions.
The 2006 FTW New Playwright Series is scheduled for performance in July. The series premiered in 2004. All local playwrights are encouraged to submit their works by the 2006 series deadline of April 30. Please e-mail questions or submissions to project coordinator Joe Frost at [e-mail missing]
The series features short-length plays, although 30 minutes of longer works are eligible. Last year, there were mainly short plays and a series of monologues. All local actresses and actors are encouraged to audition.
FTW is scheduled to perform "An Evening of Beckett" on April 13 at 7:30 p.m. at The Rainbow Co-Op Plaza. The show will include readings of some of Samuel Beckett's works in celebration of the 100th anniversary of his birth.
More like this story