Wednesday, April 12, 2006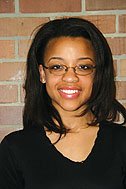 A clash between Murrah High School students and school administrators was diffused recently when the principal agreed to dedicate some school afternoon time and the school auditorium to the celebration of Black History Month. That celebration finally occurred on April 6.
"Me and some other students approached the principal with an outline and ideas for a black history program, and he told us that there was more than just black students at the school and that we waited too late," said Junior Vice President Amber Nicole Thomas. "JPS is 98 percent black, and with everything going on in the world, it's really important for them to know where they came from and to celebrate. If the school district is 98 percent black, why wouldn't you have a program celebrating black history?"
After the refusal, tension rose between some students and Principal Roy Brookshire. At one point, Thomas was ordered by an assistant principal to turn inside out a shirt reading, "Black History is American History" for the remainder of the day.
"She said turn it inside out, because the whole thing had turned negative. All the negativity was caused by the students who had no information, and then there were all the rumors, but my shirt was simply celebratory," Thomas said.
Brookshire said the program was originally difficult to schedule.
"Students came in on that Friday and wanted a program, and I told them they only had two days left. I asked did they have a sponsor and they said 'no,' and I said 'you need to get a sponsor, and (you) need to put a program together.' For some reason, it wasn't about the program anymore. It was about the controversy," Brookshire said.
NAACP Jackson branch President Gus McCoy said the fight for the program was an excellent example of how civil and human rights were advanced in the 1960s.
"The students requested a program in celebration of black history and were refused, but just like in the civil rights era, the students and the faculty were able to iron out an issue. This is an incident where we had a problem, but the children learned and knew how to move to a resolution something that could've taken on a bad light," McCoy said.
McCoy said students eventually took their request to JPS Superintendent Dr. Earl Watkins. Watkins did not return calls by press time, but McCoy said he was grateful the school went to the trouble of setting aside time for the program.
"I don't want this to be any kind of negative reflection on the school," McCoy said. "JPS always gets a bad rap, but they proved they were sensitive to the needs of their students. By the time we got to Dr. Watkins' office, they'd already set a date and time for the program. ... I've been a youth minister in this city for a number of years. I know we have a lot of quality students, but I also know that they have a lot of problems in other schools. They just don't put them in the paper."
Jim Hill High students joined the celebration, riding JPS buses to Murrah for the 6 p.m. event.
Jim Hill sophomore Princess Thomas said the program was vital for African-American students who hoped to assert their identity.
"It's important to us that if we want to celebrate black history at all, we need to do it in the (school). When they told us there was going to be a black history program, we were all shocked," Thomas said, adding that student organizers had no problem recruiting audience members from Jim Hill.
"The Jim Hill students are very vocal. It wasn't hard to get everyone interested. We started off with 13 or something and when we said it was a black history program everyone signed up," Thomas said.
Brookshire, who also attended the event, said, "We've looked forward to this for weeks now."
Previous Comments
ID

65867

Comment

What the hell? (1) Why was the Black History Month celebration held in April when Black History Month is February? (2) Why did the friggin' students have to ask for a standard part of the February history curriculum, and get it only under duress? (3) Why did a student have to wear a "Black History is American History" T-shirt inside out? I could have worn that T-shirt. It's not Marcus Garvey stuff. I think the local NAACP officer's spin on the situation is, to put it mildly, charitable. This is a very troublesome situation. Cheers, TH

Author

Tom Head

Date

2006-04-12T22:22:48-06:00
ID

65868

Comment

Tom, if you're this ticked off, imagine how I feel! If they are so concerned about other ethnic groups, then honor the other history months as well: Hispanic History Month, Women's History Month, etc. Whites have a whole year - what's wrong with a few hours?

Author

LatashaWillis

Date

2006-04-12T23:01:06-06:00
ID

65869

Comment

Latasha, couldn't agree more. When I hear the administration talk about Black History Month being too "divisive," all I can figure is that he's scared of chasing the remaining whites out of Murrah. Says disturbing things about his impression of those whites, that he assumes they wouldn't benefit from a black history curriculum. Cheers, TH

Author

Tom Head

Date

2006-04-13T02:54:51-06:00
ID

65870

Comment

Mmmmmhhhhhhmmmmm, preach on TH. No, really, history is history. Perhaps in the past and in the present there is more pride exuded by black students--not to mention workers, civilians--than necessary (meaning boasting and belittling of others, by no means saying it's not good to have pride). This could cause some to want to protect the 'other' students by overlooking. Nah, dat sounds like b.s. as I type it. This should provide a stimulant to students, teachers, administrators to look more into black history as a definite focus. We had a similar situation here at work, but of course it didn't blow up by no means. February had come and there was no talk of a program. Hell, there was not going to be one, that's why. So a group of us got together and coordinated something. Got the go-ahead from the higher-ups and boom, God bless. However, this pulled to my attention my own lack of attention/awareness of the importance of celebrating black history, not only in February but throughout the year. Why should I be proud one month? Why should it take a program to encourage me? This is something that black leaders have been trying to stress to the nation/world and I know I've been hearing about it, but yet I've been complacent. Serious reality check. I think that the women and hispanic communities are stepping up. I will be happy to see older textbooks edited to incorporate all in history. America is not black-white-brown. America is America, plain and simple. When we focus on having celebrations of one aspect (not implying that they're unecessary by any means), we encourage the same divisions that we [say we] are fighting against. I know that they're done because of the fact that we have nothing else at present to highlight these accomplishments/achievements, just throwing a thought out. Let me clarify, since I read my last paragraph and was shocked at myself. I realize that we have our human perceptive differences, but the country of America is not moving (save for erosion, ground faults, etc). It is up to we the people to define how we see ourselves in this nation.

Author

lilsoulja

Date

2006-04-13T08:09:28-06:00
ID

65871

Comment

I suggest you double check somne facts and take a look at things in a broader context. This was indeed about the controversy and not Black History programs.

Author

Rex

Date

2006-04-13T09:13:21-06:00
ID

65872

Comment

Rex, I'm not sure what you mean. lilsoulja, really good post--and agreed to a point. I do think that, in the current environment, it makes sense to highlight the contributions of women, African Americans, Hispanics, Asian Americans, et. al. because socially constructed/enforced race and gender differences are still a very real part of everyday life. Cheers, TH

Author

Tom Head

Date

2006-04-13T11:23:52-06:00
ID

65873

Comment

TH -- When I hear the administration talk about Black History Month being too "divisive," all I can figure is that he's scared of chasing the remaining whites out of Murrah. Says disturbing things about his impression of those whites, that he assumes they wouldn't benefit from a black history curriculum. Show me where anyone in this article said any of the things you attribute to "the administration." And by the larger context: JPS goes out if it's way to be sure that Black history, literature, music/arts, and academic achievements are in the forefront at every school in the district and it's done in a way that ties directly to broader state curriculum standards. There are a number of special lessons and events throughout the district in February and in celebration of MLK Jr. Day. Given that, most schools do not see that adding another "Black History program" when Black history is a fundamental part of JPS activities year round. I won't even get into the fact that there is a set of procedures and a corresponding timeline to get a special event approved and planned. It cannot be done in a week or two.

Author

Rex

Date

2006-04-13T12:36:16-06:00
ID

65874

Comment

I won't even get into the fact that there is a set of procedures and a corresponding timeline to get a special event approved and planned. It cannot be done in a week or two. Rex, I understand your point, but I think this is what sparked the controversy: "Me and some other students approached the principal with an outline and ideas for a black history program, and he told us that there was more than just black students at the school and that we waited too late," said Junior Vice President Amber Nicole Thomas. Now, if he had just said it was too late, the reaction would have probably been different.

Author

LatashaWillis

Date

2006-04-13T21:32:53-06:00
ID

65875

Comment

"Me and some other students..." Sounds like they need basic grammar classes first.

Author

Lady Havoc

Date

2006-04-14T16:19:26-06:00
ID

65876

Comment

L.H., I saw that too, but my guess is that the interview was casual and the student didn't think about grammar right then. I bet her English teacher had a little chat with her. :-)

Author

LatashaWillis

Date

2006-04-14T18:34:39-06:00
ID

65877

Comment

I'm the girl in the photo, and no my grammar is usually not that bad! Hopefully I won't be stoned for anybad punctuation or spelling! LOL Anyway, it's really weird how our Principal, Roy Brookshire, stuck to the "two days away and no sponsor" lie the whole time. When in truth, we had an active sponsor, but when the controversy rose he backed down. We came to him on Feb 26 asking that the program be held on Mar 6, he says we asked for the program the following monday which was feb 28.....IMPOSSIBLE. I am also on yearbook staff and we were involved in the Beauty and Beau Pageant, a very big event, to be held on the Feb 28. How could I knowingly schedule Beauty and Beau along with a Black History Program on the same day...LUDACROUS! All lies! We'd been having meetings for two weeks, and had alist of participation and acts together we were not unprepared, we just needed the go ahead from him. He also told these lies to the entire faculty at a routine faculty meeting, working really hard to discredit us. Can you imagine the looks and whispers we endured? The assistant principal also denies making me turn my shirt inside out, she says she only suggested that I do so....lets be honest here; you're in the ass. principal's office and she tells you that this whole thing is negative and you all are trying to start something and make Murrah look bad, and at the end of the conversation she asks or suggests (as she injects!) that you remove the shirt or face 5 days in school suspension or at home suspension. What do you do? I know what I did, I turned it inside out. The students and faculty of Murrah wouldn't see my shirt in ISS but they'd get upset seeing it forcefully inside out. There is alot more to this story, if anybody is interested in the "Truth As I Know It" let me know, I'll be happy to spell it all out.

Author

AllEyez

Date

2006-04-15T10:18:43-06:00
ID

65878

Comment

There is alot more to this story, if anybody is interested in the "Truth As I Know It" let me know, I'll be happy to spell it all out. AllEyez, feel free to spell!

Author

LatashaWillis

Date

2006-04-15T10:23:25-06:00
ID

65879

Comment

AllEyez, thanks for this posting to this thread--it definitely helps to get some firsthand perspective. Did the school do anything at all special in recognition of Black History Month...? Cheers, TH

Author

Tom Head

Date

2006-04-15T11:48:39-06:00
ID

65880

Comment

What happened to Feburary? Lord knows they did teach it at Murrah when I was there, complete with programs and everything. Did they quit when whatshisname left?

Author

Ironghost

Date

2006-04-15T14:17:58-06:00
ID

65881

Comment

TH--...and agreed to a point. I do think that, in the current environment, it makes sense to highlight the contributions of women, African Americans, Hispanics, Asian Americans, et. al. because socially constructed/enforced race and gender differences are still a very real part of everyday life Definitely important to highlight contributions. I think that the approach given by my thought neglects to point out what's on my mind. I'd like to see these hightlights done on a continual basis as opposed to a one-day or one-week thing. Similar to secretaries. Sure, the one day is probably appreciated, but actually showing appreciation year-round. In this case, highlighting contributions year round.

Author

lilsoulja

Date

2006-04-19T11:39:12-06:00
ID

65882

Comment

I apologize...I'VE BEEN SOOO BUSY!!!! Anyway, I'll start from the beginning. I was in fourth block Adv Alg/PreCal and the class had gotten off subject and one of the students realized nothing had been done for Black History Month. "Why haven't we had a program?" she said, and our teacher (the sponsor who backed down) told her she should try to organize one herself. I am seatedt directly to her right and she asked if I would help her. I am on student council and when students approach me with anything it's my job to help them get it done correctly. This all occurred on...I want to say between the 8th and the 12th of February. On that same day we said our date should be Feb 28, the last day of the month, and at the time it seemed attainable. We immediately posted a sign up list in his room. For about the next two weeks we had meetings and approached students for their participation for instance the Gospel choir and the dance complex at APAC was solicited. At that same time we started doing little things to get the ball rolling. A few of us wore signs, not militant "fight the man" signs, because there wasn't a man to fight, but signs celebrating black inventors and things of the nature. My sign celebrated Alice Parker who invented the heating furnace. I also submitted a fact to be read in the morning announcements, but because I put it in the asst. principal's inbox (who does the announcements) and not in the announcement book it was not read. The meetings were getting off slow and the 28th was too close, and one day probably between the 18th or the 20th I realized that another event I was involved in,The Beauty and Beau Pageant was on the 28th, so everyone decided that we'd shoot for mar 6th, the Friday right before Spring Break. We still wanted that date to be significant so we decided to wear red, black, and green. Anyway, we then realized we'd definitely need the principal's approval. So, that became a goal. We knew that we needed to have an outline of some sort for him to see. I typed that up, and got the signatures of the other two girls that were deeply involved and on the 25th we approached the principals. One asst. principal wasn't in his office, another was handling disciplinary problem (just as he was when I first tried to tell him about it), but the other was in their office. We went in and they immediately thought it was a good idea. They prepped us telling us that he'd asked us if we were willing to celebrate other cultures history and to be prepared with answer, which was yes at that time. Right from their office we went to his office and after about five minutes he walked in and we were almost immediately called in. I start talking, telling him what we were working on and gave him a date (March 6th).

Author

AllEyez

Date

2006-04-20T22:46:51-06:00
ID

65883

Comment

The first thing he asks us is if we will acknowledge other cultures. We tell him yes. Then he goes on to say that there are more than just black children in the school and he "doesn't want to isolate one race". He also says that he "loves all his kids and everyone is equal". I then reply that "Black History is American History" He goes further and says the district does a lot to celebrate the Black History. Then I tell him that it hasn't reached Murrah, and the district may have but it is not evident. He also says that he doesn't want to interfere with state testing (which doesn't occur until this month, next week Apr.24-28 and this proposal occurred on Feb. 25th...TWO MONTHS DIFFERENCE!!!!). Anyway, with our outline in hand he tells us that we should rewrite and try to submit another outline entailing other cultures. We agree, not happy or satisfied, but we agree to it. Sensing tension, the other young lady (i don't know if I should mention her name), asks if all this was a "yes". He told us we could submit another outline, but... (he then restates all the reasons he gave previously)..."probably not". We tell him that he will see us again with that outline and we leave. When we returned to our class (all in the same class that block) we gave a report. We told them about the "Cultural Diversity Celebration" and how we were going to submit a new outline. They exploded! They said there was no such thing as a "Cultural Diversity Month" and how 95% of the people at Murrah school are black, and everything else they felt. I don't deny being upset, so don't think I'm throwing heat off of myself. Now, something evidently happened over that weekend. Children talked to parents and Pandora's box was in preparation to be opened. On Tuesday Feb. 28th, the last day of the month I composed an email that plainly stated the non-militant reasons and the celebratory significance of the wearing of the colors(remember this was all previously planned). Anyway, I didn't attend school on Monday for one reason or another, and I know of no incidences that occured on that day. Monday night I made my shirt. On a plain black Tee I stencilled in red, black, and green acrylic paint "Acknowledgement is Necessary" and on the back "Black History is American History". On Tuesday, Feb. 28th, I wore my shirt with jeans, balck shoes, and red and black arm bands (didn't have a green one!). I saw a small amount of people wearing red, black, and /or green, but nothing roughty was goin on. My first block on that day was journalism/yearbook and we were putting the set together for that night's Beauty and Beau Pageant. During that block, a friend of mine recieved a text saying they were "getting people" for the red, black, and /or green. I was shocked and really wasn't sure about it.

Author

AllEyez

Date

2006-04-20T22:59:51-06:00
ID

65884

Comment

While walking to retrieve more paint for the set, a security officer stopped me and told me that he had been told to monitor paraphernalia such as mine and that he had to send me to the office to check out my shirt. I went to the office, and he stood me in front of the door of one of the asst. principal's office. I pivoted to allow her to see the whole thing. The asst. principal told me to wait outside. I waited and was then called in, and as soon as I was seated another young lady ( one of the other two girls in Brookshire's office on the 25th) came in be hind me. The asst. principal looked at the clothing, a black shirt with the rock band "SEVEN" on it, and red tee under it, and the red, black, and green arm bands. The ass. principal told her she could go, but my peer stayed willingly. The asst. principal said they were embarassed, and the situation had turned negative. The asst. principal said it looked bad for black people in general, and especially bad at the school. OH WAIT!!!! I forgot to mention something very vital, that particular ass. principal came into Brookshire's office while we were asking for the program! Anyway, back to the incident, the asst. principal then told us that Brookshire said we could have it after school or on a weekend, and that it was never said that we couldn't have a black history program. I was soooo confused. I admit I was intimidated, because I thought that maybe I'd missed something. After talking to the other two girls later, they reassured me that had not been said or this wouldn't be a big deal! They were acting as if a riot was going to break out, or as if we were conducting a sit-in. The ass. principal said it was an organized occurrence that they could not allow (referring to our apparel). At the end of the conversation with the asst. principal and my peer, the ass. principal "suggested that I removed my shirt" or face five days in school suspension or at home suspension. I was shocked, were they serious?! The asst. principal even asked my peer to give me on of her shirts, I didn't take it. I then weighed my options...go to ISS and no one see my shirt OR turn it inside and/or cover it and wear that way all day causing people to inquire. Ofcourse, very upset, I chose "B"-wearing it inside out/ or covering it! I left extremely offended and went to the bathroom and turned my shirt inside out. I returned to class and my teacher seeing me upset asks me what happened, I told her and she couldn't believe it...........PARDON ME PLEASE!!!! I really have to work on my campaign, I'm running for Student Body President, plus homework and it's getting pretty late. I'm already tired from campiagn prep on last night. Please pardon me I will finish the story ASAP, but I have to stop now. Thank you for showing interest and understanding. Feel free to askmore questions, and I'll answer whatever I can!

Author

AllEyez

Date

2006-04-20T23:00:10-06:00
ID

65885

Comment

AllEyez, thanks for this. Do I understand that there was nothing done for Black History Month? Nothing as part of the history curriculum or anything? Because if that's correct, that's a heck of a lot different from how things were 20 years ago--and a definite slide backwards. Cheers, TH

Author

Tom Head

Date

2006-04-20T23:19:06-06:00
ID

65886

Comment

Thanks for replying in such great detail! Make sure you get that homework done.

Author

LatashaWillis

Date

2006-04-20T23:22:54-06:00
ID

65887

Comment

BTW- I'm not sure how much it matters, folks, but maybe now would be a good time to mention that Dr. Brookshire is white. I've just emailed the Southern Poverty Law Center about this. I suspect they will LOVE this story. Cheers, TH

Author

Tom Head

Date

2006-04-20T23:25:48-06:00