Wednesday, April 12, 2006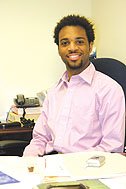 Chivalry is not dead, and some men still believe that real men can be gentlemen. Meet Eddie Brown Jr.
A Callaway High School graduate, and recent graduate of Jackson State University, the 24-year-old now works in his alma mater's public relations department as a creative writer, while aggressively pursuing a master's of business administration. Outside the typical wife, two and a half kids, a dog and white picket fence dream, Brown's hopes extend to two major projects.
The first is a public relations firm that assists non-profit organizations, religious institutions and small business owners.
"Mississippi has a good small business climate. I like the idea of an establishment where I can bump into the owner of the company at the grocery store," he says as we enjoy lunch at Broadstreet.
The second project that is dear to his heart involves people. "The state of the African-American male is the state of the African-American race," he says. "I'd like to start an institution for African-American males. A grass-roots type of project serving men who want to do better and have the capability, kind of like the Talented 10th, by sowing into their minds and giving them resources to perfect themselves as individuals," Brown says.
Brown's ultimate aspiration is to teach young men to become gentlemen. "The whole tenet of being a gentleman is to make sure everyone is comfortable without strain or duress on him."
Segue to the three gentlemen he most admires: Dr. Maurice Bingham, a retired bishop at his church; Mr. Eulis Brown Sr., his grandfather; and Eddie Brown Sr., his father. These men care about their appearance, but aren't consumed with it, never speak harsh words but always deal with people in a responsible way, believe in hard work, and the list goes on. "My dad even picks up after himself, which I haven't quite learned, yet," he says, chuckling.
When he's not mentoring young men, being a motivational speaker, patronizing local businesses or teaching himself to play the organ, Brown visits foreign countries as the "automatic reader" his third grade teacher encouraged him to be. Italy is his favorite, and he expects to one day visit Venice.
As the formal interview came to a close, Brown shared with me a piece of wisdom he got from an older gentleman at his church—to be generally informed is to be well-educated.
Not only is Brown impressively informed and proactive in the pursuit of his dreams, he will keep you laughing until your belly aches. And true to form, leaving the restaurant, he opened the door for me.
Previous Comments
ID

82469

Comment

God has truly blessed this young man with a passion to help his community. He will go very far in life. I expect nothing but big things from him. His parents and church family should be very proud of his accomplishments.

Author

Stephanie H

Date

2006-04-12T16:56:45-06:00
ID

82470

Comment

I am so excited to see this article about him. He has grown so much. His older sister and my younger sister grew up together as best friends, so we know his family.

Author

LatashaWillis

Date

2006-04-12T21:14:43-06:00
ID

82471

Comment

It is great to see Eddie in the JFP. I have known him since we were bright-eyed middle school students at Powell and he is still as much a great person today as then. I wish him the best in all his endeavors. Will

Author

Will Jemison

Date

2006-04-12T22:22:28-06:00
ID

82472

Comment

There are some people you meet in life and that never forget. Eddie is one of those people. I've had the pleasure of meeting Eddie years ago during an intern and he has been a great friend ever since.

Author

Oscar Hawkins

Date

2006-04-13T07:42:08-06:00
ID

82473

Comment

Is this the same person as Ejeff. I think I see similarities.

Author

Ray Carter

Date

2006-04-14T14:43:09-06:00
ID

82474

Comment

I don't think so, Ray. I believe ejeff1970 is older than Ed.

Author

LatashaWillis

Date

2006-04-14T19:39:29-06:00
ID

82475

Comment

I am very happy to see Eddie in JFP. He's a great young man...and I'm very proud of him. Keep up the good work Ed. Please continue to highlight the successful youth in our community. Thanks :)

Author

ZSummers

Date

2006-04-15T03:56:03-06:00
ID

82476

Comment

Is this the same person as Ejeff. I think I see similarities. No, that's not me, Ray, although I am jealous of his hair! (sigh):( If only I could grow a fro like the old days!

Author

Jeff Lucas

Date

2006-04-19T13:19:22-06:00