Wednesday, November 30, 2005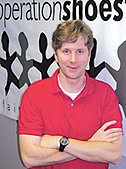 Tall and slender, with a fluid gait that quickly takes him from one responsibility to the next, Robert Langford, 42, has the needs of children and their families foremost in his heart and mind. First, there's his wife Betsy Bradley, executive director of the Mississippi Museum of Art, and their two children. Then there are the elementary school students and their families served by Operation Shoestring where Langford has been executive director since 1997.
Operation Shoestring, founded in 1968 "as a response to the turbulence of the 1960s and the growing divisions in our city and state"—as stated on their Web site—is now located at 1711 Bailey Ave., a few blocks south of Woodrow Wilson and Galloway Elementary School. When Langford was in elementary school, it was housed at the nearby Wells United Methodist Church. He sometimes went with his dad when he volunteered at the medical clinic there. "It was important to him to do that. It was important to my family that he was one of the physicians to do that," Langford says.
Operation Shoestring gives Jacksonians the opportunity to be stewards, both with their donations and their time. People line up to help, Langford told me, when they find out what is being done there for families. Programs offered to more than 1,000 families include Parenting and Literacy Sessions, and their after-school Project KIDS serves more than 100 mostly Galloway students.
"What we provide is not so much about resources," he says. "It's about love, letting them develop, and encouraging them to develop the tools that exist within themselves."
This post-Katrina world, different for each of us, means even more differences for those who have served low-income families for a long time, Langford says. "Our biggest challenge is to get the word out," Langford continues, and then smiles as he gives the details of the third Operation Shoestring Holiday Music Benefit Dec. 1 at Hal and Mal's.
Langford wants the children and the families Operation Shoestring serves to feel good about themselves and about the time they've spent there. For those who come to the music benefit, he wants much the same thing.
He says, "I want them to associate a good feeling with a good cause, to have a good time and help support what we're doing."
Previous Comments
ID

82418

Comment

I have been out of town and unfortunately out of the loop for the past 2 and a half months, so I didn't have access to a computer or issue of the JFP so I missed this. I have to take off my hat to Robert and the writing of this piece. I have had the pleasure to work with him over the past six years or so and it is obvious that he believes in what he is doing with the kids and operation shoestring.

Author

c a webb

Date

2005-12-10T01:27:50-06:00