Wednesday, November 30, 2005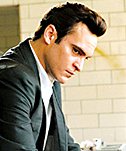 "Walk the Line" is a foot-stompin', stand-up-and-cheer, cry-in-your-popcorn film. I've been a long-time fan of Johnny Cash, both as the musician who surpassed both genre and generation, and the man who rose above heartache and addiction. Much like John Wayne, Marilyn Monroe and Elvis Presley, Johnny Cash stands tall as an American icon.
"Walk the Line" begins in a cotton patch under a blistering Arkansas sun as a humble family of New Dealers drag their potato sacks through the Mississippi County dirt. Young "J.R." and his brother Jack talk about fishing, God and Bugs Bunny as Momma Carrie (singer Shelby Lynne) sings hymns and Daddy Ray (Robert Patrick, "Ladder 49") drinks heavily and screams at them to turn the radio down. Ray's emotional abuse and the Cash family's own personal tragedy take their toll on a young J.R. who enlists in the Air Force and travels to West Germany. It's there in a pawn shop that he buys a guitar and begins to walk the line.
After his military stint, Cash moves to Memphis and scores an audition with Sun Records producer Sam Phillips (Dallas Roberts, "A Home at the End of the World"), who gives a lovely, but factually incorrect, speech about "believing in yourself." (In reality, he told Cash and The Tennessee Two to simply "go home and sin and then come back with a song I can sell.") As Johnny Cash moves down the rockabilly line of success and fame, he sits and picks with fellow rock stars Jerry Lee Lewis, Elvis Presley, Roy Orbison and a young Waylon Jennings (played by son Scooter Jennings) and develops a strong dependency on alcohol and amphetamines.
Joaquin Phoenix ("Ladder 49," "The Village") plays to eerie perfection the moody musician with his slow, low drawl and soulful brown eyes, while a radiant Reese Witherspoon ("Legally Blonde," "Sweet Home Alabama") is flawless as the lovely legend June Carter. Director James Mangold ("Kate & Leopold," "The Sweetest Thing") does a splendid job of creating the tense, yet tender, relationship between this good-hearted woman and good-timin' man.
"Walk the Line" has one serious flaw. It is too fast and spends too much time on the worst parts of Cash's life. Johnny Cash was the writer of a thousand songs and the winner of over a dozen Grammys, and his career endured for half a century. "Walk the Line" only presents an abridged version of the early days leading up to his famous 1968 performance at Folsom Prison. Cash's marriage to June, conversion to Christianity and Highwayman days with fellow outlaws Willie Nelson, Waylon Jennings and Kris Kristofferson are neglected.
I wondered, "That's it?" But with Oscar-worthy acting and a pulsating soundtrack by music sensation T-Bone Burnett, I didn't mind too much.
Previous Comments
ID

84411

Comment

Joaquin, sort of turned me off to this movie. I did want to see it but his, "Acting is being that person feelign that person" delivery in interviews makes me turn the channel. I like him better as a little whiny sissy boy from gladiator.

Author

*SuperStar*

Date

2005-12-01T10:54:16-06:00