Thursday, November 24, 2005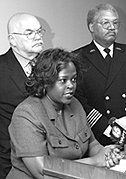 Ironically, a murder binge in the city—nine fatal shootings in 10 days—comes just as a national crime-rating outfit released good news for the city of Jackson, at least about its reputation in 2004. For the first time in a decade of reporting, Jackson's 2004 FBI crime figures knocked the city out of the top 25 most dangerous cities, according to Morgan-Quitno, the Kansas-based book publisher.
In 2004, Jackson fell 14 spots from its ranking as the 14th most dangerous U.S city in 2003 to 28th in 2004. The company had ranked Jackson the 16th most dangerous in 2002 and 10th in 2001. Jackson has never ranked better than 21st most dangerous in the study (in 1998) until last year. In the first year of Morgan-Quitno reports—1996—Jackson ranked the 13th most dangerous city.
These rankings are only so meaningful—Morgan-Quitno is widely criticized for lumping truly dangerous crimes such as rape and murder in with car break-ins and more minor crimes—and then dividing and doing a simplistic comparison with other cities. Regardless, the company draws a lot of media attention when they release the previous year's rankings every November, even as the rankings are relatively meaningless, according to criminal-justice experts. Every year, the rankings cause consternation—and often harsh editorial responses—in cities that fare poorly.
Yet, local politicians and editorial boards in Jackson like to use the rankings as selective sound bites. The Clarion-Ledger has routinely quoted Morgan-Quitno numbers—without explaining the flawed methodology and leaving out vital context—to support its sensationalistic crime coverage. And as the Jackson Free Press has reported for three years, politicians—from Haley Barbour to D.A. candidate Wilson Carroll to Frank Melton—have grabbed the "dangerous" rankings when they're convenient, often not bothering to tell listeners that the rankings are always more than a year old by the time they are released.
"Statistics aside, Jackson remains one of the most dangerous cities in the country and continues to rank in the top fifteen (15) cities with the highest crime rates," stated Frank Melton on his Web site earlier this year. He was referring to the 2003 ranking.
Of course, it's difficult to put "statistics aside" and then quote Morgan-Quitno as these rankings are based entirely on crime statistics—the same ones the police report to the FBI and the same ones that the last administration's critics tried to say were under-reported (except when they made useful sound bites). Adding even more irony, the new rankings at least superficially confirm the steady drops in the city's crime over recent years—and mirror the trends seen on former JPD Chief Robert Moore's watch. Moore presided over a 24-percent drop in crime during his tenure in Jackson.
That trend continued into the first half of 2005—with homicides dropping 31 percent from January to the end of June over the same period in 2004—the year covered by Morgan-Quitno's latest report.
Several cities with notable downtown redevelopment efforts routinely ranked as more "dangerous" than Jackson for 2004—including Memphis (#16), Atlanta (#7), Birmingham (#10), Cleveland, Ohio (#12)—and particularly nettlesome to The Clarion-Ledger's recent choice of a city to compare Jackson with in its "Changing Face" effort—Richmond, Va. (#5).
While Richmond is ranked the fifth most dangerous city in the country for 2004, it saw healthy efforts at urban redevelopment despite violent crime rates, more than twice that of Jackson, which is similar demographically. In the 100,000 to 499,000 population category, Richmond is the third most dangerous city. Jackson fell out of that top-10 "dangerous" ranking in 2004, while Deep South cities Atlanta (#4), New Orleans (#5) and Birmingham (#7) are still contenders.
The greater Jackson metropolitan area also saw improvement in 2004, according to Morgan-Quitno. Ranked the 15th most dangerous metropolitan area in 2004, the Jackson Metro dropped to 28th in 2004.
Morgan-Quitno's "most dangerous" rankings for 2005 will be released in November 2006. Meantime, the company has ranked Mississippi the "least livable state" for the last seven years.
More rankings at http://www.morganquitno.com
Past JFP stories that discuss Morgan-Quitno rankings:
Nov. 18, 2005 — 'Suburban Legends'
Dec. 2, 2004 — Stringfellow Attacks Chief for 'Crowing'
Oct. 29, 2004 — Barbour, Carroll Bash Jackson With Old Statistics
May 28, 2004 — Here Comes Da Judge
Jan. 29, 2004 — Crime at 15-Year Low in Jackson
Dec. 10, 2004 — Gettin' Safer
April 28, 2003 — Watching the Watchdogs
April 17, 2003 — No Cure for 'Cancer'
April 17, 2003 — CRIME: Playing the Numbers
Previous Comments
ID

64771

Comment

I guess the CL hasn't caught wind of this yet? And the "statistics aside" comment by Melton is priceless. I had several run-ins with people before the election that did exactly the same thing... swearing up and down by stats, but when you'd point out that crime stats were dropping they'd tell me that there were "lies, damn lies and statistics". If there's one thing that Melton and his followers are consistent with, it's inconsistency.

Author

millhouse

Date

2005-11-24T15:58:18-06:00
ID

64772

Comment

I guess the CL hasn't caught wind of this yet? Oh, they know about them. But it is breathtakingly apparent that they selectively use the Morgan-Quitno numbers—to date, as a way to blast the last mayoral administration and the city as a whole. Fair and balanced journalism? You decide. We, on the other hand, report them no matter what—and, whether our ranking is up or down, remind readers that the rankings are not terribly helpful without the wider context and are often used as a cheap tool by politicians who want to get elected on the backs of Jackson crime victims. That disgusts me, as does being treated like I'm an idiot by people willing to quote statistics so selectively. They make it an art form in these parts.

Author

DonnaLadd

Date

2005-11-24T23:09:37-06:00
ID

64773

Comment

Any organization that attempts to rank "livable" vs. "unlivable" states is obviously not just in the business of providing objective data, since a state's "livability" is a subjective consideration. The FBI regularly compiles an excellent range of crime statistics, some of which my co-author and I relied upon for our tables in the new book we're doing on the American criminal justice system for Facts on File. I see no reason to rely on Morgan-Quitno's judgment when I can look at the hard data myself, and indeed the FBI issues a cautionary word that seems particularly relevant here: Until data users examine all the variables that affect crime in a town, city, county, state, region, or college or university, they can make no meaningful comparisons. Each year when Crime in the United States [the Uniform Crime Report] is published, many entities—news media, tourism agencies, and other groups with an interest in crime in our Nation—use reported figures to compile rankings of cities and counties. These rankings, however, are merely a quick choice made by the data user; they provide no insight into the many variables that mold the crime in a particular town, city, county, state, or region. Consequently, these rankings lead to simplistic and/or incomplete analyses that often create misleading perceptions adversely affecting cities and counties, along with their residents. For those of you playing the home game, this is the sort of thing Chief Moore was talking about when he talked about the damage done by the inaccurate "perception" of the crime rate in this city. Cheers, TH

Author

Tom Head

Date

2005-11-25T01:42:33-06:00
ID

64774

Comment

The young woman in the center of this photo looks VERY familiar, but I'm having trouble placing her and it's driving me nuts. Who is she?

Author

Tom Head

Date

2005-11-29T03:01:36-06:00
ID

64775

Comment

TH: The woman in the above photo is the Hinds County D.A. Faye Peterson.

Author

Jeff Lucas

Date

2005-11-29T10:34:00-06:00
ID

64776

Comment

Eek. Thanks for this. The name crossed my mind, but my first thought was "That doesn't look like Faye Peterson." Never seen Peterson in person, and either the C-L photos make her look 20 years older or this photo makes her look 20 years younger. Cheers, TH

Author

Tom Head

Date

2005-11-29T10:49:18-06:00
ID

64777

Comment

Just ran across this old Clarion-Ledger editorial -- leading with the Morgan-Quitno rankings! Note that they still have not reported the latest rankings, which show that Jackson got less "dangerous" (by their standards, which the Ledge used to dig mightily) in 2004. I tell you, the things that make you go hmmmm: Crime Rankings are just a reminder to act Police Chief Robert Moore can probably expect more heat from the Kansas-based Morgan Quitno Press' crime "perception" of ranking Jackson the 16th most dangerous city in America.

Author

DonnaLadd

Date

2005-12-04T20:22:31-06:00
ID

64778

Comment

It's good to see that some daily newspaper still carry intelligent commentary these days. Check out this column in the St. Louis Post-Dispatch about the Morgan-Quitno numbers. I can't even IMAGINE the sensationalistic Clarion-Ledger running such an analysis of how to look at such rankings when it was sensationalizing previous year's rankings all to hell, seemingly, to use this against the last mayoral administration and police chief. Now, of course, we're not hearing a peep out of the Ledge on it, being that the rankings indicate rather dramatic improvement (for what that's worth). Let me guess: They suddenly decided to listen to the JFP and not make such a big deal out of the rankings this year as in year's past. And it was just a conincidence that it's the year when we show such a dramatic improvement. Goobs.

Author

DonnaLadd

Date

2005-12-15T14:08:50-06:00
ID

64779

Comment

I'm still hopping mad that the Jackson Police Department stopped publishing its crime statistics in the CL on Mondays. I used to keep a cumulative number on rapes and car-jackings since these two brutal crimes never made it to TV or the print media. Remember the adsurd excuse for removing the crime statistics????....The police department thought they would be "misinterpreted," and would not demonstrate the crimes that were SOLVED. So let them print another set with CRIMES SOLVED. We'd all be happy to see that list, also. However, I believe most folks want to know where crimes OCCURRED in order to avoid being raped or car-jacked. After that type of experience, solving the crime is probably of little solice to the victim.

Author

HDMatthias, MD

Date

2006-03-11T15:41:33-06:00
ID

64780

Comment

The police department thought they would be "misinterpreted," and would not demonstrate the crimes that were SOLVED. So let them print another set with CRIMES SOLVED. We'd all be happy to see that list, also. I couldn't agree with you more, Doc. We need the conviction rate published as well -- which the media weren't always as willing to do in the past (and Mr. Melton's supporters weren't always so hot to look at, either). However, the last administration did a much better job on crime stats, all things considered. This administration is trying to withhold statistics by saying that the media aren't reliable on them (which the last administration pointed out, and often truthfully, while releasing them anyway). By any measure, this is a much worse scenario now. Besides, as I pointed out to the last police chief right before he started releasing the COMSTAT numbers, it's not up to them how the media present them. That is, it is their legal obligation to release them regardless -- and then speak out if they don't like how the media twist them. That is, it is an imperfect scenario, but the city doesn't just get to withhold public information because they don't like how it's presented. However, this administration is telling media all over the city that they are not providing information to people who will not present it exactly as they want it. It is some hubris, I'll give them that.

Author

DonnaLadd

Date

2006-03-11T15:54:57-06:00
ID

64781

Comment

What's so difficult about reporting crime? You name the crime, place, time, perp, location/precinct. In detail, because it is all public information anyway, if you and I had the time and wherewithal to obtain it downtown. You and I, and other Jacksonians don't need any filters or any statisticians to look at these raw figures. Who, what, where, why, and how. I just want to know who got criminalized where, how, at what time, and by whom. We idiots who live in the area can figure out the rest. Thanks, HDMatthias, MD

Author

HDMatthias, MD

Date

2006-03-11T16:32:38-06:00
ID

64782

Comment

So now that it's out that Jackson stats show we are more dangerous, rather than less dangerous, how does this still play ? When do the figures come out in this publication for 2005 ?

Author

herman

Date

2006-05-22T16:52:32-06:00
ID

64783

Comment

Herman, Morgan-Quitno is about comparisons to other city, so there is no way to know until all the FBI numbers (which is not the same as COMSTAT, which are raw-er) are in for the entire country for the year. The 2005 "dangerous" ratings come out in December. Bear in mind that they're not very useful because they lump everything together. However, it is really execrable for media and politicos to flaunt the "dangerous" ratings when they're high, but not when they're dropping. That's been our point all along. It really reveals hypocrisy.

Author

DonnaLadd

Date

2006-05-22T16:59:24-06:00