Wednesday, November 23, 2005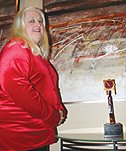 Dianne Brown, 55, puts character into everything she says and does. Her laugh is contagious. When she tells a story, it feels like you have experienced it with her, which makes sense—Brown has a wide range of experience in acting.
Originally from Moorehead, Miss., Brown is a graduate of Mississippi College with a degree in biology and minor in chemistry.
As a child, she performed dance and played piano. She always wanted to break into acting but didn't really have the courage. When Brown was 25, she moved back to Jackson from New Orleans, and a friend of hers got her a gig in singing with the Mississippi Opera. "Singing for the chorus gave me courage, so I auditioned for New Stage Theatre," she says.
Her first role was in the melodrama "East Lynne," in which she played Wilson the Cook. "It wasn't even a big role. Maybe 15 lines," she says.
Finally, Brown got her breakthrough as the lead role in Tennessee William's "27 Wagons Full of Cotton" at New Stage. Meanwhile, she kept busy working backstage at New Stage, too.
These days, Brown is all about the audition. Even if the audition is two states away, she'll do it. A friend of hers invited a couple of friends, including Brown, out to Dallas one weekend. Auditions for Beth Henley's "Miss Firecracker Contest" were coming up at a nearby theater.
"At that point, I didn't have a headshot or a resume," she says with a big laugh. A person in the car took her photo on her way to Dallas, and she quickly typed up the resume. "I went to Dallas and got the part," she says. However, she couldn't accept it because she lived in Jackson.
Two months later, she moved to Dallas, and her first show there was "Hello Dolly" as a comic relief character. She worked in Dallas for three years with theaters such as Theatre Three and in Fort Worth at an Equity House.
When a friend invited her to move to L.A., Brown prayed about it and felt that was her direction.
She moved there and got a temp job at Warner Bros. She did extra work on shows, one including Ted Danson. Then, she began working again as an actress in the film "Only Natural."
"I saw an ad in Variety for an actress. I sent in my resume, and a guy called me in for an audition, and I got the part," she says.
In this film, she worked with Tracy Walter, who had just finished working with Jack Nicholson in "Batman." The film, created for the UCLA Extension Program, won five awards at various film festivals.
A funny experience for Brown occurred at a Warner Brothers celebration with stars like Stephen Spielberg and Kurt Russell. Brown performed a big dance number with other dancers for the stars. Toward the end, the dancers all had to fling their arms to the side. One of the male dancers smacked Brown squarely in the face. Liza Minnelli, sitting in the first row, bent over laughing. This made it difficult for Brown to stay in character. She wanted to laugh with Minnelli.
After eight years in California, Brown moved back to Jackson in 1997. Since then, she has performed in numerous productions with the Center Players such as "The Odd Couple" and "Little Women." She directed "Ten Little Indians" and co-directed "Smoke on the Mountain" for The Center Players. She has performed in New Stage's "A Christmas Carol" for the past four years as the Ghost of Christmas Present. This year she performs Mrs. Fezziwig.
"A Christmas Carol" will be at New Stage from Dec. 2 - 18. Call 601-948-3533 for ticket info.