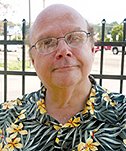 He's the new kid in town with an off-the-wall sense of humor. What you see is what you get. And whatever comes out of his mouth, he worries about later. He's Uncle Johnny aka Johnny Michaud, 53, the new morning show guy at Q105.1. He, his wife, Jeanne, and their smiling rotweiler, Dahlia, have been in Jackson for two weeks. They hail from Orlando, Fla., where Michaud worked for 15 years at XL 106.7 and Magic 107.7. He first gained radio experience while in high school.
When he was 16, he made himself a phony class schedule/student ID at the University of Hartford and worked at their radio station. He worked there for a year before they found out the truth and kicked him off the campus. But he didn't let that stop him. He enrolled in the Connecticut School of Broadcasting after graduating high school, and his radio career took off.
Q105.1 is his tenth radio station. He has experience in Washington, D.C., Boston, Maine, Hartford Connecticut, Tampa and Orlando, but on Q105.1, he wants to do a little bit more of a personality approach.
"I want to use a lot of listener reaction on the phone. I want to get them involved with the show," he says. Michaud plans on making his listeners the forefront of his morning show.
The morning show is a work in progress as he gets used to the basic feel of Jackson. Michaud explains: "I want people to hear exactly what's going on in my life so we can become close for listener and idiot DJ. I want them to be able to relate to me as a friend—(to know) that I'm going through the same things they go through."
"I'm just going to be myself and have fun," he adds.
He knows how to have fun. The Q105.1 staff recently participated in the Jackson Zoo's Ice Cream Safari and he remained upbeat in the sweltering heat. His sense of humor made it easier for us to keep a smiling face while out in the heat and scooping ice cream for tons of people.
He may be 53, but he sounds like a 23-year-old on the radio. Energetic, humorous and informative. "I'm an interesting group of people," he explains with a laugh.
He and Jeanne are not looking for a stop along the way. They want to make Mississippi their home. He wants to get some roots going, and, to them, this seems like the perfect place to do it.
Previous Comments
ID

82400

Comment

Welcome to Jackson, Mr. Michaud!! Y'all are at home with us!

Author

Steph

Date

2005-07-28T15:50:38-06:00