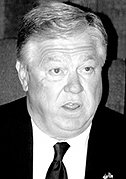 After two days of deliberation, the House passed the Momentum Mississippi package and is now working with the Senate and Gov. Haley Barbour on a bond bill to finance other projects, which stalled.
The $40 million Momentum package was initially the exclusive reason for the special session call. The Senate, mirroring the sentiments of the governor, passed the bill within 40 minutes. The more variegated House had balked on some issues, however—among them, the affordability of the measure in the face of many under funded state and local agencies this fiscal year.
On Tuesday the House had passed only the incentives portion of Momentum, which was roughly only half of the proposed package—effectively stalling the session.
On Thursday the House swallowed its differences and passed the four-program package in a form that Barbour and business lobbyists had been urging for. Included in the measure is a taxpayer-financed loan and grant program that would keep troubled businesses and industries from fleeing the state or closing their doors. The bill also contains revisions in the state's business incentives packages, in the hopes of enticing information-based and high-tech industries. Finally, it offers financing for businesses looking to grow.
The Senate approved the House legislation, despite the package reaching them with a few extra amenities that Barbour and lobbyists didn't request. The bill creates a legislative oversight committee to peek over the shoulder of the Mississippi Development Authority, an agency traditionally under the auspices of the governor, who wields the power to make appointments to the agency. It also requires the MDA to assemble quarterly reports about project developments to the secretary of state's office, which is currently occupied by moderate Democrat Eric Clark.
The bill also encourages economic development over a wider variety of areas, particularly in rural areas, which have been losing business for the last two decades. "It's my concern that some of our rural areas are in more desperate need of economic incentives than other areas of the state," Rep. Percy Watson, D-Hattiesburg, said during a recent bonds hearing at the Capitol.
With the passage of Momentum, Barbour expanded the session call, approving bond packages for Northrop Grumman's shipyard expansion on the Gulf Coast, the B.B. King Museum in Indianola and other bonds. The $174,755 session ended in stalemate on Saturday after the Senate rejected the House bonds plan. The decision derails the expansion plans of Northrop Grumman and Baxter Healthcare Corp of Cleveland.
Lt Gov. Amy Tuck called any bond consideration beyond that point "a waste of taxpayer money."
Both the House and Senate submitted versions of bond bills to one another, but none were seriously considered. House Speaker Billy McCoy said he was disappointed that the session ended in a stall.