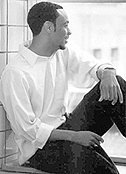 Michael Burton's music takes him, top to bottom, all across the continent of North America: Montreal, Canada, Bermuda. This week, Burton's travels bring him home to Jackson to share his "soul jazz" when he plays Hal & Mal's on July 6. Burton, 26, graduated from Indiana University with a bachelor's degree in jazz performance and a master's of music degree in jazz studies. At Hal & Mal's, he will share the stage with other musicians of the same caliber, fusing together elements of jazz, soul, hip-hop, gospel and R&B. Burton is a product and true portrait of Jackson Public School's Academic and Performing Arts Complex (APAC) music program.
When a person hears the name Michael Burton, what should pop in their head?
Soul.
How did growing up in the South affect your knowledge about jazz?
More so, it affected my knowledge of gospel, blues and R&B, being in Mississippi and New Orleans. I played in church every Sunday morning.
Tell me about Michael Burton the music teacher. What are some things you tell your students about jazz music?
I think it is good to expose young people to jazz because it is an art form that has lost its momentum. That is what happened in APAC. I was intrigued, and I wanted to learn more. It is black history; it is American history. It is important to pass that knowledge.
When you think of Jackson and jazz, what comes to mind—both positive and negative?
Positive: Jackson State, eZra Brown and those people who influenced me to play saxophone. Negative, there are not really any outlets or venues for that type of music. I remember kids would come from out of town playing on another level because they were exposed to this music more than I was at that time.
What do you remember most about being in the APAC program? How did the program affect what you are doing today?
It gave me my foundation to go forward. I was more prepared for college because of the music theory I received. It is a great tool for Jackson Public Schools to have for the kids that want to go into the arts.
At what age did you realize jazz music was what you wanted to pursue as a career?
I am not just doing jazz. I do more soul jazz. I knew at 16 that's what I wanted to do.
How would you picture life outside of being a professional musician?
If I wasn't doing music, I like history and geography. I would do something with that.
How many hours do you practice now versus before you became a professional?
I practiced more in school. I don't practice as much now because I travel all over the place, but (I practice) at least one hour a day. I practiced three or four hours when I was in college.
What has been your most memorable experience as a musician?
A month ago I played with New Edition; I was playing keyboard. That was pretty wild. Some people did not know that I played keys. It felt good to be a part of that. Also, I liked meeting my favorite musician, Kenny Garrett. He is a saxophonist.
How can you tell an audience is really feeling and understanding what you are playing? When do you know that someone has really been touched by your music?
After the show they will come up and tell you. Hearing that is a humbling experience. When I see people being very attentive or bobbing their heads, I know that I am moving the people up.
As a producer, when you listen to music, what do you listen for? What makes you enjoy the song?
I listen for good melody, good chord structure and a nice groove that makes you feel something. It should evoke that sound, whether is be soulful or spiritual. It shouldn't be bland.
What is in your car CD player right now?
D'Angelo's "Voodoo" album.
What is one thing most people do not know about Michael Burton?
That I play chess.