Tuesday, December 27, 2005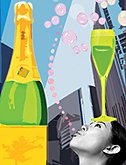 It has toasted new marriages. It has christened ships before their maiden voyages. It has been raised in honor of those no longer with us. And year after year, it has been guzzled wildly at the very second each new year arrives. It is Champagne!
First, let's get down to the most basic of basics: All Champagnes are sparkling wines, but not all sparkling wines are Champagnes. This means that to be called "Champagne," the wine must come from the Champagne region of France, about an hour or so outside of Paris. Of course, true Champagnes are usually the most sought-after of the sparkling wines, but don't kid yourself into thinking that they are better than any others in the world. There are fantastic bubbly wines to be had from all over the globe.
One of the most famous Champagne houses in France is Veuve Clicquot. Their "Yellow Label Brut" (about $37) is the best-selling Champagne in the United States. This wine never disappoints with its delicate fruit and crisp, dry finish. You're sure to impress with this one.
If you like sweeter wine, you might enjoy a Moscato d'Asti, which is sometimes described as fizzy, rather than bubbly, but with plenty of residual sugar. A great one is the Villa Giada (about $16) from Italy. This tasty treat is sweet enough to be dessert, but will certainly complement your favorite pastries.
Another great little Italian number is Prosecco, which is more of an off-dry style of sparkling wine. One of my favorites is the Nino Franco Rustico (about $17), which displays tangy tropical fruit flavors, but with a crisp finish.
For the die-hard California wine drinker, fear not. California offers some fantastic sparklers. I love the Roederer Estate Brut from Anderson Valley (about $18). This wine has nice creaminess to it from the Chardonnay it is made from, as well as the nice crispness you find in any Brut-style wine.
Looking for something really different? Look no further than the Fox Creek Vixen Sparkling Shiraz from Australia (about $16). That's right … sparkling shiraz! This wine is inky, dark purple in the glass with lots and lots of bubbles. On the palate it explodes with ultra ripe raspberry and blackberry fruit flavors. This one could take the place of dessert, but do yourself the favor of enjoying it alongside some kind of chocolate.
I'm sure that Spain is one of the last places most people think of for sparkling wines. Yet, some great wines come from the famous Cava District. A really nice one (and a total bargain) is the Montsarra Cava Brut (about $10). It's one of those wines from Europe that have lots of steely mineral notes, and a nice, clean finish. (Hint: This is the kind of stuff you should use when making Mimosas and such. If you use swill to make your sparkling cocktails, your cocktails will taste like swill.)
While we're on the subject of cocktails made with sparkling wines, you can get fancier than just a Mimosa. Try a Poinsettia (sparkling wine with cranberry juice) or a Kir Royale (sparkling wine with Chambord liqueur and a lemon twist). For the adventurous, go for a Champagne cocktail (sparkling wine with simple syrup and Angostura bitters with a lemon twist). There are some bubbly martinis, too. Try a French 76, with premium vodka, sweet & sour, a splash of grenadine, topped with sparkling wine. Or maybe a Grape Martini, with Ciroc vodka (distilled from grapes) and white grape juice, topped with sparkling wine and garnished with a few frozen grapes.
Previous Comments
ID

84443

Comment

drink recipes on JFP are better than Tikibartv and easier to make and won't get you a weird look from a bartender. I can't wait.

Author

*SuperStar*

Date

2005-12-29T09:40:39-06:00
ID

84444

Comment

what a nice illustration jakob made!

Author

casey

Date

2005-12-29T13:03:24-06:00