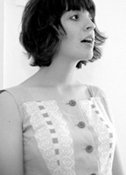 On the phone, she sounds faint, almost muted. I have to turn up my volume just to hear her. But this must only be a bad connection because on her latest album, "From the Lion's Mouth," Nedelle is anything but faint and muted.
With a voice that is smooth and sexy yet still powerful, Nedelle coasts through the collection of 12 songs with effortless command. Reviewers have compared her to Norah Jones based on her jazzy sounds, but there's something distinctly more fun and light about Nedelle.
"From The Lion's Mouth," which was released on Kill Rock Stars in February, brings to mind the sometimes silly, mostly beautiful sounds of Mirah with its short, catchy, folk-pop songs. Nedelle's second solo release is also reminiscent of fellow Californian Joanna Newsom when it dips into stranger, more original territory.
Nedelle is a story-teller—a two-minute pop gem princess who slides into songs like "Good Grief" with remarkable ease. Some of the songs hit a strange mark or two, but that's part of her charm. Each of the 12 track is a short, catchy song. Some of the tunes are poppy treats, while others do dip a little more into the jazz, bossa nova sound.
After listening to the album, noting the strangely decorated album artwork and the breezy feel of many of the songs, I had to call her up. She answered with a silly, drawn-out "Helllloooooooooooooo there," and, after giggling to myself, I started the interview:
Your label, Kill Rock Stars, has had some impressive bands signed, both currently and in the past (Sleater-Kinney, The Decemberists, The Gossip, Elliott Smith). If you could hang out with one KRS recording artist—either living or dead—for a day, who would you pick, and what would you do?
Elliott Smith. He's how I got involved with the label. I sent my demos to Kill Rock Stars based on liking Elliott Smith because I wasn't really into indie rock at all. But I love love love him. (If we hung out), we'd maybe spend a day at an amusement park so I could see how he'd respond to roller coasters and things.
You've said that you're not really indie rock. What do you mean by that?
There is a certain aesthetic quality that much of indie rock adheres to, and I think I'm out of place with some of what is on the shelves now. There is a certain trend and progression in sound and songwriting in indie rock. I'm more of a folk singer with a hint of '60s girl band.
What has been the most noteworthy moment of your tour so far?
Last night was really fun because I'm at home in San Francisco. Every time I see Fred Thomas (her touring mate and lead singer of Saturday Looks Good to Me) play is the highlight, too. He's so good. I just watch him in awe.
What album have you been listening to most while on tour?
We haven't listened to one album more than once, but I'm always listening to Nina Simone. I also listen to a lot of classical music because it really occupies my mind. I really listen to the music instead of letting it just play.
Have you ever been to Mississippi before?
Yes! I loved it. When Thom (of Nedelle and Thom) and I on were on tour, we stopped in Mississippi even though we didn't have a show there so that we could hang out and see some of the blues landmarks. We hung out at this café all day and met some of the locals. It was so beautiful and haunting; I can't wait to come back.
What's one thing most people don't know about you?
My father was a Catholic priest, and my mother was a Catholic nun.
Nedelle joins Fred Thomas Thursday night at George Street Grocery. Fred Thomas is also the lead singer of Saturday Looks to Me, an indie band that played at Martin's earlier this year.