Tuesday, November 9, 2004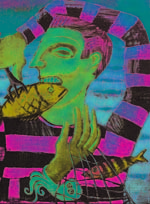 View Ron Lindsey's "Fish Stories" at Gallery 119, 3017 N. State St., 366-5141. The opening is Nov. 4 during Fondren ARTMix from 5 to 8 p.m.
When looking at any work of visual art, it is easy to slip into a purely analytical mode of thinking, looking for clues and insight into what the artist is attempting to convey. Or, the spectator seeks to understand in explainable terms what it is about the work that attracts them to it. And why not? It is often the way we are taught to look at art that makes us think in this fashion. In fact, a bulk of artists past and present seem to validate this approach by making bold statements about the world around them through their art and discourse.
But more often than not, an artist has no overt answers about their work to guide the spectator. Their art, while drawing parallels to certain movements and ideas, resists easy categorization, and a viewer can miss the pure and often simple nature of what they have created. The work of Ron Lindsey, a Clinton artist and sculptor, should be viewed in this light. His latest exhibition, "Fish Stories," is a collection of works with fish as the main subject.
Lindsey, who first gained confidence and aspiration for his art through his apprenticeship with artists Karl and Mildred Wolfe, is well-known locally for his Vicksburg streetscapes and still lifes. In his latest collection, he has abandoned these subjects, focusing almost entirely on his lifelong fascination with fish. Lindsey cites many childhood experiences with these elusive creatures as a background for his work, such as his first encounter with fishing tackle and their strange shapes. He also recalls fishing with his father and catching a prize bass, the subject of many photographs and, undoubtedly, many family stories.
Lindsey has undertaken a new process in creating his latest works, which he claims opened new doors to how he produces images from his imagination. For his old works, Lindsey used built-up paint on canvas, producing images with dense color and form. This time around, he began by covering masonite board with a single color of paint. He then drew on the board with charcoal and then sanded into the board with sandpaper to reveal the images. Finally, he glazed over the images with acrylic and acrylic glaze medium.
The process is, in a sense, a reversal of Lindsey's usual approach to painting, and therefore frees up his preconceived tendencies to produce abstract shapes. Lindsey also sees his new work as more connected in its process to his ceramic works, which are also a favorite pastime.
The pieces that comprise "Fish Stories" add a touch more depth to Lindsey's ouvre. In contrast to his streetscapes, which emphasize angular, color-saturated forms in quaint Southern locales, Linsdsey's newer works are set in imaginative, often dreamlike settings. In "Fisherman with Net'" the subject is twisting his impossibly long left arm around his head to bite into a freshly caught fish, while a squid is dangling from his other arm. Other works show large fish in their idealized, abstract shapes taking up most of the painting, often ready for consumption. The sanding process complements these works, blurring some forms and shading others, adding to the psychological and imaginative depth Lindsey is attempting here.
Lindsey, along with his painterly influences such as Max Beckmann and David Bates, says he is influenced and energized by students he currently teaches at Calloway High School. These influences, coupled with his childhood experiences with fish, give the spectator some insight into viewing and interpreting his work. But they don't tell the complete story of the artist and his work. They shouldn't. Lindsey's "Fish Stories" are works that are ever elusive and compelling as fish themselves, and as with any great work of art.
View Ron Lindsey's "Fish Stories" at Gallery 119, 3017 N. State St., 366-5141. The opening is Nov. 4 during Fondren ARTMix from 5 to 8 p.m.
Previous Comments
ID

84310

Comment

All, this show is really wonderful. I just love this new style that Ron is embracing. Don't miss the chick with a snout. You'll see what I mean when you go to the show.

Author

DonnaLadd

Date

2004-11-05T12:24:44-06:00