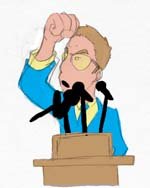 I remember being surprised when I got old enough to realize that not everyone had a yearly "giant house party" in their home county. In fact, the Neshoba County Fair was unique—an annual sawdust-filled bacchanalia when the strictures of living in the Bible Belt went out the window. Many people drank the devil's juice openly while deputies strode by nonchalantly, a bit of cheating went on, and real gambling occurred in the cabins along the racetrack— way back before casinos came to the state.
The Fair was stressful for many people, and not just the mommas who had to cook enough fried chicken and pies to last a week. It was tough if you couldn't afford a cabin, or weren't invited to one for a week. Throughout my childhood, the Neshoba County Fair loomed as a symbol of the class differences between us and those who could afford to stay there.
I had fun at The Fair—but I don't look back and think, "How lovely." In fact, when folks ask me now: "You goin' to the Fair?" "Probably for a day," I answer, often adding, "On Jackson Day." (They look at me funny because Thursday is now Hattiesburg Day, but it used to be Jackson Day. At some point, I hear, the black leaders of Jackson decided The Fair doesn't do a whole lot for them these days. They have a point.)
I go to The Fair on Thursday for the politicking and to watch the state's progressives pile into Dick Molpus' cabin, No. 22, for lunch, as Republicans gaze disapprovingly from nearby porches. Prior to the 1960s party switch, Dixiecrats (now Republicans) might have stared at the then-Republicans (now Democrats), but the idea is similar.
The Fair's Web site (neshobacountyfair.org) promises: "Established in 1889, the Neshoba County Fair® fosters political, agricultural and social exchanges of knowledge and ideas." The truth is, progressive thought doesn't pervade The Fair. And that would be fine if the opposite weren't so in your face—Barbour and Bush banners, Rebel flags draped on cabins. The Fair is right-wing territory, even if you're just there to ride the Ferris wheel or hear one of four big country acts. I probably don't get excited about The Fair because it's so mired in the county's, and the state's, past. Yes, friends and family we love are mixed in, but it hardly seems worth the effort of driving the 90 miles to it more than once during the week.
Still, when I go, I'm struck by the missed opportunity that The Fair is. In some ways, it's the ideal "third place"—that fancy phrase for a community gathering spot where people really interact. People are hanging out, relaxing, sharing food and drink and fun conversation. The cabins are creative, kitschy, colorful, artistic. You see people you haven't seen since high school. When there, I picture a JFP cabin with a huge banner and maybe DJ Phingaprint spinning records and a bit of progressive chi to balance out all the rightist dogma. Or, how about using the fairground for a writer's conference one non-fair week, inviting writers from around the country for, perhaps, the Neshoba County Human Rights Writers' Conference. Take that, bad karma.
Alas, though, race politics are still alive and well. I remember being in the high school band and playing at The Fair every other day. Our band director included "Dixie" in our line-up; when we students—white and black—played the Old South anthem, older white men would stand with defiance, their hats held over their hearts. Twas creepy.
When I was a junior or senior, I heard that black families were building cabins at the fairground. Good, I thought, maybe The Fair was becoming more inviting to everyone. But now I hear that no African Americans own cabins. Perhaps Ronald Reagan's 1980 coded talk there of "state's rights" stopped that train in its tracks. There seem to be more rebel flags now than when I was in school, but maybe I just notice more now. And, yes, there is a community of black people at The Fair, but most of them work and hang out at the horse stables (a fact that The Clarion-Ledger's Weekend section, perhaps inadvertently, spotlighted with its Fair cover last issue.)
The political speeches, a mainstay of The Fair, are still there. The candidates still cart in carloads of young people to scream and wave signs like we did when I was head of Mississippi State's "Students for (John) Stennis" the year he beat Haley Barbour. And the dirty tricks and coded racism are rampant, typically taking the form of innocuous young folks carrying homemade signs equating white Democrats with black ones: like Ronnie Musgrove sharing a sign with Hillary Clinton and Rep. Bennie Thompson. Silly, you may say. Yes, but such goofy race coding has long comprised brilliant political strategy at The Fair.
The speeches seem less relevant by the year. The candidates, regardless of party, preach to a conservative choir of folks who are now "lifelong" Republicans, who probably don't even realize that the GOP used to be about something very different in Mississippi, and was the party their forebears despised before civil rights changed things.
After all, in 2004, you can post political speeches and discussions on the Internet now and reach many more people. Regardless of political leaning, you can host your own meet-ups (http://www.meetup.com) in your living room, and hear your candidate's voice over your speaker phone or through streaming audio to welcome your guests.
Even The Clarion-Ledger admitted in a story after The Fair last year that 21st-century campaigning, with its blogs and Web sites (and the ability to fact-check rhetoric), is moving politics, even in Mississippi, past old-style stumpin' at The Fair. This year, perhaps it is significant that Ledge columnist Sid Salter, a Neshoba Countian with a cabin on "the square" (a big deal), is filing stories from the Democratic National Convention instead of waxing nostalgic about Ross Barnett's fiery rhetoric and the Fordice- Molpus debate from his Fair porch.
Probably not, but I welcome the reprieve. See you on Jackson Day.
"Jackson Day" Political Speeches, Neshoba County Fair, July 29, 2004
9 a.m. – Barbara D. Washer (Reform) Candidate for U.S. House, District 1 *
9:10 a.m. – Clinton B. LeSueur (R) Candidate for U.S. House, District 2 *
9:20 a.m. – Bo Robinson (D) Public Service Commissioner, Northern District
9:30 a.m. – George Dale (D) Commissioner of Insurance
9:40 a.m. – Tate Reeves (R) State Treasurer
9:50 a.m. – Jim Hood (D) Attorney General
10 a.m. – Mike A. Lott (R) Candidate for U.S. House, District 4 *
10:20 a.m. – Eric Clark (D) Secretary of State
10:30 a.m. – Phil Bryant (R) State Auditor
10:40 a.m. – Haley Barbour (R) Governor
1 p.m. – Samac S. Richardson – Candidate for Supreme Court Justice, District 1 (Central) Position 2 *
1:10 p.m. – James E. Graves – Candidate for Supreme Court Justice, District 1 (Central) Position 2 *
1:20 p.m. – Ceola James – Candidate for Supreme Court Justice, District 1 (Central) Position 2 *
1:30 p.m. – Richard R. Grindstaff – Candidate for Supreme Court Justice, District 1 (Central) Position 1 *
1:40 p.m. – Mike Randolph – Candidate for Supreme Court Justice, District 2 (Southern) Position 3 *
1:50PM – William L. (Bill) Skinner – Candidate for Supreme Court Justice. District 1 (Central) Position 2 *
* Candidates on November ballot.