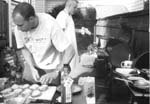 What I know about grilling you could put on a table-top hibachi. My two sons, Lamont, 28, and Leland, 25, are way, way out of my league.
The guys have Mondays off from the three restaurants where they cook in Portland, Ore.—Lamont at 3 Doors Down, Leland at The Blue Monk, both at the Portland City Grill. So, on July 5, while visiting, their grandma and I reveled in the well-honed talents they inherited from their Daddy who died when they were little, leaving them no daily example but superb genes. They love to hear me tell how he even sliced tomatoes beautifully.
Even I know proper ingredients at their freshest is key, so I accompanied Lamont to their neighborhood Zupan's Market at 33rd and S. E. Belmont. (Those S.E.s are important in Portland because the city is divided into quadrants—you just about can't get lost once you get your bearings.)
I followed Lamont around, taking pictures as he carefully selected peaches—white ones, no yellow today—broccoli rabe, garlic, shallots, basil, asparagus, red bell peppers, fingerling potatoes and pork loin. We lugged that home, then walked around a couple of corners to PastaWorks at 37th and S. E. Hawthorne Blvd. Although Zupan's sells meat, Lamont believes the best is available here. Behind the counter is a large blackboard with the heading, "Do You Know Where Your Meat Is From? We Do," followed by a list of their suppliers of all-natural products. We bought prosciutto and apple-wood-smoked bacon. Next, the guys walked a block to another grocery store—a chain called Fred Meyer—where they bought two huge bags of charcoal for the two grills in their backyard.
While the coals reached the proper heat, the guys parboiled the broccoli rabe, asparagus and the fingerling potatoes, placing each immediately into an ice-water bath to stop the cooking. The garlic and shallots were tossed in olive oil and roasted on the grill in foil tents while the peppers were roasted whole, right on the grill.
Working together, they expertly trimmed the three pork loins—dinner was for eight—slicing them into six equal sections cut wide open lengthwise and flattened uniformly with a tenderizer. Thinly sliced peppers, basil, sliced-lengthwise asparagus, and bits of garlic and shallots were placed inside the loin before it was rolled, then wrapped neatly in prosciutto.
Watching the guys move from prepping to cooking—putting the meat and the potatoes on the fire; browning the peaches, sliced-side down, then moving them, sliced-side-up and coated with a mixture of butter, brown sugar, basil, salt and pepper, to a cooler spot on the grill; taking the potatoes off the grill; setting the saucepan full of broccoli rabe and browned diced bacon, along with shallots and garlic, on the grill; slicing the French bread and drizzling it with olive oil, placing it on the grill; flipping the sauté pan with the broccoli rabe; taking the bread, peaches, and meat off the grill; setting the sauté pan aside while slicing the rolled loin; evenly dividing the divine-smelling peaches onto eight plates along with the potatoes and meat, topping it all with broccoli rabe—I felt like I was watching two orchestra conductors signaling to the various sections when it was time to come in, creating the symphonic sounds of great music.
This past Thursday night, home for almost a week, I saw asparagus in the grocery store just down from the yellow squash and zucchini I was buying. Pulling my cell phone out of my purse, I dialed Leland. "Is there any way to cook asparagus if you don't have a grill?"
He explained it thoroughly, step-by-step, right down to "then you can finish it in your sauté pan with the squash."
"Leland," I replied, "I don't have a sauté pan; I've just got a skillet."
Soothingly, he replied, "It'll be OK, Mom."
And it was. Delicious, in fact.