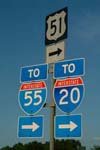 You don't have to go past the Mississippi border to enjoy some of the best road trips in the U.S.: My two top destinations are Natchez and Greenwood—Natchez for old Mississippi and Greenwood (of all places!) for the new Mississippi. First, though, get the most recent Mississippi highway map and detailed maps of the counties—they come in many sizes from the Mississippi Highway Department, or buy a Mississippi Atlas at the bookstore.
Natchez. Anyone who hasn't been to Natchez should put that at the top of the list. Natchez is one of our nation's historical and archaeological gems. I recommend enjoying the long way down: take the Trace to Port Gibson (houses, churches, cemetery, Cultural Crossroads quilts); go the back way to beautiful Alcorn State University, via Windsor Ruins. From Alcorn take a back road to Rodney; wander around the little roads until you find your way to Natchez. (Don't forget your detailed maps of Jefferson, Claiborne and Adams counties!)
If time allows, or on your next trip, you should go south on 61 from Natchez, to Woodville, then take 24 to Pond. After a stop at the great country store there, proceed west to the Clark Creek Natural Area for hiking, birding, or just admiring the steep ridges, deep hollows and five waterfalls. If you've managed to go the whole distance from Port Gibson to Clark Creek, you will have seen the first settled area of Mississippi, and some of it probably hasn't changed very much.
Greenwood. Your destination is the terrific new boutique hotel, The Alluvian, and the fine Giardina's restaurant, next door. Now, this is "new" Mississippi. The Alluvian is building a good spa, too; check for opening date. You may want to plan your visit around cooking schools presented by Viking Range, and no trip to Greenwood is complete without a meal at Lusco's.
If you've got the time, make a swing through the Delta, north and west, and end up eating at Doe's in Greenville. Don't get me started on the Delta. Just check the book "Blues Traveling" by Steve Cheseborough (see page 14) for routes and sites.
Columbus: This is a friendly small city, home of the Mississippi University for Women and fine old houses. Since you're all the way over at the eastern edge of the state, you might as well go to West Point (tablecloth and napkin outlet; fabulous golf course and country club), to Aberdeen—northeast Mississippi's answer to Port Gibson; be sure to get the excellent driving/walking tour brochure. You'll be sorry if you don't continue north on highway 25 into Mississippi's "mountains (See or stay at scenic Tishomingo State Park; check out the highest point in Mississippi, Woodall Mountain.) Go on a bit farther to Iuka and J. P. Coleman State Park. From there you can retrace a few steps back down 25, catch the Trace, and hightail it on back to Jackson (at 50 mph).
But, if I were you, I'd take a spin through Corinth, and then ask directions to the interesting old San Jacinto Courthouse nearby. Then you're just a jump from Holly Springs (Rust College, old homes, Graceland Too, or Two) You're on your own now, as to whether you'll head straight to 55 or celebrate the glories of your Northeast Mississippi outing, as I would, in Oxford. Just take Hwy. 6 from Tupelo.