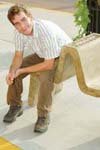 Andy Hilton, with his curly-blonde locks, seems like any 24-year-old—slightly laid-back and slightly restless, ever ready to talk about ideals. What surfaces, however, is a great sense of his unique vision: "I want to use design skills to benefit the community."
As a child, Hilton indulged in typical little boy pastimes: building treehouses, digging ditches and, of course, playing with Legos—experiences now paying off. "I think a turning point as far as being interested in creative problem solving' and in turn industrial design, was in elementary school." He points to the Odyssey of the Mind competition. "It was very inspirational to me.
Thinking outside the box was key to success and our teacher really nurtured that by telling us 'If they don't say you can't, then you can.' That phrase has really stuck with me through the years."
Hilton later attended Murrah, a public high school in a town where, as he put it, most well-off white kids went to private schools. That diversity has helped him foster a sort of deep allegiance to all things public, he says, including the enhancement of public space, the guiding tenet behind his efforts as an industrial designer.
At Auburn University, a friend introduced him to industrial design, which he deemed a perfect "marriage of art and engineering." Soon, Hilton and a friend began a small business, creating a cast mold for the school mascot, the "War Eagle," and selling it at football games. Mold-making created the options of quantity and affordability. In Jackson, one of Hilton's most clever designs has been "The Mancala," which can be admired from afar, sat on, or preferably, played upon at Fondren Corner. Fusing his trademark pre-cast mold with the ancient North African game of Mancala, Hilton has been able to create his own time-twisted, chic rendition of public seating and space. He also helped assemble display cases at the Glory of Baroque Dresden exhibit downtown, and is currently working at the Pearl River Glass Studio, while delving in design projects on the side.
Hilton's preferred mode of transportation is a bicycle, and much of his free time is spent kayaking and taming the Pearl River. "Every time I've moved to a new place, the first thing I do is grab a map and find the nearest river. I guess I know it will lead to something." Hilton's designs work much in the same way, for he hopes they will lead to something more open, more inviting, more "public" in Jackson's cityscape.
Previous Comments
ID

82343

Comment

Check out Andy's products at: http://www.square1design.com/

Author

Justin

Date

2004-07-14T13:45:24-06:00