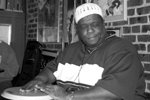 Every shaman knows that, at the very heart of the universe, there lies an inexorable, joyous pulse. As the late Nigerian percussionist and drumming scholar Babatunde Olatunji once put it: "We say that rhythm is the soul of life, because the whole universe revolves around rhythm, and when we get out of rhythm, that's when we get into trouble."
That's true writ large, and yet it perhaps is most evident when listening to or playing actual, live music. When a band's rhythm is off, it truly feels like the universe has been thrown off its axis. While the "drum kit"—sticks, snare, toms, bass drum and cymbals—is at the heart of most contemporary western music, that modern set-up is merely the infant descendant of the hand-percussion tradition.
The hand drum can be traced back to prehistoric times. Primitive cultures from Africa to Australia to the Americas are known to have used drumming as a means of expression and communion with the gods. As Mickey Hart (Grateful Dead drummer and ethnomusicologist) declared, "The universe is built on noise and pulse—rhythm—and all drumming is an attempt to touch the universal."
Jackson has a wealth of talented hand percussionists. At the head of this formidable class is Rufus Mapp, a Miami native who has called Jackson home for nearly 25 years. He plays and records with a litany of Mississippi musicians from every genre, including jazz singer Lisa Palmer, alt-rocker Brian Fuente, and many others (including this writer). He is a fountain of creativity with his instruments, which can encompass virtually any item that goes clickety-clack or thumpety-thump.
"Rufus lays down the groove so well," Palmer says. "He's a showman, and people love watching him. I can't say enough good things about him."
She says that Mapp is "so fascinated" by sound. "At a recording session, [keyboard player] Knight Bruce's son was jingling his keys, and Rufus said, 'Let me see those,' and he took them and recorded the sound of them jingling. He is a sound master.
Mapp played in jazz and African groups as a high school student, and he studied with Daniel Ben Zebulon (who recorded with Stevie Wonder, Richie Havens and Isaac Hayes, among others). In 1980, he came to Jackson to attend Jackson State. "I came just to see what Jackson was about," Mapp says. "I thought it would be a waystation before going up to New York City."
"But I went to the Jackson Music Awards and heard all these great bands," Mapp continues. "There was a spirit here that was special, and it was just too cold in NYC anyway. So I decided to stay here, and I am happy I did. I always felt that anything I wanted to do, I could do it here."
Mapp quickly established himself as Jackson's first-call percussionist, which was a good thing, since percussionists often find themselves expendable when the bottom line intrudes. "I always say the percussionist is the last guy hired, first guy fired," Mapp says. "I didn't want to be that guy. It's not like that anymore because people know what I bring to the table. But I had to earn that respect."
He did it by demonstrating his versatility and his ability to either propel the entire beat or augment an existing rhythm section. While most of his work has been with local and regional artists, his most storied gig was a one-year ticket to Margaritaville. "[Greg] 'Fingers' Taylor got me hooked up with Jimmy Buffett," Mapp recalls. "I toured with him for a year."
Mapp asserts a deep, abiding concern for his percussionist brethren, insisting that they get the credit they deserve. He regularly praises the many other talented players in town (see sidebar for a list of a few). "I'd like to open doors for others," he says.
Lionel Hampton once said that drumming was "the best way to get close to God." When one hears Rufus Mapp play, that celestial distance feels ever smaller. "Drumming keeps me going spiritually," he says.
Scott Albert Johnson previously wrote about guitarist Jesse Robinson for the JFP.
*Photo by Susan-Margaret Barrett