Wednesday, August 25, 2004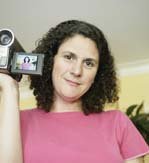 Jackson native Kathryn Rodenmeyer, 37, was described to me as a filmmaker, so when I met her in her Fondren home, I first asked her about her work in film.
After completing her degree in photojournalism at the University of Missouri-Columbia, Rodenmeyer returned to Jackson and worked in public relations, taking her first television job in 1991, then beginning independent work in 1995. She's now president and co-owner of a video production company, Mosaic Media. Filmmaking has always been her passion. Laughing, she describes venturing into filmmaking: "I had no money, but I had good ideas."
Rodenmeyer's work has centered on experiences of fellow Mississippians. In 1997, she began shadowing women in a program called Jackson Servant Leadership Corps. Women from different Christian denominations lived and worked together in Jackson social service organizations. "It was sort of like "'The Real World,' Jackson," Rodenmeyer explains. That documentary, "Walk Among Us," is still a work in progress, but Rodenmeyer just received a Media Arts Fellowship from the Mississippi Arts Commission in recognition of work accomplished that she plans to use along with two others dedicated to the project, so she sees the end in sight. Says Rodenmeyer: "I want closure on that one. It's time. I really want to see it through."
Rodenmeyer also has an extensive background in public relations, production, publicity, non-profit work and journalism—not to mention having worked for Mississippi Public Broadcasting. She's also in the band Radio Station Wagon with her husband, along with friends Scott Colwell and Robert Langford. "I guess I'm sort of a jill-of-all-trades," Rodenmeyer says.
The jill-of-all-trades devotes most of her energy to parenting her three children. "It's intense to be good parents—that's why other projects go unfinished!" she says with a grin. Make no mistake, though—Rodenmeyer and her husband, filmmaker Ron Rodenmeyer, bring creativity to their family as well. In 2003, they undertook a project called Company Photos, taking Polaroids of every person to enter their home—from friends and family to service technicians and baby-sitters—in order to document "who touches the lives of an American family in the course of a year."
The project is displayed online at http://www.companyphotos.net